The morning of the move – what to do first?
After a lot of planning, preparation, and organization, the day of your move is finally here! If you happen to be moving in just a few days, chances are you are both excited and nervous. You are already imagining what the morning of the move will look like and you are making a mental checklist of what to do first. The good news is that if you have some of the best movers Seattle coming in to help you relocate, you won't have as much work to do. There are only a couple of things to do in order to ensure a successful moving day, and here's what they are.
Get an early start on the day of your move
They say that early bird catches the worm, and the same will definitely apply to the day of your move. We understand that, by the time your move comes, you will be exhausted from all the accomplished moving tasks. After all, you had to find the best moving companies Marysville WA, you had to gather the necessary packing supplies, and declutter your home – and that's just the tip of the iceberg. So it's completely understandable that your entire body will be needing some rest. But you need to postpone sleeping in until your moving day is over. Because on the morning of your move, you need to get up as early as possible.
The best thing you can do is make a realistic estimate of how much work you still have left to do. In case all of your items are packed, then you might not have to wake up at dawn. But you just need to remember that it's better to have some time left over than to be pressed for time. And lacking time on the day of your move is the last thing you want.
Pack the remaining items
If you were diligent enough to pack everything before the morning of your move, then feel free to skip this step. But if you are like the majority of people then you will still have some items left over to pack. It doesn't matter whether you are waiting for the best international shipping companies Seattle or for your reliable local movers – all of your items need to be packed before the arrival of your moving crew.
Just bear in mind that this also includes packing a moving essentials box. It's very easy to forget about your moving first-aid kit on the morning of the move, so feel free to make a special note to prevent yourself from forgetting. Trust us – you will be grateful you did so once you don't have to spend an hour searching for your toothbrush.
The morning of the move is reserved for taking photos
But it won't be the kind of photos you are thinking about right now. If you have hired reliable Seattle movers, you can rest assured that they are going to make an inventory of your belongings before placing them in the moving truck. But it won't hurt for you to make one yourself, would it? Make sure you make an inventory of all the items you plan on relocating. And yes, this will be as time-consuming as it sounds, so we definitely suggest that you don't leave this task for the morning of your move. What you can leave for the morning of your move is taking pictures of those items.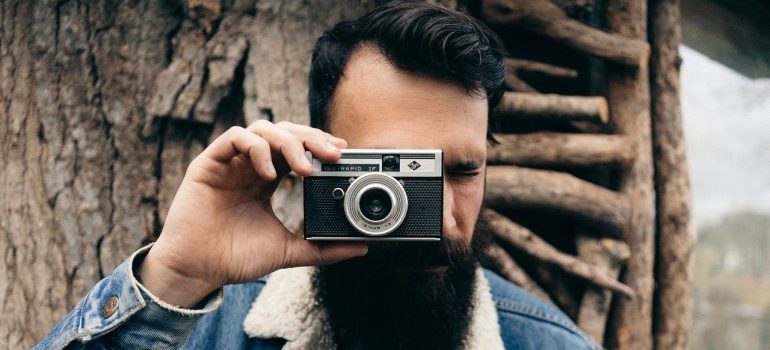 The point behind taking photos is having valid proof of the condition of your items. Having damaged items is the worst-case moving scenario, but yet it happens. You will want to be fully ready if it happens and you have to ask for a reimbursement. And that's where pictures come in. We'll let you connect the rest of the dots by yourself.
Take care of moving day safety for the entire team
Working on optimal moving day safety is a very important task. The truth is that there are a lot of things that can go wrong on the day of your move, and a lot of them are out of your control. But there are some actions you can take that will give your relocation the best chance of success. And it just so happens that all of them should be tackled on the morning of your relocation.
If you are moving in winter, make sure that you defrost any ice on your porch or front yard.
Reserve a parking spot that will be close to your home (in case parking in front of your home isn't an option).
Remove any obstacles that could be between the items and the moving truck.
Make sure your local or interstate moving team has enough space to maneuver.
Isn't it better to get up a few hours earlier to get these tasks out of the way than to wait for your movers to come to do them? Well, the first option is certainly a better one if you wish to avoid moving delays and problems. So have that in mind when setting the time on your alarm.
Get your kids and pets ready on the morning of your move
Making the appropriate arrangements for childcare and pet care should be done weeks before the morning of your move. But it's on the morning of your move that you can get your little ones ready. Have a talk with your kids and thoroughly explain what awaits on that day. Let them know they are in for quite a long day – it's only inevitable.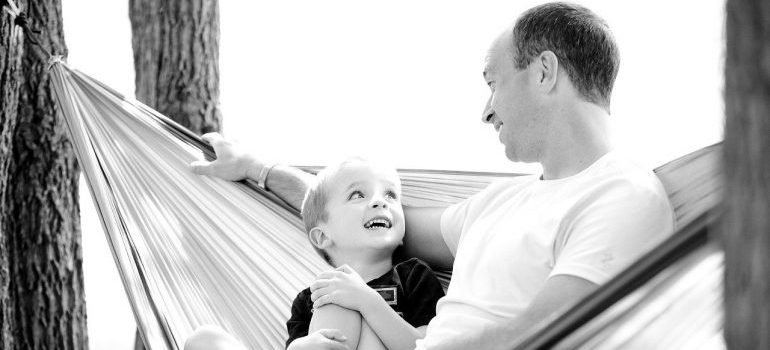 You can also prepare some snacks for them, their providers for the day, and yourself. After all, that's what the morning of the move is reserved for – doing everything that can be done before your moving team arrives. Good luck and we hope you have a marvelous relocation and great times in your new home.
Let our team put together a comprehensive moving plan for you. Complete our simple free quote form or contact us at 1-888-300-7222.