Protect your personal information during a move
Moving to a new home is not so simple, it requires a lot of planning, packing, and patience. In addition, since all your personal information is transported from one place to another, you are vulnerable to identity theft. Some identity thieves target those on the move. So it's especially important that you keep your guard up and protect your personal information during a move. Here are some useful steps before, during, and after moving.
Steps to take to protect your personal information
1. Submit the address change form
Records and documents sent to the wrong address significantly increase the risk of identity theft. Confidential information can fall into the wrong hands, documents containing personal data may be improperly discarded and found by identity thieves, etc. Arrange a change of address with the USPS before moving. About 7-10 business days after you submit the form, your mail will begin to arrive at your new apartment or house. You can take another step by notifying all your financial institutions, utilities, valuation coverage companies, and schools of the address change.
2. Find a reliable moving company to protect your personal information
You need to find movers you can trust. Licensed and insured moving experts in Seattle with rich experience and an excellent track record. Ask family and friends for recommendations and read online reviews. You can also check the ranking of a moving company at the Better Business Bureau. You should look for a company that is registered with the Federal Motor Carrier Safety Administration (FMCSA) and has a U.S. Department of Transportation number. You can ask the company to provide this information.
Once you find three or four reliable movers that seem to fit your travel needs and preferences, ask them for on-site estimates of your moving costs and study the companies in detail. Compare offers and choose the best movers for you.
3. Protect your electronic devices
Make sure you turn off and pack your desktops and laptops before the Seattle movers arrive. You should also consider transporting these valuables yourself. They are subject to damage as a result of improper handling. And they also store a treasure trove of personal data that should remain at your disposal. Make sure no one has access to your computers, tablets, and smartphones during the move process:
Keep your electronic devices in a closed room on the day of your move so that no one can tamper with them;
Take small electronic devices (laptops, tablets, smartphones) with you – transport them in a car or in your hand luggage on an airplane;
Protect desktop computers, external storage devices, and other heavier electronic devices that you cannot transfer yourself using strong passwords;
Remember to log out of all your accounts before packing larger electronics to move.
4. Carry personal documents yourself to protect your personal information
There are other things that you would like to consider when moving to Seattle: any important documents, such as birth certificates, social security cards, wills, valuation protection policies, financial documents, etc. It is better to keep them close to you during the move. Essentially, everything that is very difficult to replace or can easily trigger someone to commit identity theft should remain in your hands.
It is imperative that you always have your documents with you. Not only to reduce the risk of identity theft but also to have access to your documents while traveling to your new home and immediately after arrival when the rest of your things have not yet been delivered. In addition, if you pack your documents and load them into a moving truck, something may happen on the road (traffic accident, robbery, fire, etc.), and your papers may be lost or damaged, which will cause a large inconvenience. This will require a lot of time and money, even if your documents are not stolen for fraudulent purposes.
5. Shred documents that you no longer need
Moving is the time to re-evaluate all of your files and throw away the ones you no longer need. At the same time, be sure to destroy all documents containing confidential information. You never know who can keep an eye on your trash can when your moving van leaves.
Therefore, when disposing of unnecessary files, be sure to completely destroy them so that no one can extract any information from them:
Shred all documents containing confidential information and mix them with other unnecessary paper materials;
Burn your old documents in the fireplace and throw out the ashes.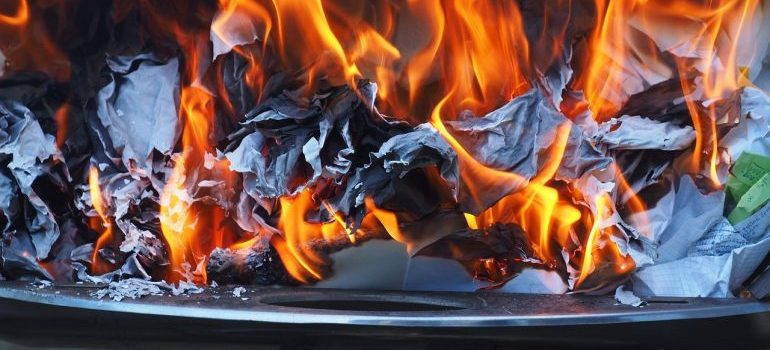 6. Be present while moving
Professional residential movers can help you with lifting heavy items, but you should still remain in place and control the process. Make your plans so that you are present at the arrival of the movers. And stay close so that you can personally observe the whole process. Give professionals a place to work, but be prepared for them if they have questions or need clarification, and pay attention. So much is being transported that it is easy to miss a few things without realizing it – until it is too late.
Your presence will prevent any attempt to steal personal data on the day of moving because no one dares to tamper with your personal belongings – and no stranger dares to enter your house – when you are nearby.
7. Check your credit reports within a few months after your move
The fact that you finished your move does not mean that your risk of identity theft has decreased. Keep in mind that mail can still arrive at your old address. And identity thieves can still use your old address to open new accounts. Continue to keep track of your credit rating for several months after your move and be sure to report any suspicious activity as soon as possible.
Keeping these tips to protect your personal information during a move in mind will reduce the likelihood that your identity will be compromised in the process. Instead of scrambling to track down fraudulent activities, you can enjoy the relaxation and sense of accomplishment that you really deserve after a long move.
Let our team put together a comprehensive moving plan for you. Complete our simple free quote form or contact us at 1-888-300-7222.