Long-distance move with your pet – how to organize it?
Often times, a pet is a human's best friend. That's why moving with pets requires you to be extra careful and prepared for everything. Not only do you have to plan out the move well, but you also need to prepare your furry friend for this upcoming change. After all, relocating is a life-changing event for the pet as well. So, if you're planning a long-distance move from Seattle with your pet and you're not sure how to execute it, we're here to help. We'll give you some useful tips which will help you organize your relocation. You and your pet will be settled into your new home in no time and with no issues. Here's what to do.
Prepare your pet for the long-distance move
With every relocation, there comes a lot of planning and thinking ahead. Well, you're not the only one who needs to be prepared when you're moving interstate from Washington with your pet. In this situation, you need to think about your little friend and make sure the relocation doesn't come as a huge shock to them.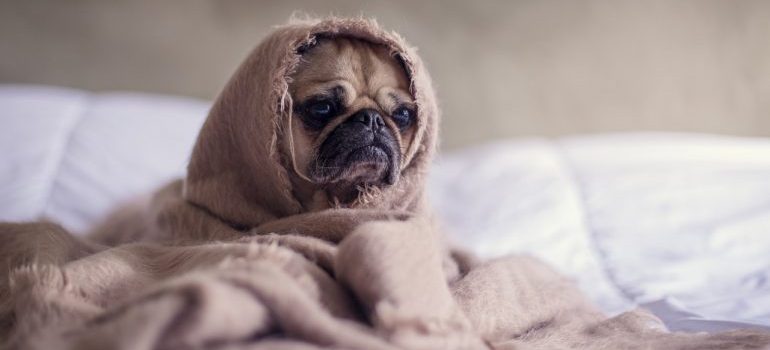 How do you do that? Simple – just do everything you can to prepare your pet for this change. Don't worry, we'll give you some pointers.
Introduce them to the pet-carrier
If you're about to move long-distance with your pet, you have to think about transportation. Sooner or later, you're going to have to place your pet in a pet-carrier and get them to your new home. Unfortunately, many pets aren't in love with the idea of being constricted to a small space like that. That is why it's important to introduce your pet to the pet-carrier in advance.
We recommend getting the pet-carrier a few weeks before the move. Set it up in your home and turn it into an inviting bed for your pet. If it's needed, you could even leave some treats inside to lure your furry friend into the carrier. This will help your pet get used to spending time in the pet-carrier and they won't feel as scared and confused when moving day arrives. 
Get your pet used to all the boxes
If you're a cat owner or the owner of any skittish pet, you need to be extra careful. When the relocation is around the corner, you can expect your home to become a mess. This means that there will be a lot of boxes everywhere, chaos and probably a lot of people going through your home. Well, this can be very stressful for your afraid animal.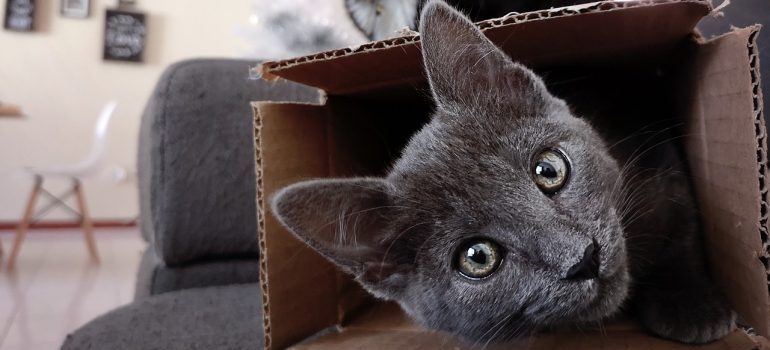 So, we suggest starting with all the preparations in advance. Get the cardboard boxes a few weeks before moving day and set them up in your home. This way, your pet will have time to get familiar with them and the chaos won't come as such a shock.
And if you're planning on hiring packing services Seattle, we suggest keeping your pet away from all the unfamiliar people on packing day. This is a good step to take if your pet isn't great with people it doesn't know. Once the professional packers are done, you can bring the pet back from the pet-sitter.
Hire a moving company to make moving with pets easier
People always look for ways to make their relocation easier and smoother. Well, the full-proof way of doing that is hiring a moving company Seattle. By hiring professional movers, you will have fewer things to stress out about. This means you'll have more time to focus on your pet and give them attention and affection. The important thing when you're moving long-distance with pets is that you don't neglect them.
So, if you hire a moving company, the pros will take care of the hard work, while you spend quality time with your pet. Don't forget about them during this stressful time.
Hire a pet-sitter – keep your pet away from the moving chaos
Now, we all know that moving day is chaotic and stressful. However, that's something that your pet can't expect. That's why the best way to make sure your pet stays calm on moving day is to hire a pet-sitter. You never know how your pet is going to react to new and overwhelming situations. So, the best thing to do is to avoid stressing your pet out if it's not necessary.
Making sure your pet is safe and away from all the moving mess is a great way to save everyone's nerves. Of course, you don't have to pay a stranger to watch your pet if you're not comfortable with that. You could just as easily ask a friend or a family member to look after your animals for the day. Whatever works best for you.
Transfer your pet's veterinary records
Other than making sure you're mentally ready for your long-distance move with your pet, you need to think about some paperwork. You're probably planning a trip to your doctor's office to get your medical records and transfer them to your new town. Well, you should be doing the same thing with your pet's veterinary records. Go to the vet and get the files so you can transfer them to the new vet.
Stay patient
Something that is crucial for surviving a long-distance move with your pet is patience. You need to stay cool, calm and collected if you want everything to run smoothly. That's why you need to be mentally prepared for any issues that could come up while moving with pets.
This includes your pet being moody or scared. Have patience and understand that this is a stressful time for your pet as well. Remember, you're not the only one trying to cope with moving stress. So, try to focus on the end result and being settled into your new home soon. We hope everything goes well, good luck!
Let our team put together a comprehensive moving plan for you. Complete our simple free quote form or contact us at 1-888-300-7222.