Should you reward quality moving companies
Having a successful and stress-free relocation is something all people dream about. To achieve such relocation, professional help is usually needed. That being said, it doesn't matter whether you have hired movers North Bend WA or you went for a Seattle moving team. The question that most people have stays the same – should you reward quality moving companies for doing a good job?
Now, we know that you might feel like we can't be impartial – after all, we are a moving company ourselves. However, a lot of commotion has been going around this topic and it's not something that's discussed only among movers. So if you too are wondering whether or not to reward your moving company, then feel free to read on. Here's when you should give that tip, as well as a few things you shouldn't do.
First things first – did your movers do a good job?
We here at Hansen Bros. Moving & Storage believe that whether or not you reward your moving company greatly depends on how satisfied you were with their services. Did your move go off without a hitch? Were there any problems that created moving delays? Perhaps everything went smoothly and you were able to relocate quickly and effortlessly? Your answers to these questions will decide whether or not your movers get that tip.
It goes without saying that it's only logical to reward a moving company that presented you with quality services. Whether you got access to reliable Seattle storage or had packing assistance many people only dream about, the fact remains the same – you were treated with respect, and now it's time to give it back. 
Proper ways to reward quality moving companies
Now that we've established that you should tip movers who have provided you with quality services, it's time to find out what the right way to reward them is. There really is no debate about this, because the best way to reward your movers is by giving them a tip. We know that a lot of people are hesitant to do so simply because relocation is a costly event. But if you have the funds and you feel like giving your local Seattle movers the motivation to keep doing a good job, then there are a couple of things you ought to know.
The best thing you can do is contact your moving company and ask whether they have a tipping policy.
Some companies prefer to equally divide the tip equally among movers while others encourage you to tip movers individually. 
Naturally, the amount of the tip won't be the same for local and long-distance moves. 
We can't tell you what the best thing for you to do is. But you are asking for our advice, and we think you should tip every mover on your residential or commercial moving team equally. Because that's precisely what they are – a team. And the success of your relocation depends on the entire moving team. 
What else can you do if you aren't in the best financial situation?
The first thing you should know is that tipping isn't mandatory – it's something that's solely up to you. So far, we've come to the conclusion that that's the best way to reward your movers for relocating you. Let's be honest, we could all use some extra money. But if your moving budget is already stretched to its limits and you can't afford to spare any money, there are other ways to show your gratitude.
Treat your movers to some hot or cold beverages, depending on the season. 
Offer some delicious home-cooked food or just order everyone's favorite meal – pizza.
At the end of the day, probably the best thing you can do to reward your moving company for moving you is just staying out of their way. You have hired your movers because you believe they have sufficient knowledge and experience to relocate you. So instead of meddling in their business, it would be best if you found something else to do while they are doing their job.
When is the right time to reward your movers?
Timing is one of the most important things in life. And there is no reason why it should be any different when speaking on the topic of relocation. The answer to this dilemma is simple – the right time to reward your quality moving company is once the entire process is over. So once you find yourself in your new home and once every moving box is unloaded on your property, you can feel free to stop and think. How do you feel? You will naturally feel tired, but do you feel satisfied with the services you received? If the answer is yes, then go get your wallet and tip your movers. The right time to show your gratitude is as soon as your movers finish their job.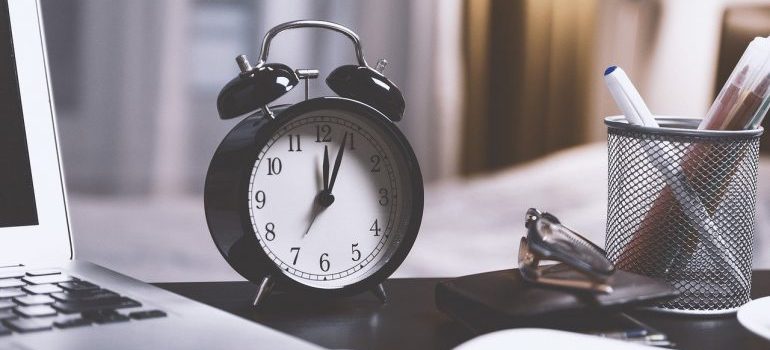 By rewarding a quality moving company, you'll feel rewarded yourself
There's a good reason why the entire reward system was put in motion in the first place – it helps people feel that motivation that lets them do a good job. Think about your own job. Don't you feel positive and satisfied when you get a reward from your boss? Sometimes, even getting a thank you from your superior is rewarding enough. So if you reward quality moving companies for a job well-done, you will also show your support for the system that you wish to see in your own workplace. People say that we should treat others the way we would want to be treated. You never know – you might get some good karma by tipping your movers. That would certainly come in handy.
Let our team put together a comprehensive moving plan for you. Complete our simple free quote form or contact us at 1-888-300-7222.