Tips for staging your home for sale in Redmond
When the time comes to move from Redmond, you'll need to sell your current home. But the real estate market can be quite a competitive place. So what makes your house special and better than others? Why should a potential buyer choose it over all the other properties on the market? The answer, of course, is that you have to make your home as attractive to buyers as possible. And you can do this by staging your home for sale. It will make your home look better to buyers thus ensuring you sell for a higher price and much faster. And the sooner you sell your home, the sooner you can hire Hansen Bros. Moving & Storage to help you relocate. So what are you waiting for?
Staging your home for sale is important
You probably love your home, complete with all its flaws and imperfections. But that's not what potential buyers will see when they walk through the door. You want them to fall in love with the place as soon as they see it, picture themselves living it, and think that it's perfect enough to spend money on. Staging helps you achieve this by highlighting the best parts of your home and hiding the flaws. This will help you sell your home faster and for a better price because you'll attract more buyers and make them more willing to spend on the house. So if you want to be able to hire movers Redmond WA and move out as soon as possible, staging will help you achieve that.
Staging your home for sale by focusing high-impact adjustments
While you can hire professionals to stage your home, this can put a dent in your moving budget. And if you're already spending on good cross country movers Seattle, you might not be able to afford professional help with staging as well. Luckily, staging a home can be done without assistance. You just need to know what to focus on.
Make a good first impression
Nobody likes to admit this but first impressions matter. It's hard to correct a bad first impression and hard to beat a good one. So when you're staging your home, ask yourself: what is the first thing potential buyers will see? Whether it's your front porch, lawn, hallway, or living room, make sure that it looks as inviting as it possibly can. Fix any damage to walls and floors, clean, apply a fresh coat of paint – these are all simple and minor changes that pack a punch.
Stage the most important rooms
Not all rooms are equally important when buying (or selling) a home. People tend to focus on spaces they are going to be using most: the kitchen, the master bathroom, the master bedroom, the den. These are the rooms you want to stage first and stage well. Your cluttered attic or garage being dusty is not going to put anyone off purchasing your home. But if there's water damage and mold in the bathroom or the kitchen isn't properly furnished, that might be a problem. If it helps, think back on when you were last buying a new home. What were some of the rooms you paid extra attention to? Stage those!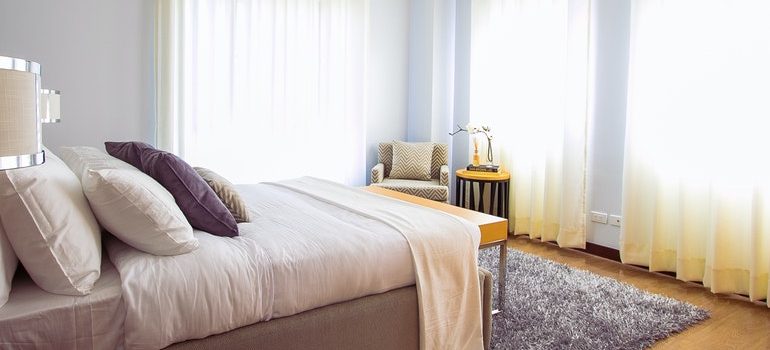 Make necessary repairs
Staging will help your home look better. And it can certainly hide some minor flaws like stained carpets or chipped wall paint. But strategic furniture placement only goes so far. Some damage you'll actually have to fix. Smart buyers will always check that doors and windows close properly, that insulation is satisfactory, and that the HVAC systems are operational. If there are any issues with those (that won't cost an arm and a leg to repair), it might be smart to invest a bit in fixing them. It'll significantly raise the value of your home on the market.
Staging your home for sale by depersonalizing the space
When buying a home, we're all looking for a place where we feel like we can belong. For this reason, it is very important to make sure that potential buyers can imagine themselves in your home. They won't be able to do this if your personal belongings are all over the place. Instead, you want to depersonalize the space so others can project on it and see its potential. It might be smart to rent storage Seattle for your belongings and only leave neutral furniture pieces lying around.
Declutter first
You can make both staging your home and packing for your move easier in one fell swoop: by getting rid of clutter. You definitely have things lying around that you don't actually need. Now is the perfect time to sell them, donate to a charity, or just throw them out. This will diminish the amount of stuff you have in the home, make it look neater and less personal, cut the time and effort you need to put into packing, and allow you to start fresh in your new home without clutter. No downsides!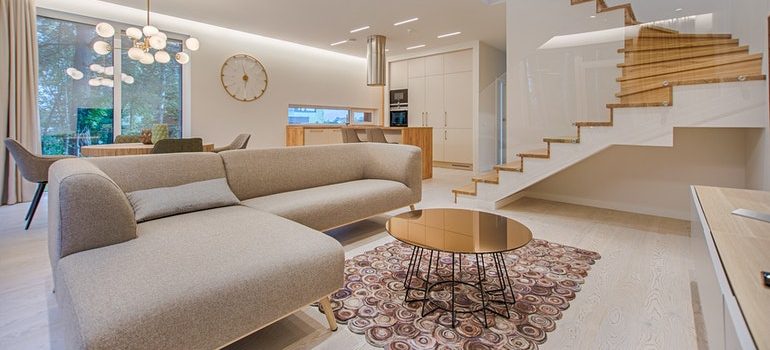 Clean until everything is spotless
Whoever buys your home is going to have to clean it before settling it. But that doesn't mean you can just leave it all to them – nobody is going to buy a house that looks dirty. On the other hand, spotless and well-maintained home is going to be very appealing to everyone who comes through the door. So clean like you've never cleaned before! Remember the spots you usually skip like behind the radiator and the gutters outside – many keen-eyed buyers will remember to check those as well.
Aim for fresh, light, and neutral
Most people like some sort of variety and visual interest in their space. But what exactly each person likes varies greatly. So when you want to cast a wide net, your best pet is to go for a neutral look with lots of natural light and nude coloring. This could mean painting over your darker accent wall, removing curtains to let more light in, airing out all rooms to make sure everything smells clean and fresh, and similar little tricks that make your home look bigger and airier.
You'll maximize appeal this way because even the people who don't go for this look will be able to see the potential of the home and how they can change it. That is to say, they'll be able to see ways in which they can make the home theirs. And that's the whole point of staging your home for sale.
Let our team put together a comprehensive moving plan for you. Complete our simple free quote form or contact us at 1-888-300-7222.