Tips for moving without damaging your home
Moving is an undertaking that carries a lot of risks. One of the biggest ones is the possibility of damaging your property in the process. Yet, when the chaos of moving ensues, this is one of the things that can easily slip your mind. No wonder there, really. After all, loads of chores and a tight timeframe make it easy to forget to eat, let alone protecting your property. Nevertheless, failing to do so leads to a whole plethora of other issues that can impact your new life. Therefore, moving without damaging your home, old or new, is of utmost importance. Luckily, this is not another impossible task to add to your moving checklist. Avoiding property damage is, actually, more than possible. So, here's some advice from Eastside Seattle movers that will help you cut the risks and move without stress.
The key to safe moving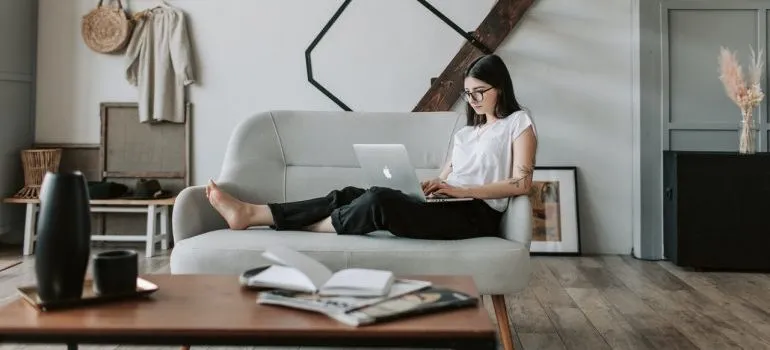 Two things vastly improve your chance of moving without damaging your home:
A wealth of information.
Proper preparation.
To make your property as safe as possible during relocation, you should take the time to do research and organize every step of the way. Knowledge of proper packing methods and moving processes will help you protect your home, items, and yourself from harm. On the other hand, preparation will help you do so with speed and efficiency. Although you'll spend quite some time researching and organizing, in the long run, you'll save much more of it. But most importantly, you'll ensure a smooth transition, free of risks and stress.
Moving without damaging your home is almost certain with professional help
There's a reason why good Washington movers are in such high demand. They make every aspect of relocation easier and safer. Moving isn't risky because of the number of chores, nor because of the tight timeframe. It's risky because it's not something you do every day. You don't pack delicate glass items every morning. You don't disassemble and reassemble armoires every afternoon. And you certainly don't load and unload moving trucks several times a day.
Therefore, you simply cannot gain the experience necessary to handle every single detail of relocation on your own. But, movers do. This gives them ample opportunity to develop and hone the skills necessary to ensure a smooth, risk-free transition. So, opting for their help is, by far, the best way of moving without damaging your home.
How to find perfect movers for your relocation?
Although every reputable moving company is well-versed in the art of safety, not all will suit your needs perfectly. The thing is, there are no two identical relocations. The requirements of your move are unique and, therefore, demand a unique approach. So, here's a crash course on finding excellent movers:
Check if moving services Seattle companies offer cover all the requirements of your relocation;
Ensure they're licensed and insured to avoid fraudulent movers;
Ask for referrals and read the reviews to find out how they operate;
Request quotes from multiple companies to find one that fits your budget.
Doing this will help you find safe, reliable movers that will make your relocation a breeze. But, you can make moving without damaging your home even easier, if you're willing to take a few extra steps.
More room makes moving without damaging your home more likely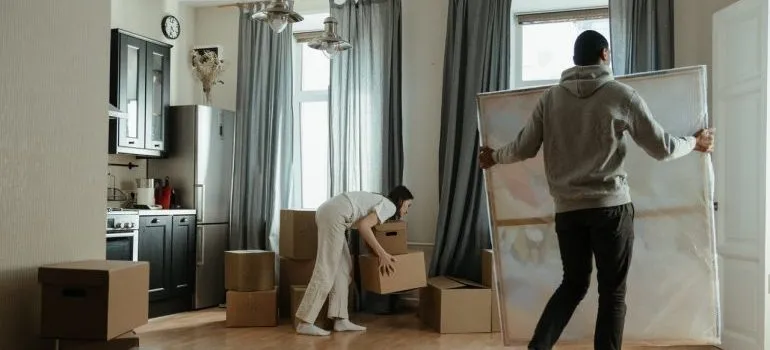 Lack of maneuverable space is one of the prime reasons for accidents during relocation. Piles of boxes, rolled rugs, stuff lying all around – it all adds up to a hazardous environment. And, when the time comes to carry all of it outside, even the smallest thing can cause a catastrophe if it's in the way. Fortunately, preventing this scenario is almost too easy. Simply take a few additional seconds to move things out of the way while packing. You can either stack boxes against the wall, or in the middle of the room, along with the furniture. This way, you'll not only make the entire process safer but faster, too. And the more efficiently you move things out, the less chance you'll get to damage your home.
Prepare your furniture and home for moving day
We already mentioned the importance of proper preparation during moving. Now, it's time to go from making a to-do list, to actually doing it.
Preparing furniture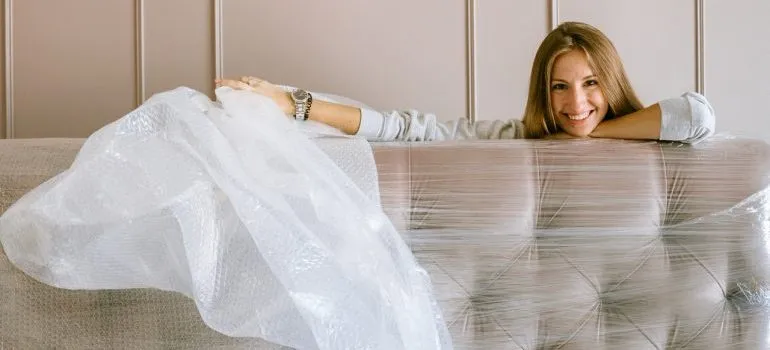 Furniture preparation isn't difficult, per se. However, it does require some attention and finesse. A good logic to follow here is:
If you can dismantle a piece of furniture, make sure to do so. It'll make transporting and stacking them into a moving truck much easier;
If disassembling is out of the question, never move a piece as-is. Wrap it in moving blankets or bubble wrap to ensure their and your home's safety;
Instead of relying on pure strength, use specialized moving equipment. You can rent dollies, stair ramps, moving straps, etc. from local and long distance movers Seattle.
In most cases, this is enough to protect your home from damage. But, better safe, than sorry. So, next stop – prepping your home.
Damage-proofing your home
With a few extra precautions, you can minimize the chance of damage and maximize safety during moving. What you can do is:
Measure doorways, hallways, and stairways and compare your findings with furniture dimensions. This allows you to devise the best maneuvering tactics;
Use excess moving blankets and bubble wrap to pad the doorframes and keep them safe;
Slip-resistant floor coverings are an excellent way to prevent mishaps.
Don't rush. Take it slow and safe to avoid damaging your home and health.
Plan – Prepare – Prevail
Moving without damaging your home is more than possible. All it takes is a bit of planning and preparation to go through it without a hitch. So, the last tip is: take your time. Although moving is always on a tight schedule, being organized will make it efficient, effective, and safe.
Let our team put together a comprehensive moving plan for you. Complete our simple free quote form or contact us at 1-888-300-7222.