Tips for moving your home aquarium
Your home aquarium is quite possibly your most prized possession. Not everyone dares to have a home aquarium as their maintenance is time-consuming and takes a lot of work. Still, that's nothing in comparison to the prospect of relocating an aquarium from one home into another. Moving your home aquarium isn't going to be one of the easiest relocation tasks around. Nevertheless, you need to do it if you want to keep enjoying your fish in the new location. If you are lucky enough to be working with some of the best moving companies Seattle has to offer, then you will have a constant and reliable source of assistance. But if you are forced to move your aquarium by yourself, you can still rely on our useful tips. Those we have plenty of.
Take care of your fish first and foremost
After all, we are assuming that they are your primary concern at the moment. Even if they aren't, you can't very well clean and transport your aquarium with all the fish still in it. That's why the first task ought to be taking your fish out of the aquarium and placing them in their containers for transport. This sounds easy enough, but there are nevertheless some rules to follow when transporting your fish.
Keep the fish in the same water from the tank in order to avoid shock.
Place every fish in a clean plastic bag that you have never used before.
Separate aggressive species from those species they usually attack.
Leave enough air inside the plastic bag.
Stop feeding your fish for 24 hours before removing them from the tank.
Of course, you can always check with your movers and packers Seattle to see whether they would help you clear out your fish tank. Just know that there aren't many companies that will offer this service as most movers don't transport living organisms. But it can't hurt to ask for some valuable tips, can it?
Proceed to move your home aquarium by draining the remaining water
You don't want to waste the water from your fish tank – especially if this is a saltwater tank we are talking about. By draining the water into clean buckets and taking it with you, you will significantly reduce the effort you have to put into your tank after arriving at the new destination. However, this is obviously a good enough solution only for those people who are moving locally. You won't be moving with the help of the best freight companies Seattle and relocating your buckets halfway across the world.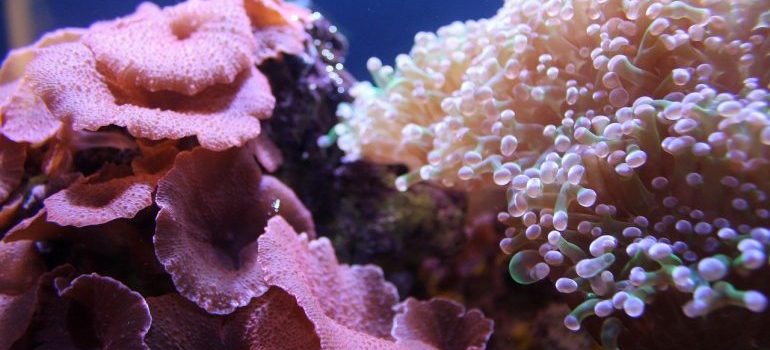 In case you have any living organisms inside the aquarium (apart from your fish), you will have to make sure they stay inside the tank water during transport. Live rock and live sand are commonly found inside aquariums, so you shouldn't forget to protect them in the same manner as your fish.
Remove all aquarium equipment
With all the water out of the aquarium, the next step is a pretty logical one – removing all the remaining equipment. Pieces such as pumps, filtering mechanisms, and heaters need to be wiped, dried, and placed in safe containers. The only exception is the filter, as it will need to stay damp. If you are going through a long-distance or interstate relocation, you need to think about the option of leaving your filter behind and buying a new one. Sometimes, the relocation of an item will bring more complications than replacing it.
Clean and disassemble your tank when moving your home aquarium
Since all the water is out of the tank, you have the perfect opportunity to give it a good scrub. Clean your aquarium and save yourself the trouble of having to do it once you arrive at the new location. Use all the substances that you normally use to clean your aquarium. When that part of the job is done, you can move on to disassembling the tank.
But be very careful – you are dealing with some very fragile pieces. Every piece will have to be wrapped in protective packing materials as you want to ensure the glass stays damage-free. You might not want to use any moving blankets that your Seattle local movers provide you with, as the materials used for packing an aquarium and its equipment will most likely (although not necessarily) get wet.
It's very important to take good care of the buckets containing your fish and living organisms from the equipment. You need to place them in a spot where they won't be in danger of any falling items and it would be ideal if that spot could be stable. The last thing you want is for these buckets to be jostled too much and spill all over the vehicle.
What do you do at the new location?
Well, for starters, you take a sigh of relief – you've successfully relocated your home aquarium. Now all that's left for you to do is set it up. At this point, you want to follow the reversed order. First, reassemble your tank to its former glory. Then add all the equipment such as filters and heaters. Start filling up your aquarium with water, returning live rock and sand back to the aquarium. Once all of that is over, all you have to do is fill your aquarium with your lovely and colorful fish.
We know how challenging and intimidating the process of moving your home aquarium can be. However, we also know that if you follow all the right steps, you are going to manage to relocate your tank without losing any of your fish. Moreover, you'll keep your aquarium free of any damage and scratches, so you'll be able to enjoy looking at it in the years to come.
Let our team put together a comprehensive moving plan for you. Complete our simple free quote form or contact us at 1-888-300-7222.