How to move heavy furniture by yourself
It would be great if you had professional help during your next relocation. After all, who wouldn't want to have a fully-assisted relocation where everything will be taken care of by the best movers Seattle has to offer? Unfortunately for some people, that's not always a possibility. When faced with a limited budget and a relocation on the horizon, you need to learn how to be resourceful and move heavy furniture by yourself. Lifting a heavy sofa does seem like an impossible mission. But there are always some tips and tricks that will make lifting heavy objects doable even when you don't have a moving team to lend a helping hand.
The most important thing is to be realistic
You might not have the option of hiring professional movers for the job. However, that doesn't mean you have to relocate heavy furniture by yourself. Bear in mind that it doesn't matter whether you are moving your furniture to a new home or placing it in storage units Lynnwood WA – you are going to need some sort of help. And who better to help you in your time of need than some good friends or beloved family members? Find at least one other person that can help you carry heavy furniture pieces. Let's face it – no matter how strong and muscular you are, you simply won't be able to lift a dresser by yourself.
Assess your situation and make a plan
It's been said time and time again that every successful relocation begins with a good plan. That's why it should come as no surprise that the same golden rule applies when relocating heavy furniture. To start your residential or commercial move in Seattle on the right foot, make sure you assess the situation first and foremost. Make a list of all the heavy items that you need to move and try to figure out how to place each item inside the moving truck. It's a general rule of thumb that heavy items go at the back of the truck, so you can start from there.
Secondly, do your best to come up with a plan that will give you an idea of how to get your heavy piece from where it's at this moment out of the door and into the moving truck. This might be a bit difficult to figure out if you are working with tight hallways, but that's why you are doing it now. You want to avoid making a plan once you already have a heavy item in your hands.
Move heavy furniture by yourself by using special equipment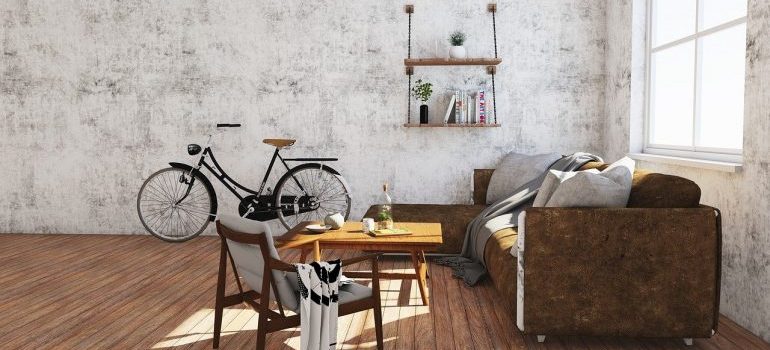 Being well-equipped for your move is one of the most important things. When you are purchasing moving equipment, you definitely want to focus on the quality of the items you are buying. This is particularly important when purchasing the equipment that will help you lift and load heavy furniture into the moving truck. When speaking about special equipment that's going to help you move to your new home, we can't forget to mention:
Moving straps – these are designed with the purpose of lifting some weight off of your back and arms.
Furniture sliders – they help you move furniture across the room by sliding it rather than lifting it.
Furniture dollies – they will help you move heavy items that you can place on them, after which you'll glide the dolly to the truck.
You don't necessarily have to purchase these items yourself. If you know someone who has relocated in the last couple of months and did so without the help of local movers in Seattle, then you can ask whether they have some of these items ready to be used. Perhaps that same person will lend you the equipment and help you move heavy furniture to your new address. After all, they sure would know how difficult it can be to move on your own.
Disassemble when possible
Wouldn't it be easier to carry a few smaller pieces separately than having to carry one large and heavy piece? If you have ever had any contact with our HB move management department, then you already know the answer to this question. Our professionals always advise our customers to disassemble those pieces that can be broken down into smaller parts. Just be careful – you need to remember the exact order in which you disassemble your pieces. You'll have to use your furniture once you relocate it to your new address. That means you'll have to reassemble it upon arrival. And keep good care of all those little screws and bolts – they get lost so easily.
Be mindful of the right lifting technique when moving heavy furniture by yourself
Do you have nightmares at the mere thought of a twisted ankle or a sprained back? Then you most likely know someone who has suffered a moving injury during relocation. We won't lie to you – moving-related injuries are quite common. The good news is that you can prevent them by paying attention to the right lifting technique. Many people make the mistake of lifting with their backs when picking up a heavy piece. What you ought to do is keep your back straight and use your knees to give you the necessary support for lifting an object. That's the most appropriate and correct posture when lifting and carrying a heavy piece.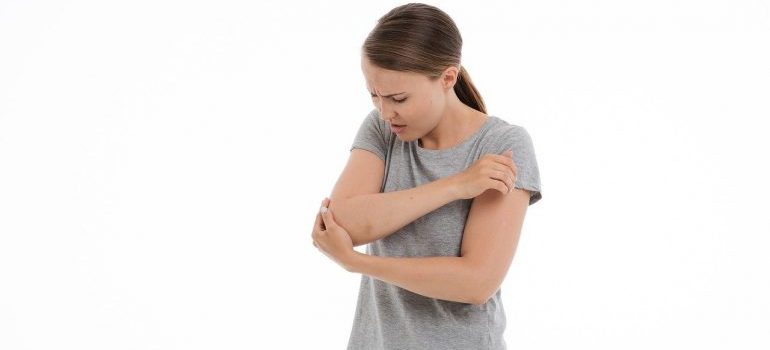 There are many different things to pay attention to when trying to move heavy furniture by yourself. We can't tell what will help you the most in your efforts to get your items from point A to point B without professional assistance. One thing is a certainty – you are going to need at least another pair of hands. Of course, you can even gather an entire team of friends – that would be the ideal scenario.
Let our team put together a comprehensive moving plan for you. Complete our simple free quote form or contact us at 1-888-300-7222.