Tips for packing your power tools for moving
If you are about to embark on relocation to another home, you might want to pay special attention to your power tools. While quite sturdy in most cases, these items deserve special treatment. The easiest way to prepare them for the trip, of course, is to hire one of the local movers Seattle has for the job. They will ensure that your valuable belongings are safe and sound throughout the process. But if you want to do it on your own, we have prepared seven of our most important tips on packing your power tools for moving. If you apply them all, you are all but guaranteed to have an easier time dealing with the necessities of the relocation. Without further ado, let's get into it.
7 tips on packing your power tools for moving
If you follow the proper care and maintenance of your tools, you may jump into these tips immediately. But if your items require any repair or additional maintenance, you may want to do that prior to packing. Even if you plan on storing your tools inside one of the Seattle storage units, you will want to have them in working order. That way, you will be able to use them when you really need them and not worry about any repairs. And only after that, will you be ready to get to the packing process. Here's what you will need to do:
First things first, separate your power tools
Remove any sharp parts
Detach anything that is removable
Thoroughly clean everything
Drain the liquids before packing
Use proper packaging
Get a dolly
If you follow these guidelines, packing your power tools will be easy and secure. Again, if you are unsure about any part of the process, simply contact your local Washington movers for assistance. They can provide you with free advice, as well as any services you may require.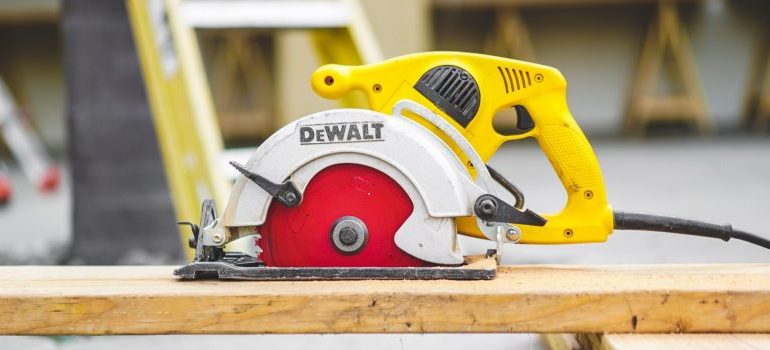 But for the most part, you should have no issues if you follow the steps. Starting with:
Separating your power tools before packing
The first thing you will want to do is separate your power tools to have an easier time handling them. By being separated, they will not mix and it will be much easier to clean and secure each tool. Not only that, you will be able to easily figure out whether you actually need to take all of your tools with you to your new home. At this point, you may want to consider replacing some of them, selling them, or simply leaving them behind. This will have the bonus effect of reducing the moving costs, saving space, as well as making the whole endeavor a lot easier. That is why this needs to be high on your priority list.
Remove any sharp parts
After you know which items are making the trip with you, it is time to start disassembling them. First, remove any detachable sharp parts from each power tool. This will make it much easier to pack them and it will minimize the risk of an injury in the process. Wrap your blades in protective sheathing, bubble wrap, or similar. This will make it easy for you to handle the blades themselves and it will protect them from any damage.
Detach anything that is removable
Almost every power tool has detachable parts. You will want to remove these before packing and store them in a separate container such as zip-lock bags for example. Again, wrap any part in bubble wrap or other protective sheathings. As for the electric cord, simply coil it around the body or utilize the storage compartment if you have one. This is also the time to verify that you did not forget anything. After packing, make sure that you thoroughly check your garage/attic/storage unit for any leftovers.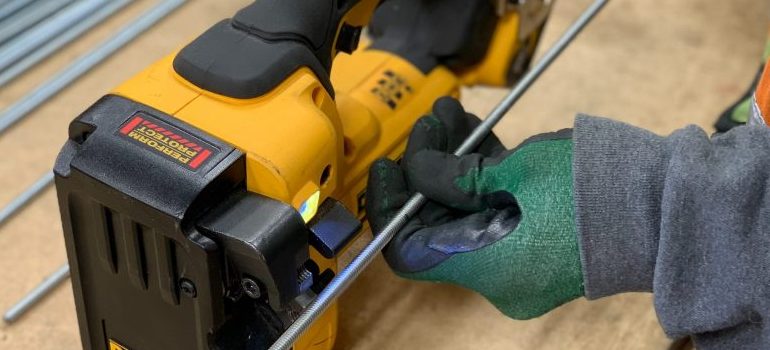 Thoroughly clean everything before packing your power tools for moving
The next step in the process is to make sure that everything is "squeaky" clean. You don't want to run any risk of rust and dust damage to your belongings. The best thing to use for cleaning purposes is, of course, dedicated power tool cleaners but you can get away with similar solutions. The important thing is that you use the right cleaner for the surface. Some storage services offer cleaning as part of their monthly rent, so you might want to see if they will maintain your gear for you, as well. But you need to do your part, too.
Drain the liquids before packing
If you have any tools that utilize fluids in their operation, you will want to drain them before packing. This will prevent any mess from happening in the moving truck, as well as prevent any damage to your other belongings. When draining the tools, be mindful of where and how you do it. Some of them can be quite unsafe and hazardous and special treatment might be needed. While on this point, did you know that transporting lithium batteries is considered hazardous? It is always best to check with your state rules and regulations before transporting anything that might be considered such.
Use proper packaging
The best packaging solution for your power tools is, of course, their original factory box. These boxes have special compartments for every individual part, maximizing the safety of your tools. However, if you are unable to find each original box, you may want to utilize hard cardboard boxes of just the right size. You will pad and wrap these boxes with foam peanuts and bubble wrap, filling the empty space. The important thing is that your power tools do not have any "wiggle room" while in transport. And if you are u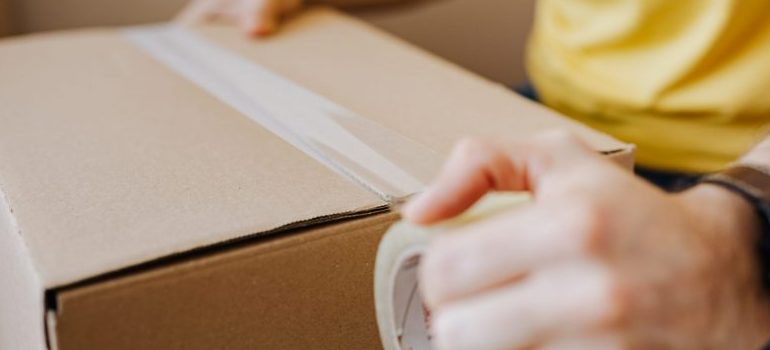 Get a dolly and make packing your power tools for moving easier
Speaking of transport, some power tools can be really heavy as well as bulky. If you have one or more of these, such as a drill press or a table saw, you may need to hire professionals to transport them. But for anything else, you can use a dolly to great effect. Most power tools are heavy, after all, and you will most likely be working with several at the same time. That is why it is important to protect your back by utilizing a dolly when packing your power tools for moving. After loading, simply secure them with some tape or bungee cord and they will be good to go!
Let our team put together a comprehensive moving plan for you. Complete our simple free quote form or contact us at 1-888-300-7222.