Tips for planning your moving budget
Undergoing a relocation, even a local one, can be a very costly process. Therefore, it is vitally important that you budget accordingly. The easiest way to be planning your moving budget is to find out about and understand moving costs. For example, you might think that simply hiring one of the best movers Seattle has to offer is going to provide you with an accurate assessment of costs. But this is not the case, as there are many other expenses to account for. In this article, we will be breaking down the budget-planning process to help you come to optimal decisions that concern your budget.
Planning your moving budget 101:
To plan your budget to the best of your ability, you will need to consider:
Inventory
Research
Time and place
Expenses money
Saving/earning money
Emergency fund
Additional costs
Breathing room
Also, if you need to save some money on your relocation, you might want to handle some relocation tasks by yourself. Most notably, the packing process. But you can also pad/shrink-wrap some of your items, lowering the time it takes for your movers Kirkland, for example, to load your belongings in the truck and, by extension, the overall moving cost. The more you can accomplish on your own, the cheaper the relocation. With that in mind, let's see how to approach budget planning.
Taking inventory
This is the first step you will need to take. Take some time to determine the items that will be making the trip with you before you do anything else. You will want to go through each room and consider whether you want to sell/donate/throw away some of your belongings. This will provide you with a more accurate assessment of the costs required to relocate your items.
Doing research
After you have a firm grasp of your inventory, it is time to figure out the best movers for the job. Every single one of the shipping companies Seattle has on offer will need your inventory list to provide you with a moving quote. Depending on your situation, different moving companies will provide you with different pricing models. It is up to you to do some research and figure out which company can provide you with the best deal.
Where and when to move?
The time of the year has a large impact on moving costs. For example, summer relocations always cost more than winter relocations. This is due to the fact that fewer people move in the winter and moving companies are more inclined to offer better deals due to lack of work.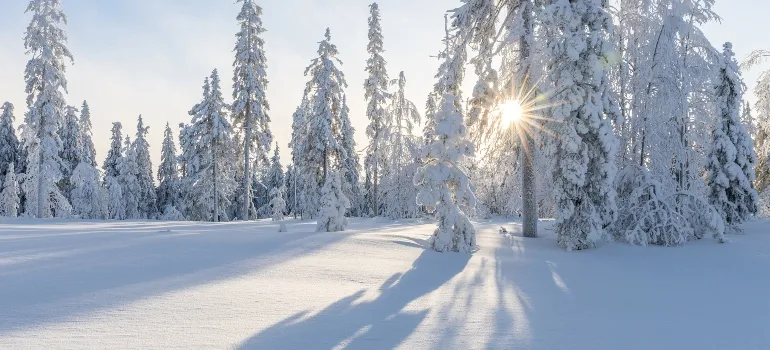 Where you are moving from/to has a large impact as well. An example of this is the fact that moving out of a rural area is usually more expensive than moving out of a big city. Furthermore, if you are moving to a large city for the first time, you will want to budget for additional living costs. This leads us to our next point.
Setting aside money for everyday expenses when planning your moving budget
It is really easy to forget that your everyday life does not stop while you are in the middle of relocating. You will still need to send your kids to school, walk your pets, and buy groceries. These expenses can quickly "rack up" and chip away at your moving budget. What you want to do is keep track of your everyday expenses a few months before actually creating a moving budget. That will provide you with accurate information to go on.
How to save/earn money during the move?
If you find yourself in a situation where you need more money for the relocation, you may want to start saving or earning more before relocating. If you are often eating out, for example, you may want to start preparing your own meals a lot more. Or you might want to postpone buying new clothes or additional items.
You can also obtain moving boxes and packing supplies for free, or very cheap. For boxes, visit your local stores and ask if you can have any. As for moving supplies, you may want to browse the internet for people that are donating them to others. Don't worry if you don't find everything that you need, you can easily purchase the remainder from one of the Washington movers. But the more you are able to obtain on your own, the easier it will be to plan your budget.
Have an emergency fund in place
Having an emergency fund is not something that everyone can afford to do. But if you are in a position to create one, it is something that you should absolutely do. Relocations can often have completely unexpected costs to them, and it is good if you can be prepared. A good example of an emergency fund is to set aside money for at least three months worth of everyday expenses.
Additional costs
Aside from the "standard" costs that people associate with relocation, there are always some additional costs to worry about. For example, you may need a professional cleaning service to get your security deposit back. Or you may need to account for paying for childcare at your new home. You may even want to set aside some money for exploring the city of Seattle, even. All these can quickly add up and present a problem to your moving budget.
What you need to do is carefully analyze your situation and try to identify as many of these additional costs as you can. That will allow you to make the optimal financial decisions.
Remember to allow for some "breathing room" when planning your moving budget
Lastly, you may want to "relax" your budget restrictions a bit, provided you can afford it. Going to watch a movie, for example, might not do any favors to your moving budget but it may provide you with a more than a welcome distraction. You are still human, after all, and you will need some stress relief.
Planning your moving budget is not the easiest thing in the world, but it need not be very difficult, either. Follow the steps outlined in this article and you will have a much easier time budgeting your relocation costs!
Let our team put together a comprehensive moving plan for you. Complete our simple free quote form or contact us at 1-888-300-7222.