Tips for relocating your home library
For a passionate reader, books are more than objects or mere shelf decoration. They are gateways to fantastic realms – vessels that enable traveling across infinite universes. Time machines that give means of exploring past, present, and future. If you're the person who views books in this manner, then relocating your home library safely is of the utmost importance to you. So, here are a few tips from some of the best movers Seattle, to make this undertaking easier.
#1 – Revise your library before you start packing
Now, we know you absolutely, definitely, undoubtedly must bring all of your books with you. But, do you, really? The thing is, in every book collection there are a few black sheep. Or, an entire flock, if we're being realistic. These are the books you bought and read, but didn't find them satisfying nor inspiring in any way. You don't have the heart to throw them away and you certainly won't read them ever again.
So, why bring them? They are only excess weight, which will increase the price of your move. Especially if you're moving long-distance since most long distance movers Seattle will charge by the overall weight. So, the heavier the load, the more you'll pay. And, make no mistake – books are heavy.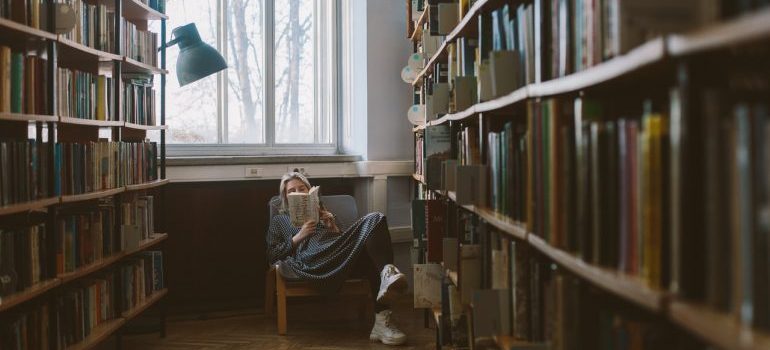 Therefore, consider giving up at least some of them. You don't have to throw them, of course. Sell them online, donate to charities, or see if your family members or friends would like to "adopt" a few. That way, you'll cut some unnecessary weight and the cost of your move, and your books will have someone to appreciate them.
#2 – Quality packing materials are the priority
To ensure proper protection for your books, you'll need quality packing materials. Boxes being the most important of all. As we said, books are heavy. Therefore, you'll need a box strong enough to support them. That said, a general rule of thumb when relocating your home library is to use smaller boxes to pack books. It will make them easier to carry and stack in the moving truck, without risking injuries.
Now, how do you know how many boxes you need? That's pretty easy, actually. Small boxes can fit around 20 – 30 books, depending on the format. So, you only need to divide the total number of books by 20 or 30, and you'll find out how many boxes you need. Still, it's always a good idea to buy a few more, just to be safe.
The rest of the packing materials
With boxes in tow, you got the most important part done. Now, you need other materials. At the very least, you'll need a generous amount of bubble wrap and packing tape. But, if you want more security for your books, consider getting:
Packing peanuts;
Stretch foil;
Painters tape;
Brown paper;
Marker.
Although optional, these packing materials are always a welcome addition.
#3 – Organize books before relocating your home library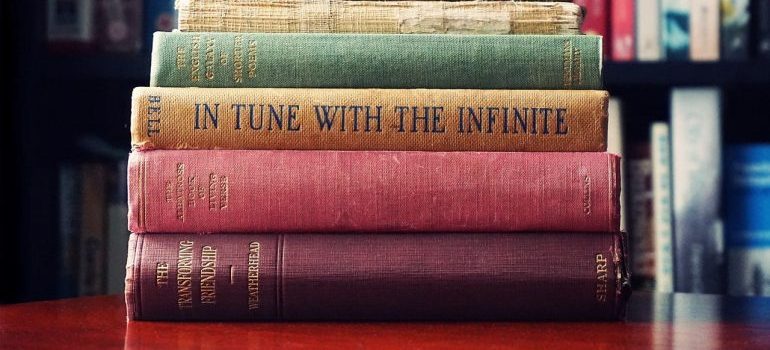 Contrary to popular belief, you shouldn't pack paperback and hardcover books together. Although it seems like a good idea, this can result in damage to paperback books. Therefore, separate them by cover type first.
Next, you want to sort them by size (format). Packing books of similar size together will result in a snug fit that leaves less wiggle room.
#4 – Crash course in book packing
Packing books isn't difficult. For the most part, they'll be ok neatly stacked in a box. However, if you're packing valuable or old tomes, or you know they'll spend some time in one of the Seattle storage facilities, things become a bit more tricky. Or, rather, more tedious, because you'll have to pack each book individually:
Start by wrapping a tome in a few layers of brown or glassine paper;
Secure paper in place with artist (painters) tape. Do not use packing tape for this purpose, as it can damage your books if any gets on them;
Wrap the tome in stretch foil or bubble wrap. As an alternative, you can use paper towels, but they don't provide nearly as much protection;
With these steps done, you can proceed to place the books in boxes. However, if you're storing them for a prolonged period, consider replacing cardboard boxes with plastic bins. They offer even better protection from moisture and are easy to carry and stack.
#5 – Boxing the books
In general, there are three ways to stack the books inside the box:
Spine-down is good for both paperback and hardcover books;
Upward (spine-out) is excellent for hardcovers;
Flat is only advisable for paperbacks.
Do note that you don't have to choose any single method. In fact, you'll get the best results (i.e. save more space) if you combine them.
Once your books are packed and stacked, fill the rest of the box with padding. Packing peanuts are the best choice, but bubble wrap or loosely crumpled brown paper works, too.
Shake the box a bit to see if the books are still moving. If they are, add some more padding until they have no more wiggle room. Once they're safe and immobile, fill the rest of the box with padding and seal it.
#6 – Label the boxes
This last step isn't essential, per se. Still, it saves a lot of time and nerves when the time comes to refill your bookshelves. So, it's advisable to set aside a few seconds and label the boxes as you seal them.
Save time and ensure the safety of your books
The methods mentioned here are excellent for smaller libraries. However, if you have thousands of tomes, relocating your home library becomes much more time-consuming and nerve-wracking. In this case, it's best to contact reputable Seattle movers and make use of their professional packing services. Other than saving a vast amount of your time, trained professionals will make sure your precious books are prepped in the best possible way.
Let our team put together a comprehensive moving plan for you. Complete our simple free quote form or contact us at 1-888-300-7222.