Tips for unpacking after a long distance move
The moving day is finally over, and you have just come to your new. However, if you have moved before, you know that packing for the move and having your belongings shipped is not where the moving process ends. Now, you have to face a new challenge- unpacking after a long distance move. Some people find this process calming since they are finally settling into their new home, while for others this is a nightmare. No matter which group you belong to, Hansen Bros. Moving & Storage is here to help you go through the unpacking process smoothly.
Why is unpacking so difficult?
No matter where you are moving, the moving process is stressful. There are so many things that you have to organize, find the reliable long distance moving companies Seattle has, decide what moving services you need, and pack all your belongings. Now, you are in your new home, exhausted and surrounded by moving boxes. It is understandable that the only thing you want is everything to be in its place so you can finally feel at home. But, do not despair. We are here to show you how to unpack after the long distance move and how to do it fast and efficiently.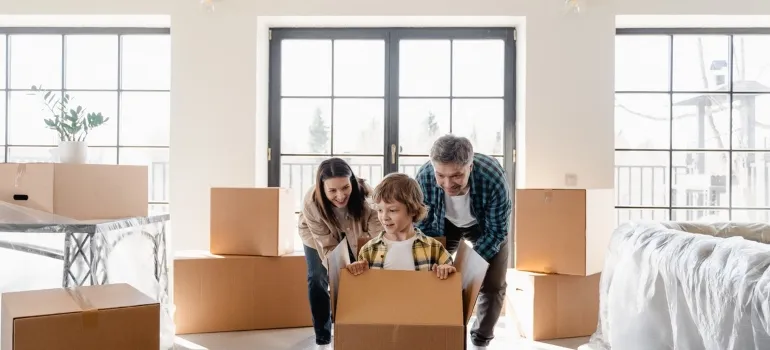 How long does it take to finish unpacking after a long distance move?
How it will take you to unpack all the moving boxes after the relocation depends on a few factors. First, it depends on how many moving boxes you have, but also how many helping hands you have got. Ideally, it should take a week or two to place all your furniture where you want and unpack all moving boxes. If you are lucky and get a week off to settle in, you might be able to unpack even quicker.
How to unpack fast?
If you want to unpack fast after your interstate move you will have to pack properly in the first place. And if you want to be packed properly you need to have adequate packing service, professional shipping crates Seattle, as well as to declutter all your belongings. Prepare an essential box, decide what items you will donate, what you are going to sell, and sort everything properly in boxes room by room and label the moving boxes accordingly. If you follow the room-by-room rule to pack your belonging, then you will be able to unpack fast.
Place the furniture and the boxes in the right room
So, good organization is a key to a successful relocation, but also to an efficient unpacking. Make a plan of what gets to be unpacked first and follow the room-by-room rule. Therefore, the first thing you need to do is to place the furniture and the moving boxes in the right rooms. This will help you to stay organized. Also, if you are moving with kids, let them participate in the unpacking process. Let them get a say in what goes where and they will feel included and respected.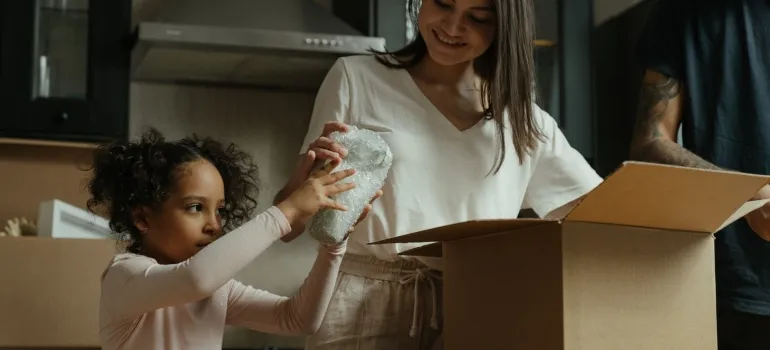 Start with a kitchen
If you do not want to spend your money on takeout, then it might be best to start unpacking in the kitchen. First, you will have to hook up the fridge, the stove, and other important appliances. Well, you do not need to sort everything out at once. Start with the thing you need the most. You do not have to sort all the dishes, cupboards, and cabinets. You only need to take out the pots and pans you will use, as well as a couple of dishes and cutlery for each family member.
Set up your bedroom
After West Seattle movers relocate you to your new home, you will want to have a rest. Therefore, assemble and set up your bed, because that is the next thing you will need right away. Afterward, you can assemble the dressers and other bedroom furniture that you might have. Also, you should take out the clothes you often wear, while other stuff like decorations can wait. Finally, do not forget about the bathroom. You will definitely need it as soon as you come to your new home, Thus, go straight to cleaning first and then place all the toiletries you need. Once you get the bathroom ready, you will start feeling like being home. 
Take step by step
During the whole unpacking process, you will find yourself feeling overwhelmed. Even though having a plan is important, you shouldn't push yourself too hard. However, you shouldn't give up either. Take it easy. When you get tired, take a rest. If you need a sweater, go to the dress and while you are taking it, sort out the socks. In case you want beer, have it in the kitchen and put the utensils in the designated place while you are there. You will see how small things add up and before you know it – you will be unpacked.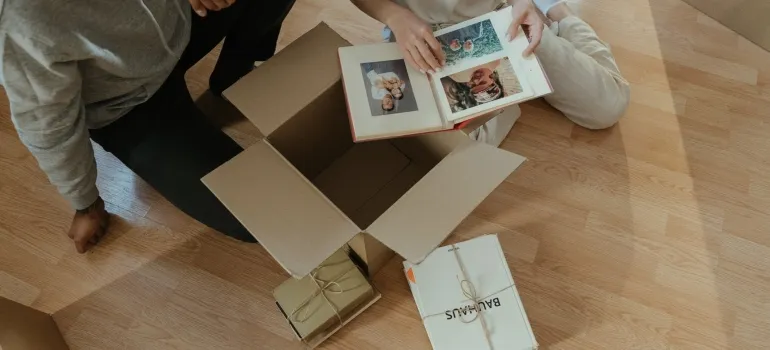 Make your new home feel like a home
Once you are done unpacking after a long distance move, it is time to make yourself feel at home. In order to turn your new home into a real home, take out your family photos and decorations. After you place everything in its place, it is time to throw a housewarming. This is a great way to meet your new neighbors and make some new friendships. Celebrate a new chapter in your life.
Let our team put together a comprehensive moving plan for you. Complete our simple free quote form or contact us at 1-888-300-7222.