Ultimate guide for moving in together
If you have reached the point in your relationship where moving in together is the step you are both eager to take, congratulations are in order. This is, after all, one of the biggest changes both of you will have in your lives. With this in mind, it would be best that you venture into this process well-prepared. Luckily, with the help of some of the best movers Seattle, you will have little to worry about. However, while they take care of the bulk of your relocation process, here is what you yourself ought to know. Take a look at this ultimate guide for moving in together.
A great guide for moving in together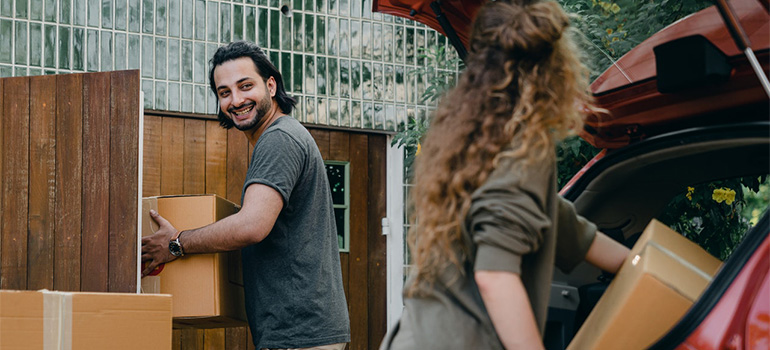 There are two aspects from which you ought to approach this subject, and those are the practical and theoretical so to speak. The former considers the actual, physical transportation of your goods to the new place. The latter, however, is about the process of combining two lives, which requires at the very least a good and honest talk. However, let us first address the first aspect of this big step in your life.
Purge your things before the move
This is probably the most important part of your relocation. Of course, depending on the place you are moving to, you might be able to take it all, but let us assume this is highly unlikely. You will most probably have to purge your goods in order to be able to move into your new place, and actually have the place to move through. Now, the first thing you should do is see with your partner which are the things you need. What parts of furniture will be necessary, and which ones you can go without. Remember that compromise will be the keyword in this entire endeavor. Speak with your significant other and determine how much space you will both have for your things.
Get the help you need for the move
Just because you are moving in together doesn't mean you two will have to take care of it all on your own. As a matter of fact, it is rather recommendable that you look up some moving companies Marysville WA to help you out. After all, there will be plenty for you to do as is. And there is really no need to go through this rather joyous occasion with hardship and stress. A professional moving company will ensure it all goes as smoothly as possible, allowing you to focus on the important things of this process. While they take on the bulk of the moving process, you can sort the documents, organize the layout of your new place, and take care of everything else only you can address.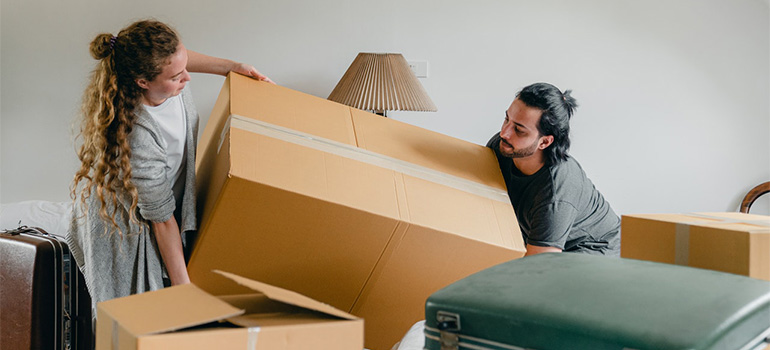 However, if you would rather hire movers North Bend WA solely for the transportation of your goods, that too is an option. You don't need to pay for a full-service move if you don't need it. Still, keep in mind that most companies offer specific services so that they can address any part of your move. So, you can hire movers just for the packing process, or only for moving your things from this place to the next. Really think this through because it is virtually guaranteed to save you time, nerves, and energy.
What does moving in together mean?
Sure enough, you will be living at the same address. However, is that the only change? The address in your ID? No, not really. That is probably the smallest part of this vast change in your life. What you can instead of looking forward to is the complete and palpable difference in your daily habits. Apart from a totally new apartment layout (proven that you are moving to their place, or you both are changing your current home), you will have to be prepared to share every part of the new place. This means expecting that things won't always be where you left them, that your significant other will have new ideas on how an ideal place ought to look like. The latter will probably include everything from the fridge down to the bathroom cabinet.
As you can imagine, all these changes in what used to be the only stable thing (your daily routine) can be quite nerve-wracking at times. It is no wonder many experts suggest that you first spend some time living with your significant other before you exchange wedding rings. Here is what our guide for moving in together has to say on dealing with all the challenges you have up ahead.
Communication, compromise, honesty, and consideration
Communication really is the key. Do not expect the other person to just know what bothers you. See that you find the time and the right tone to speak of the things you are willing and not willing to settle with. Then, we come to the compromise. This word means that none of the sides will be 100% content with the agreement. But, you will both have what you asked for, as much as the other person can grant. See that you are honest, first and foremost with yourself.
Living with someone is a big commitment, and if you can't seem to agree, this person might not be for you. And that is perfectly fine. However, don't be eager to give up on the first sign of a fight or disagreement. Rather be considerate towards your loved one. After all, they too are going through this big change. Remember, it is not you against them, but rather you two against the problem.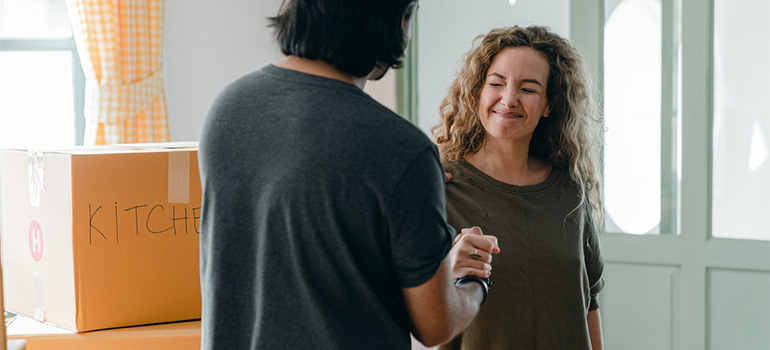 We hope that this guide for moving in together has helped you out. At the very least, it gave you an idea of what is to expect. Now, take a deep breath, and try to enjoy the process. After all, you will be spending much more time with your loved one, and that indeed is a cause for celebration.
Let our team put together a comprehensive moving plan for you. Complete our simple free quote form or contact us at 1-888-300-7222.