Useful tips for relocating gym equipment
Even though relocating gym equipment seems like a daunting task, it can actually be just another workout session for you, if done right. Yes, you will be involved in some unconventional exercises. But still, if you are into bodybuilding or fitness then you know that working out is all about challenging yourself. However, when you are trying to move heavy weights and bulky exercising equipment, your main tasks will be to avoid injuring yourself and damaging your items and surrounding property. Therefore, regardless of your fitness level or strength, you will need to make sure that you hire some of the most experienced moving services Seattle has – experienced as far as moving those types of items is concerned, of course. With their help, this process will be much safer and easier. Let's take a look at how to do it right.
Prepare a list of items that you have in your gym – it will help your movers to easier assess the volume of the job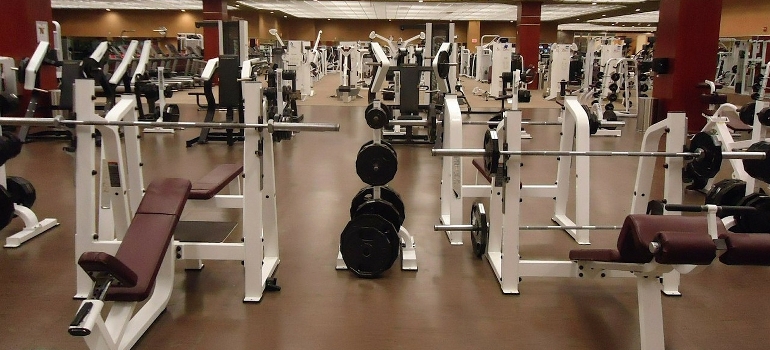 Moving your gym equipment can be a complex logistical task. Therefore, start by making an inventory list of your equipment. This will help you to comprehend the task in front of you. And it will help your Eastside Seattle movers provide you with an accurate moving estimate. Moreover, to create an operational strategy and prepare appropriate vehicles and equipment that they will need to transport your heavy items.
Things that you need to prepare before you start relocating gym equipment
Regardless of the fact that you are hiring moving professionals for moving your gym equipment, you will still need to prepare your yoga mats, benches, weights, treadmills, and other equipment for relocation. Your long distance movers Seattle will load, transport, and unload them at your new space, but you still need to clean your items. And, in most cases, disassemble and pack. Therefore, prepare:
Cleaning the gear – Microfiber cloths and antibacterial cleaning products
Tools – Adjustable wrench, multi-bit screwdriver, hex key set, pliers, etc.
Packing materials – Cardboard boxes, durable crates, plastic wraps, straps, packing tapes
Exercising equipment is germs' breeding ground – clean everything thoroughly
Before you start moving your gym, you need to clean it. Exercising equipment is known to be germ breeding grounds. Especially if you own a commercial gym that a lot of people use. Ok, you are probably sterilizing your machines on a daily basis. Still, there are always spots that are hard to reach during regular sanitization. And, you will see those spots once you start taking your equipment apart. Apply some strong disinfecting product, let it sink in for a while, and use microfiber cloths to wipe it. That way, you will be protecting your local Seattle movers from germs and bacteria.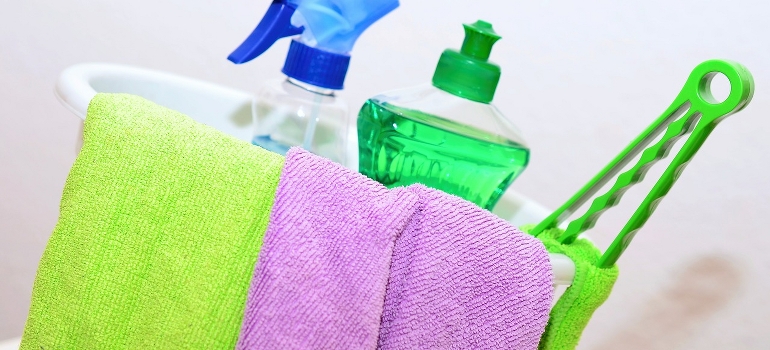 Moreover, when you are moving, there is a big possibility that your items will wait for some time before they are put in use again. During that time, those germs and bacteria, if you leave them, will multiply causing a health threat to anyone who will be using them later. Also, any non-metal materials on your equipment, like your yoga mats, rubber handles, etc. will be in danger of attracting mold and deteriorating.
Disassembling gym equipment is dangerous – take it slowly, find help, and use appropriate tools
Once everything is clean and dry, you can focus on dismantling your gym equipment. Even though most gyms have similar exercising machines, different manufacturers and variants mean that there isn't a universal guide on how a particular machine should be taken apart. Therefore, you will either have to consult your user manuals, ask professionals for advice, or use your common sense to figure out how to disassemble those mechanisms.
Of course, with the right tools and a few pairs of helping hands, things will be much easier. Still, be very careful when doing this. After all, you will be working with heavy weights. And every mistake could mean a lost finger or expensive damage (if you're lucky).  For those reasons, we urge you to take things slowly and check everything twice before you start the disassembly process.
Be careful when packing your equipment – you do not want to overload the boxes
When it comes to packing your gym equipment for the move, we suggest hiring packing professionals. Such heavy and awkwardly-shaped items present a real challenge when it comes to packing. Therefore, it would be better to let those people who will do the carrying to and out of the truck handle the packing as well. Of course, if you want, you can do this on your own. Just make sure that you do not overload the boxes and crates. Heavy weights can easily damage your cartons. And they will be easier to carry if you do not overload them. Naturally, avoid using cardboard boxes for the heaviest items.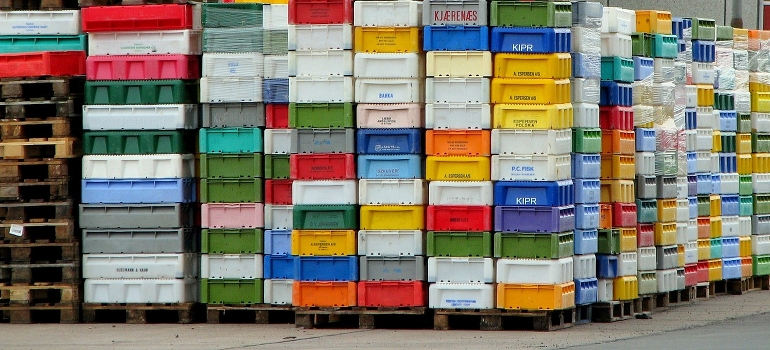 You can put your yoga mats, stretch-out straps/bands, foam rollers, and other lightweight items in regular cardboard boxes. On the other hand, when it comes to heavy items, you will either have to use more durable containers or crates or simply wrap them in several layers of bubble wrap and move them as they are.
Loading a truck and transporting your items are the most challenging parts of relocating gym equipment – let your movers handle these
Moving your gym equipment and loading it to a moving truck should be performed by your movers. Still, if, by any chance, you have to do it, you should prepare a few more items that will help you in this task. First of all, you will need a moving cart for the bulkiest and heaviest machines. And you will need a loading ramp that will help you to lift those items in the back of the truck. Especially if the truck's trailer is high and doesn't have a liftgate. Once you load the moving truck secure them with straps and make sure that they cannot move during transport.
Some parts of this process should be taken care of by professionals
As you can see, relocating gym equipment is not an easy task. But you are probably in good shape, so you will not have problems with moving heavy items. The most difficult tasks in this process are loading and transport. That is why you should try to find movers that will do at least this part for you.
Let our team put together a comprehensive moving plan for you. Complete our simple free quote form or contact us at 1-888-300-7222.