5 ways to cure moving exhaustion
No matter if you are moving locally or long distance, moving can take a toll on you both physically and mentally. There are tons of things that you will need to do during the entire moving process. This is why you will feel tired once everything is done. No one can escape the moving fatigue but, by hiring Washington movers you will be able to reduce it. So what can you do in order to feel better? Here is a small guide on ways to cure moving exhaustion.
There are different ways to cure moving exhaustion
Moving exhaustion is not a joke. Everyone can feel the moving fatigue regardless of their age. The statistics say that more than 60% of people that relocate are affected by this. Apart from feeling tired physically, you will feel tired emotionally. Moving is a stressful situation for many people, and trying to cope with moving stress and anxiety can make you feel exhausted. Some of the symptoms may be: having trouble sleeping, having headaches, feeling lightheaded, not being able to concentrate, and many more… This is why you should take this seriously. Every person is different; therefore there are many different ways to cure moving fatigue. However, we have listed the most common ones that will definitely help you feel better.
1. Sleep will help you recover
Having a good night's sleep is one of the best things if you want to recover quickly. As cheesy as it may sound, sleeping for eight hours after a full day of moving will help you get your energy levels back. Even though you might want to start unpacking and sorting out the items that movers and packers Seattle have brought, it is best to leave everything for the day after. You had a long day and you deserve to get some rest. Tomorrow you will be well-rested and ready to tackle the rest of the tasks.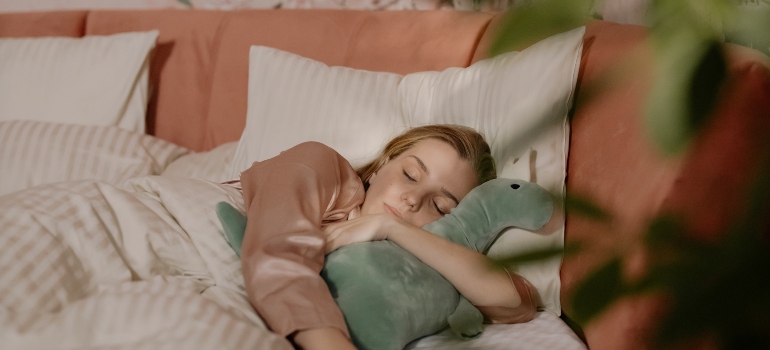 2. Take a day off
If you are moving with movers Edmonds WA has to offer during the week make sure to ask for a day off not only for the day that you have planned your relocation but also for the day after. Going back to work a day after your move is not the best idea. You will feel even more tired and you will not be able to concentrate and get things done. Therefore, make sure that you get some free time so that you can fully recover. Take a nice long bath and let yourself be lazy. This is a recovery day therefore you should concentrate on your well-being and do things that make you feel good and relaxed. Moreover, this is the perfect time to watch a movie that you have been planning to watch for a long time. Make some popcorn and enjoy the movie.
3. Read a book
Everyone has a different way of relaxing, and reading a good book is one of them. There is nothing better than staying in and reading your favorite book while sipping some freshly brewed tea. These small things will make you unwind and help you recover. Relocations can be quite loud and hectic; this is why after you are done with it you need some space in order to have some quiet time. If you have kids, ask one of your relatives to babysit them for the day. This way you can concentrate on yourself and make your body and mind feel better without having to worry about your kids.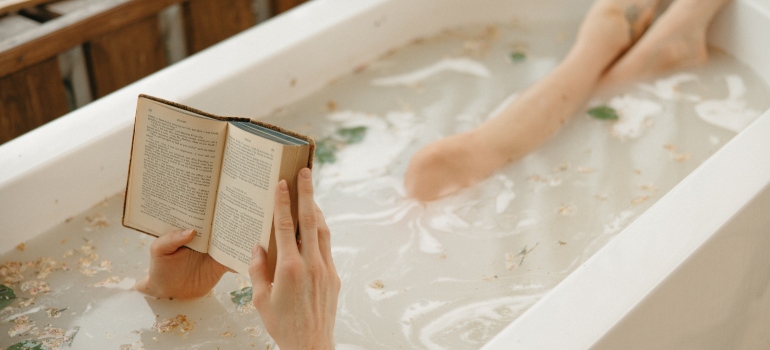 4. Go for a massage
Nothing can make you feel better like a nice massage. You deserve to treat yourself after all the hard work. Book an appointment with your favorite masseuse in advance to ensure to get the appointment at the desired time. You will probably have sore muscles and a lot of tension in your back. A good massage will remove and get rid of this and relax your muscles. Moreover, you will be able to rest your mind and truly relax. This is the moment where all your worries will go away.
5. Eat well
The first thing that most people feel like eating after a long day of moving is fast food. Even though it might be tempting to order burgers and fries it is better to stay away from those types of food. Fast food will make you feel good for a brief moment, but afterward, you will feel tired. Make sure to opt for healthy meals in order to get back in shape. Nourishing your body is key in order to recharge your batteries. Eating healthy food is one of the best ways to cure moving exhaustion. Therefore, make sure to stock up on fruits and vegetables in order to avoid the temptation of ordering something unhealthy.
Also, it is important that you drink plenty of water. Many people forget to do this. No matter how much you crave a soda opt for water after a long moving day. Staying hydrated will help you feel better and will make you feel less tired. Water and healthy, clean food are like fuel for your body. Therefore make sure to use them well in order to get your energy back after an exhausting relocation.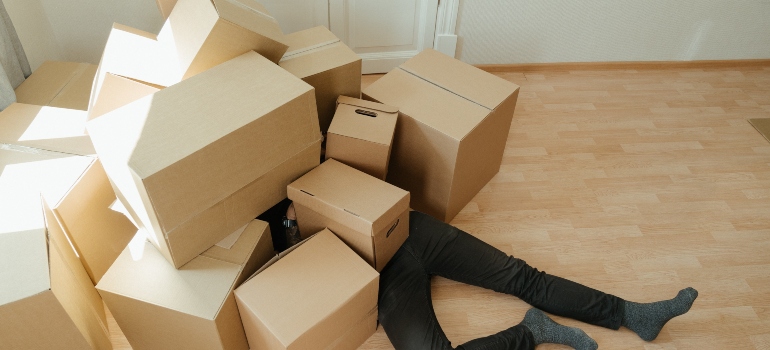 Listen to your body
Sometimes even after doing some of the ways to cure moving exhaustion that we have listed, the feeling of exhaustion can be present. But don't worry this is totally normal. Some people need more time to recover than others. Don't be hard on yourself and let your body take the time it needs to fully recharge. Listen to your body and what it needs, and you will see that you will start feeling better real soon.
Let our team put together a comprehensive moving plan for you. Complete our simple free quote form or contact us at 1-888-300-7222.