5 ways to cure moving exhaustion
No matter if you are moving locally or long distance, moving can take a toll on you both physically and mentally. There are tons of things that you will need to do during the entire moving process. This is why you will feel tired once everything is done. Of course, relocating to Seattle has its perks, and some of them include being able to enjoy the city to the fullest after relocation. No one can escape the moving fatigue but, by hiring Washington movers you will be able to reduce it. So what can you do to feel better? We have a couple of ideas where you can start. Finding a way to unwind and forget about the moving stress is an important step in starting your new life relaxed and refreshed. We're here to help you. Here is our guide on ways to cure moving exhaustion.
There are different ways to cure moving exhaustion
Moving exhaustion is not a joke. Everyone can feel the moving fatigue regardless of their age. The statistics say that more than 60% of people that relocate are affected by this. Apart from feeling tired physically, you will feel tired emotionally. Moving is a stressful situation for many people, and trying to cope with moving stress and anxiety can make you feel exhausted. Some of the symptoms may be: having trouble sleeping, having headaches, feeling lightheaded, not being able to concentrate, and many more… This is why you should take this seriously. Every person is different; therefore there are many different ways to cure moving fatigue. However, we have listed the most common ones that will help you feel better.
#1 Minimize screen time, especially during the evenings
One of the great ways to relax after the exhausting relocation is to turn off all of the electronic devices you're so used to. You don't even notice just how exhausting using your phone constantly can be. It could be tempting to share news of your relocation and to get in touch with your friends in west Seattle, for example, in order to tell them all about how your move went down. However, the minute those west Seattle movers leave after they've helped you transport everything, you should focus on trying to relax and turn off your brain. Depending on how stressful the move was, you might need a bit more time to adjust. However, you shouldn't rush and push yourself into some new project. Set your phone on silent, or better yet, turn it off completely. Minimize screen time in general and focus on your new surroundings instead.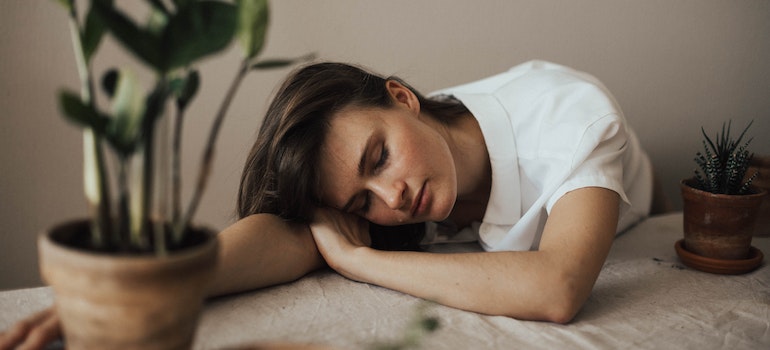 Sleeping well is one of the best ways to cure moving exhaustion
Having a good night's sleep is one of the best things if you want to recover quickly. As cheesy as it may sound, sleeping for eight hours after a full day of moving will help you get your energy levels back. Even though you might want to start unpacking and sorting out the items that movers and packers Seattle have brought, it is best to leave everything for the day after. You had a long day and you deserve to get some rest. Tomorrow you will be well-rested and ready to tackle the rest of the tasks.
Working on your sleep cycle every day is the most efficient of ways to cure moving exhaustion
In order to live a healthy life, you need to develop healthy sleeping habits. And the best way to develop a good sleep cycle would be to stay consistent, no matter the situation you're in. Even if you're so tired after the relocation that you can't even fall asleep, try to meditate and lull yourself into that REM phase any way you can. It will help you get a fresh start in the morning and experience everything Seattle has to offer once you're well-rested and clear-minded. Therefore, setting up your bedroom, shortening your naps during the day, and going to sleep when it's dark outside are some of the habits you should implement into your everyday life as soon as you can after the move.
#2 Relax and unwind – take all the time you need
If you are moving with movers Edmonds WA has to offer during the week make sure to ask for a day off not only for the day that you have planned your relocation but also for the day after. Going back to work a day after your move is not the best idea. You will feel even more tired and you will not be able to concentrate and get things done. Therefore, make sure that you get some free time so that you can fully recover. Take a nice long bath and let yourself be lazy. This is a recovery day therefore you should concentrate on your well-being and do things that make you feel good and relaxed. Moreover, this is the perfect time to watch a movie that you have been planning to watch for a long time. Make some popcorn and enjoy the movie.
Give your mind some stimulus
Everyone has a different way of relaxing, and reading a good book is one of them. There is nothing better than staying in and reading your favorite book while sipping some freshly brewed tea. These small things will make you unwind and help you recover. Relocations can be quite loud and hectic; this is why after you are done with it you need some space in order to have some quiet time. If you have kids, ask one of your relatives to babysit them for the day. This way you can concentrate on yourself and make your body and mind feel better without having to worry about your kids.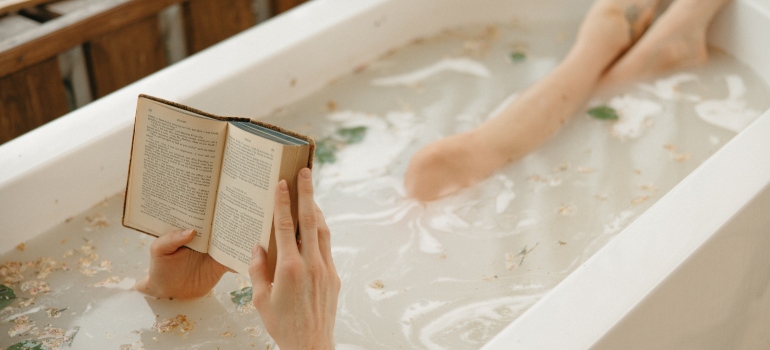 Go outside with a book or visit a library
You may not want to spend all of your days inside though. If you need a relaxing experience, you should make the point of going outside and getting some fresh air. Bring your book with you! Whenever you get tired of walking, you can take a break and sit on a bench somewhere. Reading outside or in a coffee shop may seem like a thing hipsters would do, but who cares? If you find it beneficial to your state of moving exhaustion, no one else should have an opinion. Furthermore, you can always go and visit one of the Seattle Public Library locations. You could get a recommendation on some new books, which might pique your interest and help you occupy your mind as a way to cure moving exhaustion. In addition, libraries are great places to meet people who have the same interests as you do.
One of the best ways to cure moving exhaustion is to treat yourself to a massage
Nothing can make you feel better like a nice massage. You deserve to treat yourself after all the hard work. Book an appointment with your favorite masseuse in advance to ensure to get the appointment at the desired time. You will probably have sore muscles and a lot of tension in your back. A good massage will remove and get rid of this and relax your muscles. Moreover, you will be able to rest your mind and truly relax. This is the moment when all your worries will go away. Some of the studios we can recommend include Seattle Massage Oasis, The Massage Sanctuary, and Seattle Massage Sauna & Float. Regarding the kind of massage you should get, it's the Shiatsu massage is known to be extremely helpful to stressed individuals. It's the ideal solution that's perfect for you if you feel sore or tense after the exhausting moving process. 
#3 Pay attention to what you eat
The first thing that most people feel like eating after a long day of moving is fast food. Even though it might be tempting to order burgers and fries it is better to stay away from those types of food. Fast food will make you feel good for a brief moment, but afterward, you will feel tired. Make sure to opt for healthy meals in order to get back in shape. Nourishing your body is key in order to recharging your batteries. Eating healthy food is one of the best ways to cure moving exhaustion. Therefore, make sure to stock up on fruits and vegetables in order to avoid the temptation of ordering something unhealthy.
Remember to hydrate
Also, it is important that you drink plenty of water. Many people forget to do this. No matter how much you crave a soda opt for water after a long moving day. Staying hydrated will help you feel better and will make you feel less tired. Water and healthy, clean food are like fuel for your body. Therefore make sure to use them well in order to get your energy back after an exhausting relocation.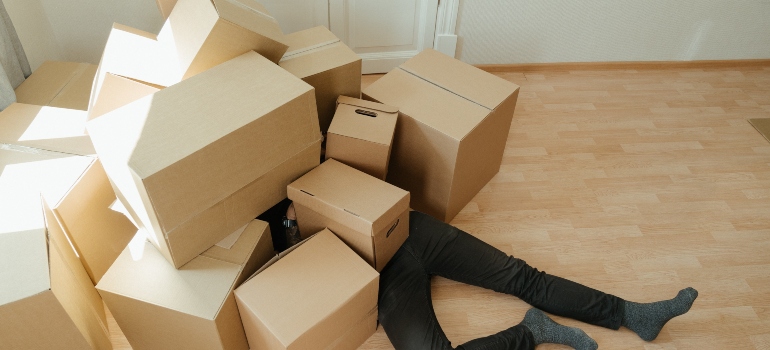 Start your day with a fresh cup of coffee and something sweet
Don't waste your money on tour guides, we have a better idea. Start your day at the Seattle Barista Academy and learn how your favorite kind of coffee gets made. You may need to book the time ahead. Get your latte or americano early in the morning, which will provide the necessary energy for the rest of this exciting day! After that, you're all set to go exploring. Step into some of the famous confectioneries, like Daily Dozen Doughnut Company and Dahlia Lounge. Get some of your favorite desserts to go with your coffee! The sugar rush might be exactly what you need in order to get excited and see things with a more positive outlook. Run over to Cupcake Royale or Hot Cakes and treat yourself to the heavenly bite of something sweet.
#4 Don't spend too much time indoors
Once you've taken a breather and gathered your strength, it's time to step outside and explore your new surroundings. Getting a good night's rest, watching movies, and going for a massage are all nice ways of resting your body. However, your mind needs rest as well. The city of Seattle has a lot to offer in the way of entertainment. However, you won't get the most out of it by sitting in your room. Before you set off on the road of professional and personal development, before you start your new job or university, you should get to know the city. You haven't been through all the moving trials and tribulations with your long distance movers Seattle has for nothing. To get that full Seattle experience, you should take a week off and plan your tour around the city.
Use the daylight to the fullest
We recommend visiting places like Ballard Locks or Seward Park next. Forget about the moving services Seattle residents use and enjoy the day as one of the natives! The moving troubles are over! You should see parks and waterways during the day, in order to get the full view while the sun is out. Furthermore, if you want to really get to know the city, you should pay attention to the people around you and meet some locals. They'll have some recommendations on where you can go next that may be a little less touristy.
Be consistent when you're implementing the ways to cure moving exhaustion into your everyday life
Working towards a more relaxed and stress-free life should be something we all strive for. However, it's not something that could happen overnight. You should work towards it every day and it will eventually become your routine. As a consequence of rising early, getting plenty of sunlight and fresh air, and leading an active lifestyle, you will start feeling more calm and more collected. It's important if you're only just starting your Seattle life for you to develop healthy habits that your brain will connect to your new location. Once you're used to this kind of lifestyle, it will lead to you performing better in all aspects of your life. When you don't have the stress piling up at the back of your mind, your endeavor with the cross country movers Seattle will be just a fading memory. Therefore, you should do all you can to stick to these habits.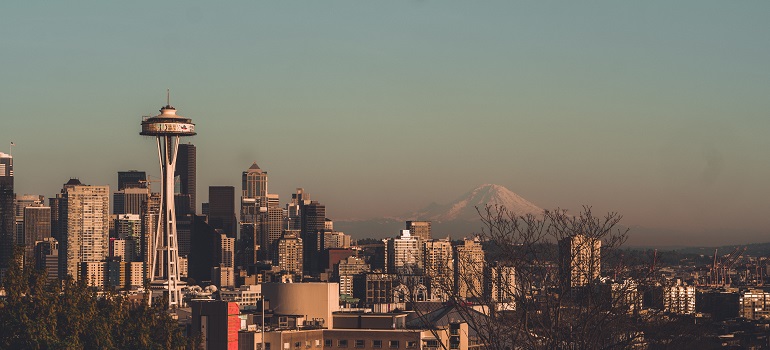 #5 Keep your living space nice and tidy
Get your space in order! After moving into a new home, you could be forgiven if you have more than one moving box lying around unpacked. However, leaving your belongings in moving boxes, or worse, getting them out and letting them sit all around your home, can lead to a lot of problems. Not only will there be a risk of you losing something important, but those cluttered spaces can also influence your psychic well-being. It can be stress-inducing to have piles of clutter all around. Furthermore, the HB move management team may have helped you organize the perfect move, but you're the one that needs to keep up the work once the relocation is done. Having moving boxes in your home for weeks after the relocation is not only impractical, but it will also remind you of the move regularly. Therefore, getting rid of them is the key.
Do your best to include all of the ways to cure moving exhaustion we mentioned
To sum up, you can't cure moving exhaustion overnight. You're bound to feel overwhelmed by the city you've just moved to, as well. Therefore, you should start by working on developing healthy habits and try to stick to them during the first couple of months after your move. It could be tempting to leave all the unpacking for the next week, and maybe even the one after that, but remember that having a neat and tidy home can help you feel less tired and trapped. Therefore, you should make sure to take care of your living space as well. After that stick to the general plan which should include:
sleeping regularly

drinking plenty of water 

eating healthily, but also treating yourself every once in a while

spend time outdoors
Never forget to listen to your body
Sometimes even after doing some of the ways to cure moving exhaustion that we have listed, the feeling of exhaustion can be present. But don't worry this is completely normal. Some people need more time to recover than others. Don't be hard on yourself and let your body take the time it needs to fully recharge. Listen to your body and what it needs, and you will see that you will start feeling better real soon.
Let our team put together a comprehensive moving plan for you. Complete our simple free quote form or contact us at 1-888-300-7222.