Guide for moving to Spokane from Seattle
Moving from one city to another is a serious endeavor that requires plenty of preparation and proper planning. At the very least, you ought to inform yourself on what's ahead in terms of finances, business opportunities, and costs of living. Luckily, you will not be alone in this venture, as your moving company Washington is here to help. Take a look at our guide for moving to Spokane from Seattle.
What to expect when moving to Spokane from Seattle
For one, expect not to have access to that great self storage Seattle so close by. Still, don't worry too much, as professional moving companies have storage all over the state. Apart from that, it goes without saying that Seattle is a bustling city with that special energy all large cities have. Spokane is thus not only smaller, but calmer as well.
All that aside, the thing that probably interests you the most is the financial aspect of your move. After all, it could just as well be the reason behind your relocation. Here is what you can expect:
Your overall living costs will be 46.4% cheaper once you move to Spokane from Seattle.
You will feel this difference the most when purchasing a home, as housing is by far the biggest factor in this massive difference. Namely, the median home cost in Seattle is $714,400, while it is $217,900 in Spokane, making for a 69.5% difference.
Transportation takes second place, as the price difference is 33.7% in favor of Seattle.
The only expense larger in Spokane goes to utilities. Expect to pay 13.7% more after you've moved here.
Spokane is the economic and cultural center of the Spokane metropolitan area. The city is also known as the birthplace of Father's Day, while its official nickname is Lilac City. Spokane offers a plethora of opportunities for both young and older people. It has proven time and time again to be a great place for developing a career, as well as for settling down for retirement.
Getting ready for your relocation from Seattle to Spokane
The two cities have 279 miles (449 km) between them along Interstate 90. As this is quite the road to travel, it would be best to get it all done properly in one go. Whether you are moving your home or office, we strongly advise that you hire a moving company that will help you come to a successful end. Whether residential or office movers Seattle, coming across reliable professionals is not that hard anymore.
Creating a moving plan
No large project was ever successfully completed without a proper plan. Ok, at least the majority of them. Still, when it comes to the safety of your goods, you really don't want to risk it. So, see that you take ample time to create a moving plan. It is best to pair the tasks and obligations with a time frame they ought to follow. That way, you won't feel overwhelmed with chores, nor will you forget anything. You will be able to be on top of the whole situation, and react fast if something were to happen unexpectedly.
While every relocation is a story of its own accord, there are certain processes that can be found in every such project:
Gathering packing materials
Packing your belongings
Finding movers to help with transportation
Sorting utilities at your new place and canceling them at your current home
Sorting things at work and in school
Unpacking at your new place
Tackling the packing process
This is the biggest, most time-consuming part of every relocation. The best way to make it as smooth as possible is to hire professionals to take care of it. However, if you would rather tackle it yourself, here are some things to keep in mind:
The sooner you start the better – you will be able to devote ample attention and care to this important process.
Still, don't start packing your home 6 months in advance, as there is no need to live inside a warehouse months before you move.
Start packing the items you use the least, and leave the packed boxes in the room you seldom visit.
Boxes of various sizes will ensure you are able to pack your items properly, minding their safety. Heavy and delicate items are for smaller boxes. Don't forget about cushioning materials. Light and large items are to be packed in larger boxes.
Make sure to label every box. You can write its contents or the room they belong to. Make sure to leave notes as "this side up", as well as "heavy", "handle with care", and such.
Going about unpacking
Lastly, after you have finalized moving to Spokane from Seattle, the time for unpacking will arrive. If you find that the process will take too much of your time and nerves, do not restrain from turning to professionals for assistance. Again, there is really no one better to handle this all than the people who have been trained, and who do it on a daily basis. Still, if you opt for a DIY unpacking, avoid feeling the pressure of handling it all in one day. Rather take the time to make this new place a true home. Find the perfect place for every item, and devote some thought to the whole process.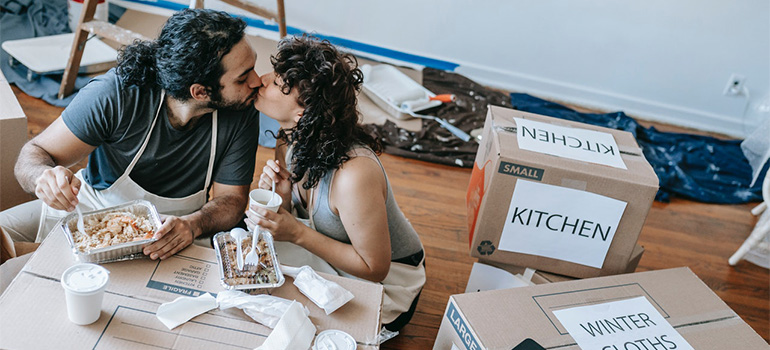 While moving to Spokane from Seattle is a big bite to chew, planning ahead and getting to know as much about the city prior to relocation will help tremendously. Nothing will lower your stress than knowledge and good things to look forward to. So, take a deep breath, and try to focus on the positive aspects of this relocation.
Let our team put together a comprehensive moving plan for you. Complete our simple free quote form or contact us at 1-888-300-7222.