"I've worked with various logistics companies, but Hansen Bros outshines them all. They handled my international shipping needs with great professionalism and efficiency. The tracking system they provide is top-notch!"
Aaron B.
"Hansen Bros managed the logistics for my art exhibition. Each piece arrived in pristine condition, and their team showed true respect for the artwork. The service was prompt, and everyone involved in the process showed a great understanding of the value of the cargo."
Nora K.
The last stretch of a product's journey to its end-user, often termed the "Last Mile," poses unique challenges for businesses. From ensuring timely delivery to managing customer expectations and providing real-time updates, it's the step where many can falter. However, with Hansen Bros. Moving & Storage, you gain a partner specializing in Last Mile Delivery (LMD). With over a century of experience perfecting delivery processes, we promise accuracy, efficiency, and that all-important personal touch. Explore our LMD solutions and see how we can transform this crucial phase for your business. Let's make every final mile count. Contact us today to boost your delivery services.
Why Choose Us
History
Hansen Bros. Moving & Storage is locally owned and operated by the same family for four generations, since 1890. We have a well-established reputation for service quality and reliability with a high percentage of repeat household and commercial clients.

Professionalism
We're a certified ProMover by the American Moving and Storage Association with A+ rating with the Better Business Bureau, voted "Best in Western Washington" in 2009 and from 2011 to 2016 by KING5. Our company is fully licensed and insured and member of WMC and AMSA.

Value
Hansen Bros. Moving & Storage provide free, no-obligation in-home estimate and competitive rates, including low minimum rates for shipments moving under 300 miles. We've set a refund policy for unused packing materials and three Puget Sound locations to help clients save on travel fee costs.
The Imperative of Last Mile Delivery for Modern Businesses
In today's fast-paced and competitive market, customers' expectations are continuously rising. Your customers demand quick, precise, and hassle-free delivery of their orders right to their doorstep.
This 'Last Mile' of the distribution and logistics chain, though short, presents numerous challenges for businesses: from navigating complex city terrains and dealing with traffic congestions to ensuring timely deliveries and handling customer interactions.
Falling short in this crucial phase can lead to customer dissatisfaction, negative reviews, and potentially lost future sales. This is where we step in. With our expertise in last mile delivery, Hansen Bros. not only navigates the challenges for you but also ensures a positive end-user experience, reinforcing your brand's promise of reliability and excellence. Hansen Bros. offers our customers the tremendous advantage of shedding fixed costs. Rather than bearing fixed costs for the warehouse space, equipment, and labor required to service peak demand periods and then absorbing those expenses when demand is low, Hansen Bros. services can cost effectively expand and contract to best meet your business needs.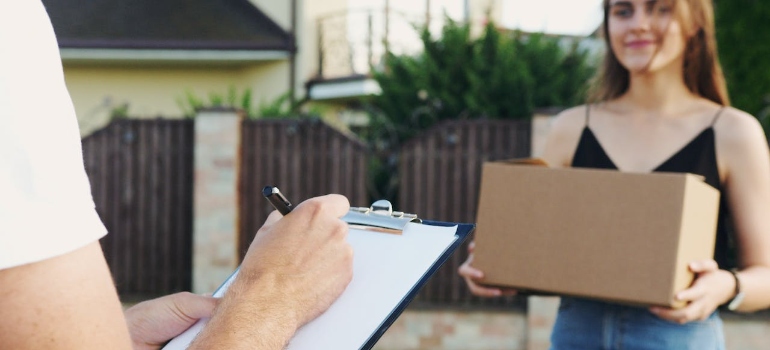 The Final Mile Delivery Process as We Do It
Our Team at Hansen Bros. Moving & Storage has designed a streamlined last-mile delivery process to meet the highest standards. Here's a step-by-step breakdown of how we ensure your goods reach their destination seamlessly:
Pick-up: Our dedicated team will promptly collect your products or goods right from your designated location, ensuring a smooth start to the delivery process.
Receive in Our Warehouse: Upon arrival, your items are carefully received at our state-of-the-art warehouse. We ensure they're accounted for and stored safely.
Provide Short or Long-Term Storage: Whether you require short-term storage for swift turnarounds or long-term solutions for bulk items, we've got you covered. Your goods remain safe, accessible, and in optimal condition in our facilities.
Delivered to Final Destination: The most crucial step – delivery. Trust in our commitment to ensure that your products reach their final destinations both timely and efficiently, living up to your customers' expectations.
With Hansen Bros. Moving & Storage by your side, every step is transparent, efficient, and customized. Let us handle the details so you can focus on what you do best. Request your free non-obligatory estimate today!
Read More
Understanding the Value of Dependable Last Mile Distribution
Choosing our reliable Last Mile Delivery (LMD) service has transformative effects on your business operations. Here's how it directly impacts you:
Timely Deliveries: Ensure that your goods reach customers as promised, enhancing your reputation and trust.
Cost Efficiency: Minimize unnecessary expenses with fewer delays and errors.
Boosted Customer Satisfaction: Deliver punctually and securely, elevating customer loyalty and satisfaction.
Safeguarded Deliveries: With proper handling, ensure your products reach in pristine condition every time.
Adaptability: Cater to specific delivery requirements, providing a tailored experience for your clients.
Stand Out in the Market: Boost your brand's image with a seamless delivery experience, setting you apart from competitors.
Harnessing these advantages can be the catalyst for growth and enhanced customer relationships. Call us and ensure your brand's excellence with a trustworthy LMD service from Hansen Bros. Moving & Storage.
Optimizing Your Last Mile Distribution with Hansen Bros.
The last mile delivery isn't just about speed – it's about precision, care, and trust from start to finish. It's the promise that your items are not just delivered but delivered securely and punctually. At Hansen Bros. Moving & Storage, we upgrade this service, blending reliability with efficiency. So, let's connect today for a seamless delivery experience that safeguards your peace of mind!
Read Less
Let our team put together a comprehensive moving plan for you. Complete our simple free quote form or contact us at 1-888-300-7222.