Inbound/Outbound Handling
"I've worked with various logistics companies, but Hansen Bros outshines them all. They handled my international shipping needs with great professionalism and efficiency. The tracking system they provide is top-notch!"
Aaron B.
"Hansen Bros managed the logistics for my art exhibition. Each piece arrived in pristine condition, and their team showed true respect for the artwork. The service was prompt, and everyone involved in the process showed a great understanding of the value of the cargo."
Nora K.
If you are dealing with the movement of goods, either regularly or periodically, you know that inbound and outbound logistics shape the success of every supply chain. To transport goods safely, efficiently, and on time presents its own challenges. Managing large volumes, handling delicate items, or complying with constantly changing regulations makes the journey from point A to B anything but straightforward. At Hansen Bros. Moving & Storage, we have honed our skills as service providers in this field. Our dedicated team stands ready to guide and offer tailored solutions, ensuring your goods transition seamlessly through any challenge. So, if you seek a trusted partner for inbound and outbound handling, reach out to us. Let's forge pathways that align perfectly with your goals.
Why Choose Us
History
Hansen Bros. Moving & Storage is locally owned and operated by the same family for four generations, since 1890. We have a well-established reputation for service quality and reliability with a high percentage of repeat household and commercial clients.

Professionalism
We're a certified ProMover by the American Moving and Storage Association with A+ rating with the Better Business Bureau, voted "Best in Western Washington" in 2009 and from 2011 to 2016 by KING5. Our company is fully licensed and insured and member of WMC and AMSA.

Value
Hansen Bros. Moving & Storage provide free, no-obligation in-home estimate and competitive rates, including low minimum rates for shipments moving under 300 miles. We've set a refund policy for unused packing materials and three Puget Sound locations to help clients save on travel fee costs.
Understanding Inbound and Outbound Handling Processes
Inbound and outbound logistics are the twin pillars of effective supply chain management. Inbound handling encompasses the movement of raw materials, components, and goods from suppliers to manufacturers or distribution centers. It involves procurement, transportation coordination, and efficient receiving processes. Outbound handling, on the other hand, manages the distribution of finished products to retailers, wholesalers, or end consumers. This includes order fulfillment, packaging, and transportation logistics. In other words:
Inbound logistics keep production lines stocked, leading to streamlined manufacturing and reduced downtime.
Outbound logistics drive timely, accurate deliveries, bolstering customer satisfaction and loyalty.
So, if you refine both these processes with our expertise and assistance, your business will save costs, prevent inventory hiccups, and secure a competitive market edge. Reach out and let Hansen Bros. be your trusted partner in this journey; our services offer the optimization you seek.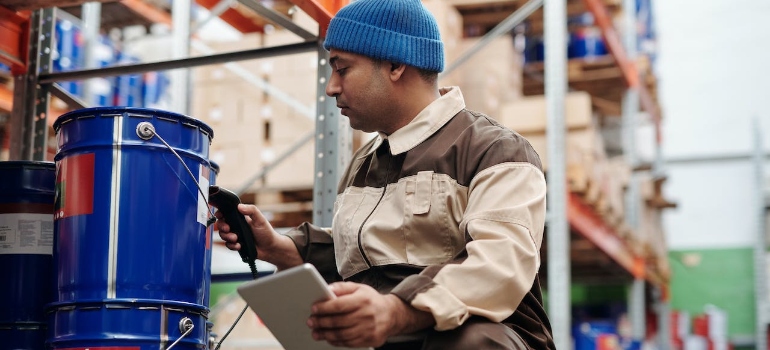 Our Seamless Approach to Inbound and Outbound Logistics
Here's how we expertly manage the critical aspects of distribution and logistics, encompassing both inbound and outbound handling processes.
Inbound Handling
Assessment: We begin by thoroughly understanding your needs and assessing the volume, type, and frequency of goods entering your facility.
Planning: Based on the assessment, we devise a strategic plan tailored to ensure smooth intake, addressing factors like timing, storage requirements, and special handling if needed.
Reception: Upon arrival of goods, our team conducts a comprehensive inspection, ensuring that everything is in order and matches the shipping manifest.
Storage Strategy: We don't just store; we strategize. Depending on the nature of the goods, we allocate appropriate spaces, ensuring easy access and optimal storage conditions.
Inventory Management: Leveraging state-of-the-art tools, we maintain an updated inventory, ensuring that stock levels are transparent and accessible for your reference at any time.
Outbound Handling
Order Review: We start by examining the outgoing order details, ensuring accuracy in terms of product type, quantity, and destination.
Picking & Packing: Our team swiftly picks the required items from inventory, ensuring they are packed securely and labeled correctly.
Compliance Checks: Prior to dispatch, we conduct thorough checks, making sure all shipments comply with relevant regulations and standards.
Transport Coordination: We coordinate with trusted transport partners, ensuring timely pickups and efficient routing for prompt deliveries.
Tracking & Updates: Once the goods are en route, we provide tracking capabilities and consistent updates, ensuring you always know the status of your shipment.
With Hansen Bros. Moving & Storage by your side, each step is thoughtfully managed, providing you with frictionless inbound and outbound handling experience. Get your customized quote today, and let's simplify logistics together.
Read More
Hansen Bros. Comprehensive Services
Managing the complexities of inbound and outbound logistics effectively and efficiently calls for specialized services. We're proud to offer an array that meets every need:
Warehouse Receiving: Our expansive infrastructure extends across key locations to serve you better. With warehouses situated in Lynnwood, Newcastle, and Seattle in WA, as well as Boise in ID, we're strategically positioned to efficiently receive, store, and dispatch your goods.
Loading/Unloading Material: The efficiency of your supply chain often depends on the speed and accuracy of loading and unloading. Our team is trained to handle this with precision, ensuring that your materials are treated with care and attention at every touchpoint.
Inventory Control: A well-maintained inventory is essential for business efficiency. We employ advanced tools and processes to keep your inventory accurate, updated, and accessible for your reference anytime.
Order Verification: Mistakes in order processing can be costly. Our systematic order verification process ensures that every item dispatched matches your order's requirements, eliminating errors and guaranteeing satisfaction.
Handling: Each product requires a unique touch. Be it delicate electronics or bulky machinery transport, our team is equipped with the knowledge and tools to handle goods appropriately, ensuring they reach their destination in pristine condition.
Dedicated Fleet: In collaboration with trusted partners, we maintain a dedicated fleet ready to move your goods. As a noteworthy mention, Hansen Bros. stands as a trusted agent for Allied Van Lines, ensuring that your deliveries are in the best hands.
Choose Hansen Bros.'s comprehensive services for a seamless inbound and outbound logistics experience, and get in touch for a personalized consultation.
Hansen Bros. – Your Logistics Solution
Inbound and outbound handling demands precision, timeliness, and expertise. With Hansen Bros. Moving & Storage, you're choosing a partner dedicated to upholding these standards and ensuring your logistics are managed with utmost professionalism. Connect with our Team today for tailored logistics support.
Read Less
Let our team put together a comprehensive moving plan for you. Complete our simple free quote form or contact us at 1-888-300-7222.