Downsides of summertime moving in Seattle 
Summer has always been known as the peak season for the moving industry. And the reasoning behind it is simple – nice weather, vacation time, less traffic in urban areas, etc. However, despite the many benefits of moving during the summer, there are also certain downsides to it. To start with, all moving companies in Seattle will be busier and harder to book. And then there is the matter of handling moving in the heat, even when moving in Seattle. In this article, we take a look at what the downsides of summertime moving are, and why it can sometimes be better to move off-peak season.
Why is summer the very definition of the peak moving season?
Peak moving season in Seattle is somewhere between April and September. As we already mentioned, nice weather is the main reason for this. And during nice weather, everything is easier. You do not have to pack your items to be waterproof, you do not have to protect yourself from precipitation, driving conditions are better, etc. Besides nice weather, end of school and vacation days are also concerns that influence summertime moving. Of course, people cannot always choose when they move. Still, summertime remains the most common time to move.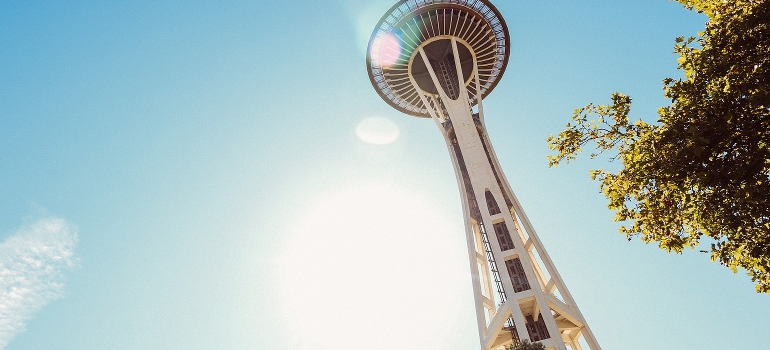 6 downsides of summertime moving in Seattle
Now that you know what are the main benefits of summertime moving, let's take look at what are the downsides of peak season moving.
Weather can also be one of the downsides of summertime moving
Movers will be busier and harder to book
During summer, movers' employees also like to use their vacation days
Moving prices are higher
Traffic jams in Seattle are among the worse in North America, especially during summer
It will be more difficult to book flights
The weather can go either way when it comes to moving during summer
Weather is one of the main reasons for summertime moving. However, conditions during summer are far from perfect. Just imagine high temperatures, melting asphalt, sweat, high humidity, etc. Of course, it is better to move when it is hot than when it is raining or snowing. On the other hand, you can do something to protect your items and yourself from rain, snow, or cold. From heat, there is no escape. That is why the weather is also one of the downsides of summer moving.
You will have trouble with booking your favorite movers
When you are moving during summer, one of the things that you will have trouble with is booking your favorite movers. As we already mentioned, moving companies are busier during summer. So if you need to move out, you will either have to book movers that are available (movers available during summer does not sound right), or you will have to rent a self-storage Seattle to store your items until you manage to book movers you want.
Luckily, there is a way to avoid booking shady movers or renting a storage unit. Start searching for movers well in advance. If you start searching for movers at least a month before your desired moving date, you will most likely manage to book a company that you want.
Everybody uses their vacation days during summer
Another reason why it may be so difficult to book a residential movers Seattle during summer is vacations. Moving companies' employees also like to use their paid breaks when the weather is nice. This means two things. Either you will have to embrace the fact that you will be moving with unreliable movers. Or your favorite movers will be short on staff which means poorer moving experience. Of course, this doesn't mean that things will happen that way. But the chances that you will not get the treatment you want are higher. Again, booking your movers in advance could, at least, allow you to schedule reliable and trustworthy movers even if it means they will be short on staff.
Higher prices are one of the main downsides of summertime moving
Another downside of moving during summer is the price. As we all know, higher demand leads to higher prices. That is simply how economics work. And we cannot do much about it. However, sometimes it is possible to negotiate a lower price. Or, find interstate movers Seattle that offer some discounts. Still, this will not be easy, So, be prepared for an extensive search. Again, make sure that you start your search on time.
You will have to go through the worst traffic jams in North America
Summertime moving in Seattle means one thing. It means that you and your movers will have to go through some of the worse traffic jams in North America. Even though traffic in Seattle is bad all year round, it seems that congestions intensify during summer. This means that your movers will probably have difficulties with staying on schedule. Chances of accidents are increased then.
If you will be traveling by your own vehicle, you will also feel bad sides of Seattle summer traffic. And if you are moving to Seattle and you do not know your way around the city, bad traffic will not make things easier. That is for sure. Unfortunately, even if you are not moving by car, you won't escape the downsides of summertime moving completely.
If you will be traveling by plane, finding suitable tickets might be tricky
That is right if you are not moving by your own vehicle you might escape troubles with traffic but you will have other issues. If you will be moving by plane. Finding a plane ticket and booking your desired date can be impossible during summer.  Even if you manage to find a ticket, prices will be significantly higher. Luckily, there is a way to avoid this. And that is, of course, to book your flight well in advance.
Let our team put together a comprehensive moving plan for you. Complete our simple free quote form or contact us at 1-888-300-7222.