Experts tips for moving a pool table with ease
A pool table is a fantastic addition to any home. Even if you don't play, it makes for an amazing decoration. Aside from that, it's one of the few things that makes any place a hundred times more fun. However, to get to that point, you have to go through the painful process of moving it. And that's never fun. Although they look sturdy, pool tables are quite fragile. Therefore, they demand careful handling and a lot of preparation. Fortunately, moving a pool table with ease isn't impossible. Today, we're bringing you expert advice from some of the best Washington movers compiled to help you in this endeavor.
Can you move a pool table without dismantling it?
This is one of the most common questions Seattle local movers tend to receive. Technically, the answer is "yes." However, the real question here is "should you?" And, no – you shouldn't attempt it. Although they might not look like it, the pool tables are large and heavy. Therefore, it's a pain to fit them through the doorways. Let's not even mention moving them up and down the stairs. Even with the proper equipment, this undertaking has a high chance of failure. The fact that even some of the best movers won't risk doing it testifies to this claim. And we're talking about people that have the experience, knowledge, and all the adequate tools for the job.
There is one exception, though. You can move a pool table with ease and without dismantling it, but only if it's a very short distance. The "short-distance" here means another room, on the same floor. And, that's only if it can fit through the door in its natural position (i.e. without flipping it to the side). Anything more challenging than that – and it's safer and easier to disassemble it.
The easiest way to move a pool table
Moving a pool table with ease is possible. But, it's quite risky, as you can:
Damage the table, thus rendering it useless, or having to pay quite the sum to repair it;
Get you and people helping you seriously injured, and;
Damage floors, walls, and doorframes, which can result in thousands of dollars worth of repairs.
Therefore, there's only one surefire way to do it: enlisting professional help. This falls under the special moving services category and, thus, isn't cheap. But it is a much better option than risking repairs or injuries.
Moving a pool table with ease – a DIY-method
Although moving a pool table DIY-style is a bit of a challenge, it's far from impossible. However, it remains a daunting task. Therefore, you shouldn't rush into it. Take the time to prepare so you can minimize the risks, whether you're moving your pool table to another room, or your Newcastle storage.
Plan ahead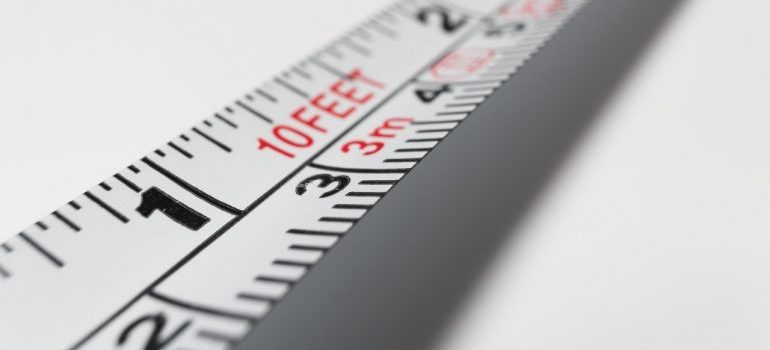 To move a pool table, a simple tape measure is your best friend. So, grab one, and:
Measure the dimensions of your table.
Then do the same with doorways and stairways where it needs to fit through.
Next, measure the area where you intend to place it.
Once you have all the dimensions – compare them. The last thing you need is to get your pool table to your new home and find out you can't fit it through the door. Or, to assemble it, and then discover you can't swing, without making a hole in the wall, window, doors, etc.
Prepare the tools and equipment
To move your pool table safely and efficiently, you'll need assorted tools and equipment:
Dollies or moving carts;
A ramp for the stairs (optional, but makes your job so much easier);
A blanket (or two);
Flathead screwdriver and socket wrench;
A sharp pair of scissors, packing knife, or an X-acto knife;
A staple remover and a putty knife;
Bubble wrap and moving blankets;
Packing tape.
Make sure you have ample help
Whatever you do, don't – and we mean DO NOT attempt to move the pool table on your own. Especially if you want to move it without disassembling it. That thing weighs a ton! So, be sure to have at least four able-bodied friends helping you. If you can "lure" more of them in – even better. You'll need every pair of hands available for this project.
A step-by-step guide to dismantling and moving a pool table with ease
Dismantling and preparing a pool table for moving is a straightforward process. However, it does require dedication, some finesse, and quite a bit of heavy lifting.
#1 Detach the pockets
Pockets are either stapled or screwed to the table frame. Depending on the variant, use the appropriate tool to remove them.
#2 Remove the side rails
Easy – just uncover the screws, and use the socket wrench to release the rails.
#3 Remove the felt
Now, this is a tricky part. Felt is either stapled or glued to the frame. In either case, you'll have to exercise extreme caution not to tear the felt, or damage the frame itself. If it's stapled, it will be easier. However, if it's glued, this makes your job much, much harder. You'll have to use a putty knife to "peel" the felt from the table. This is quite delicate work and you'll have to go slow.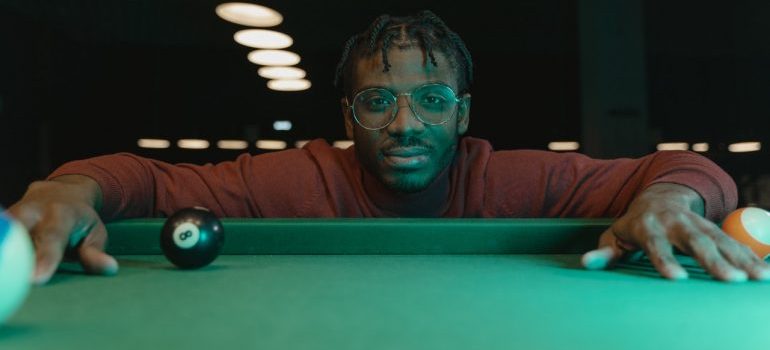 #4 Take out the slates
With the felt out of the way, you'll see the bread and butter of your pool table – the slates. You'll have to remove them all. Now, this might seem easy, as there are only 2 or 3 of them. But, don't be fooled. Each slate weighs upward of 450 lbs. So, you'll need ample help. Furthermore, the slates are very brittle and it doesn't take much to crack them. So, once again – exercise caution! With this step done, you're through the hard part. From this point on, everything becomes easier.
#5 Remove the legs
Flip the table frame over, so you can have easy access to legs and screws holding them in place. Place a blanket on the ground beforehand to avoid damaging both the table and floors. Avoid flipping the table frame on the side unless there's no other choice.
#6 Bag it and tag it
When packing components of your pool table, there are two rules you should follow:
Pack the pieces separately, and;
Label everything.
This will ensure maximum security and reduce the risk of rogue screws and pieces upon arrival.
#7 Load it up and ship it out
Here we come to another tricky part: loading your pool table onto a moving truck. Here, too, we have a few rules:
You can stack slates atop each other, but only if you bubble-wrapped them generously;
A much better option is to strap them to the walls of the truck in an upright position;
Make sure the table frame and slates have no wiggle room. Use straps to secure them in place;
You can place the table frame atop the slates. But, if you can avoid it – do so.
Patience is a virtue but, also – a necessity
A pool table is a beautiful and fragile thing. Therefore, the most important thing to do is to take it slow. Double-check your steps, take precautions, and you'll be moving a pool table with ease in no time.
Let our team put together a comprehensive moving plan for you. Complete our simple free quote form or contact us at 1-888-300-7222.