How to make your nationwide move more affordable?
Relocation is a physically and mentally demanding process that requires a lot of planning and preparation, especially when moving long distance. In addition to pressuring your health, long distance relocation can affect your financial well-being as well. Luckily, there are many ways to make your nationwide move more affordable. And the best movers Seattle has to offer are going to show you how you can do it. So, let's take a look at how you can lower your cross country moving costs.
Exchange your time and effort lower moving costs
The fact that you are reading this article tells us two things. That you are preparing for a nationwide move and that you realized that it is not going to be cheap. Luckily, you have found an article prepared for you by some of the most honest Washington movers whose goal is to make your relocation an enjoyable experience. That is why we are going to show you all the tips and tricks that can help you to make your move more affordable. Now, if you think that by reading this article you will find some magic secret that nobody before you knew, we will have to disappoint you. In this article, you will find some great tips and tricks on how to lower your long distance moving costs. But only if you are willing to change your plans, invest more physical effort into your move, and lower your expectations.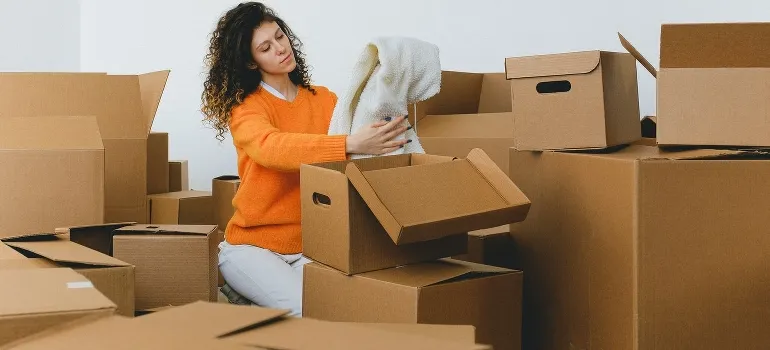 Avoid moving in peak season
The date of your move can play a significant role in the cost of your move. Do you think that moving in wintertime and moving in summer will cost you the same? No, summer is considered the peak moving season. Even if you opt for affordable, transparent long distance moving companies Seattle and get a quote in advance, chances are the move is going to cost you more than it would during winter months. On the other hand, moving in winter, or any other time except in the summer will cost you less. Not only that moving companies lower their rates in winter, but you can also find special deals, discounts, and similar offers that can make your interstate move more affordable. Therefore, if you want to lower your moving cost, and you have a flexible moving date, change it appropriately.
Decluttering is where you can make the biggest impact
There are many factors that are determining the cost of a long distance move. Besides paying per mover per hour, a moving company will also consider the length that needs to be crossed as well as the weight of your moving inventory. Now, obviously, you cannot shorten the distance between your old and new home, unless you have some magic tricks up your sleeve. But in that case, you probably wouldn't need a moving company to help you, right? So, you cannot affect the distance, but you can definitely affect the weight of your moving inventory. Of course, we are talking about decluttering before the move. Decluttering before the move, however, will not only lighten your inventory and directly affect the cost of your move, but it can also be a good way to boost your moving budget. How's that, you might ask. Well, it is simple really.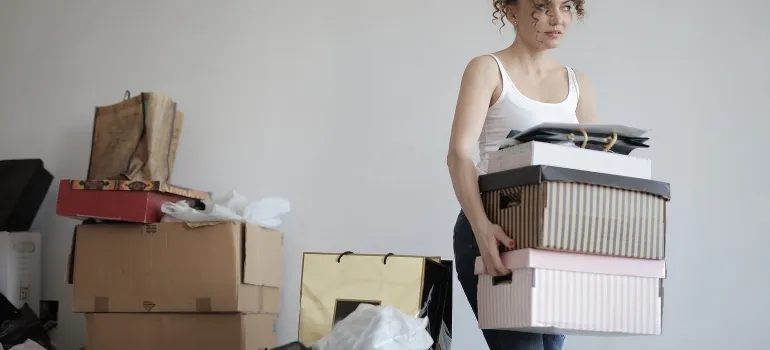 Simply, gather the items that you do not want to move to your new home and sell them. You can do it through a yard sale, online, or directly to a used item retailer in your town. It all depends on how many items and time you have. If you do not want to bother with selling your stuff, decluttering will still lower the overall cost. And if you decide to donate to charity during a move, in some states, you will earn certain tax relieves. In the end, if you are not sure whether this move is permanent, you can avoid paying for the transport of your belongings by putting them in some good self storage Seattle and keeping them there until you return.
Do as much work as you can on your own
Hiring a full moving service is definitely the best and most convenient way to move across the country. You simply pay for professionals and let them handle the whole process. Of course, if you were able to do that, you wouldn't be reading this article, wouldn't you? So, how to move with ease without paying for full moving services? Sit down and think well about your moving process. Identify the things that you can do on your own like packing or dismantling furniture.  This will definitely lower the cost of your move and you will still get professional help regarding the transport and handling of your items on and off the moving truck.
Use alternative packing solutions
Packing materials may not be the biggest item on your moving invoice but it can affect the cost of your move. Especially if you have a large inventory to move. So, the simple way to avoid it is to find some packing alternatives. For example, you can use free moving boxes that you can find online or at your local grocery store. Or you can use the items that you already have like a laundry basket, buckets, drawers, and similar to transport your items. Using alternative packaging, however, is not recommended. Especially when moving long distances. So be careful if you decide to make your nationwide move more affordable this way.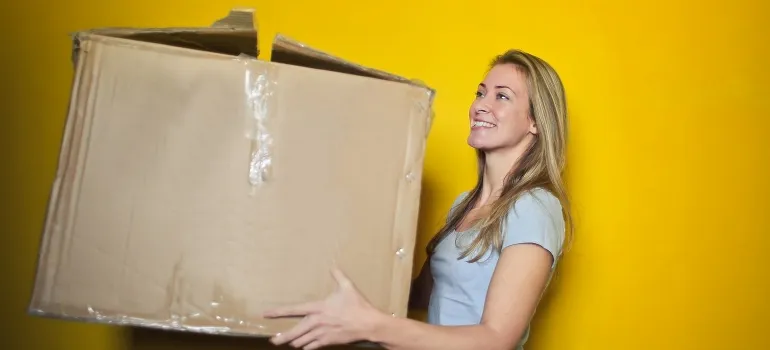 Drive yourself to your new home but be careful
If you own a car, shipping it across the country could cost you more than $1,000. On the other hand, the gas that your car would use for crossing the same length could be 3-4 times lower. Now, we do not want to advise you to drive to your new home across the country. It is a dangerous and risky move, especially if you already wasted a lot of energy on packing and decluttering. But, if you are desperate to make your move cheaper, this might be one of the options.
Make your nationwide move more affordable by planning every last detail
As you can see, there are many ways to make your nationwide move more affordable. It all depends on how much effort you are willing to invest. Still, do not forget to plan your move thoroughly as it would also affect the cost of your move in a positive way.
Let our team put together a comprehensive moving plan for you. Complete our simple free quote form or contact us at 1-888-300-7222.