"I used Hansen Bros to store stuff for 6 months while travelling out of state. Everyone I dealt with from the sales people over the phone to the driver who dropped off and picked up the boxes were easy to work with and professional. Start to Finish, I couldn't have asked for a smoother experience."
Brian M. / Seattle, WA
"My family has used Hansen Brothers for decades. We would not trust anyone else with our moving and storage needs. They are excellent in all respects! Highly recommend!"
Laura W. / Seattle, WA
Looking for an affordable, portable storage unit that's delivered right to your home or office in the Puget Sound area? Hansen Bros. Moving & Storage and our PortaBox self storage solution is the answer!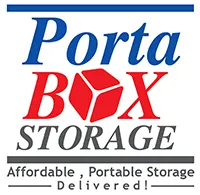 Since 1890, Hansen Bros. has been the Puget Sound movers of choice for families and businesses, whether you are relocating around the corner, across town, or overseas. From our start operating horse-drawn wagons out of Seattle's historic Pioneer Square to today's international reach and 53-foot air ride trailers, we are considered an industry leader in moving and storage practices.
Innovative self-storage solution: PortaBox
Our PortaBox self storage exemplifies our commitment to innovation and convenience. Here's how it works:
Call PortaBox at 888-BOX TO GO: Contact us, and we will deliver weather-tight self-storage containers right to your doorstep. We understand that convenience is crucial, which is why we bring the storage units to you. No need to worry about hauling your belongings to a distant storage facility – we'll handle the logistics.
Load at your home or office: Take your time to fill up and lock your containers at your convenience. Whether you need temporary storage during a home renovation or require a long-term storage solution for your business inventory, our PortaBox units offer the flexibility to suit your unique needs. Our weather-tight containers ensure that your belongings stay safe and secure, protecting them from the elements.
We pick up and store: Simply give us a call, and we'll pick up your containers. We'll then store them securely in one of our dry, heated, and well-maintained storage facilities for as long as you need. Our facilities are equipped with advanced security systems to ensure the safety of your belongings. You can have peace of mind knowing that your items are in professional hands, stored in a clean and controlled environment.
Go ahead and experience the benefits of choosing Hansen Bros. and PortaBox self-storage for your storage needs. With our combined expertise and dedication to exceptional service, we offer storage solutions that surpass expectations. Discover the benefits that await you when you entrust us with your belongings.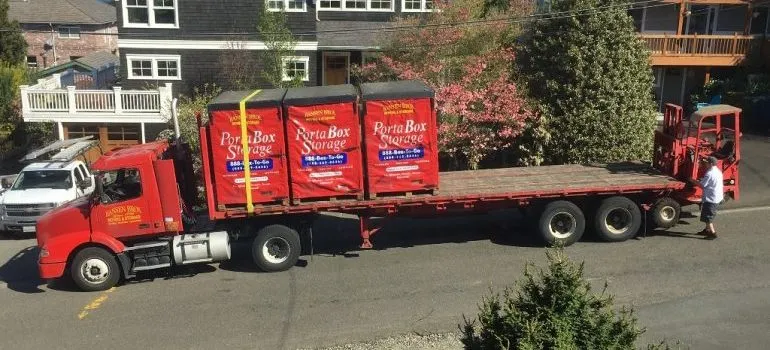 Convenient locations for PortaBox self-storage
With our commitment to providing accessible and secure storage solutions, we aim to make your storage experience as convenient and hassle-free as possible. Hansen Bros. has three PortaBox self storage facilities situated in strategic locations:
Lynnwood: Located in the heart of Snohomish County, our Lynnwood facility serves as an easily accessible storage hub for residents and businesses in the surrounding areas. Whether you're in Edmonds, Mountlake Terrace, or Lynnwood itself, our Lynnwood location is there to meet your storage needs.
Newcastle: Situated in southeast King County, our Newcastle facility serves the growing communities in the vicinity. From Bellevue to Renton and from Issaquah to Mercer Island, our Newcastle location provides a central storage solution for both residential and commercial customers.
Seattle Metro: In the bustling city of Seattle, our Seattle Metro facility offers convenient storage options to meet the diverse needs of urban dwellers and businesses. Whether you're in Capitol Hill, Queen Anne, or downtown Seattle, our Seattle Metro location is within reach.
We understand that accessibility is essential when it comes to storage solutions. That's why we have thoughtfully chosen our locations to provide you with convenience in accessing your stored items. Contact us now to find the nearest location and secure your storage space with ease!

Experience the Hansen Bros. advantage
Choosing Hansen Bros. and PortaBox self-storage means unlocking a range of advantages that set us apart. For four generations, Hansen Bros. has built a reputation for excellence and reliability. Thus, with our extensive experience, reliable full-service storage solutions, and commitment to customer satisfaction, we provide a winning combination for your storage needs. Experience the peace of mind and convenience that come with our trusted services. Here are a few more reasons why customers continue to trust us.
Strong qualifications
Our Team at Hansen Bros. has been voted "Best in Western Washington" by KING5 and hold an A+ rating with the Better Business Bureau. Additionally, we are a Certified ProMover by the American Moving and Storage Association, ensuring that we adhere to the highest industry standards. These accolades and certifications are a testament to our commitment to providing exceptional service.
Experienced movers
Our professionals undergo thorough background checks before joining our team. We believe in employing only the best movers in the industry, individuals who are not only skilled but also courteous and respectful. They are experts at handling your belongings with utmost care and efficiency, ensuring a smooth and secure move.
Commitment to excellence
At Hansen Bros., we believe in going above and beyond to exceed customer expectations. We offer flexible pricing and payment options to accommodate your budget. Moreover, our customer service ensures your satisfaction throughout the entire process, which is confirmed by your reviews. Hence, we commit to delivering a seamless, stress-free moving and storage experience.
Helpful moving resources
Moving can pose a challenge, but we are here to help. We provide a range of useful moving resources on our website to assist you in planning and executing a successful move. From our comprehensive FAQ section to our moving countdown and tips, we aim to equip you with the knowledge and tools you need for a smooth transition.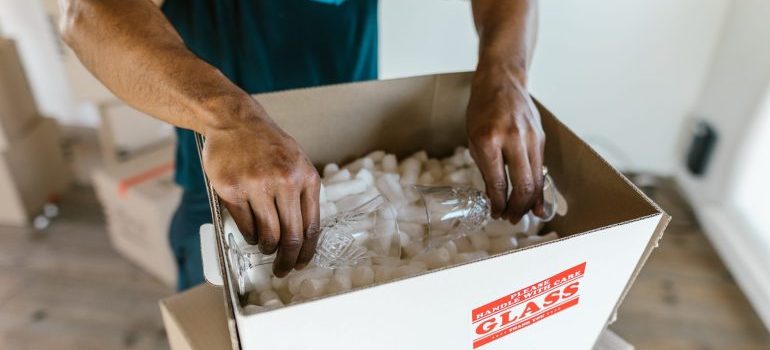 Take advantage of PortaBox self storage today
If you value the convenience of self-storage delivered right to your doorstep, PortaBox self-storage from Hansen Bros. is the ideal solution for you. Our friendly and knowledgeable staff will guide you through the process, answering any questions you may have and helping you determine the storage solution that best fits your requirements.
And if you are also considering our comprehensive moving services, including local, statewide, interstate, international, office, or industrial moves, our representatives will be more than happy to assist you and make your relocation as smooth as possible.
Make your storage and moving experience seamless and stress-free with our Team. Trust our expertise and legacy of excellence to meet all your storage and relocation needs. Just contact us or call 888-BOX TO GO to start and experience the difference Hansen Bros. makes with PortaBox self storage!
Let our team put together a comprehensive moving plan for you. Complete our simple free quote form or contact us at 1-888-300-7222.