Guide to packing books for transport
Books are delicate items that need special attention when preparing for the move. This is especially important when moving long-distance. Therefore, keep in mind that packing books for transport has to be a step-by-step process. Only then you can be fully sure that your items will survive the move. In addition, you will need a team of expert movers to move your books and other belongings safely and in a timely manner. We at Hansen Bros. Moving & Storage stand at your disposal whenever you are in need of top-quality moving services. As one of the best movers Seattle has on the market, we commit to each of our customers.
You'll need enough boxes and other packing supplies
Packing goes smooth and easy when you have packing supplies of the best quality. Items remain safe only in durable boxes and containers. In addition, shipping crates ensure the complete safety of your books during transportation. Therefore, check the moving boxes and shipping crates Seattle has on offer.
Don' forget the rest of the packing materials and tools:
packing paper
bubble wrap
permanent markers
packing gun
scissors
scalpel
fabrics
Pack books for transport step by step
Add extra padding in small-sized moving boxes. Use crumpled packing paper or clean fabrics for that.
Carefully wrap each book into layers of packing paper. You can also use old (and clean) towels and blankets.
Put the books inside the box next to one another.
Fill the gaps in the boxes with more crumpled paper.
Close the lid and seal it with packing tape cross-wise, up to several times if necessary.
Avoid packing boxes for the move in a hurry. Packing is a process that's best done if you take care of each item the right way. So, don't just dump them into a huge box. Seal it and call it a day. Instead, dedicate equal attention to each book. You will feel much more at ease after you are completely sure your items are safe and sound. Also, it's important to pack the books in durable cardboard boxes. Therefore, pay attention to the quality of supplies while you are shopping for the move.
Organization is crucial when packing books for transport
When packing for the move, it's necessary to plan each day of the moving period ahead in order to keep everything in order. Moving often tends to get messy and, therefore, overwhelming. This is why a strong plan will work in your favor and help you manage all your duties. If you are often busy, then writing a schedule is the first thing you must do. Only that way you can execute everything on time and have a stress-free move.
Find quality moving services
You should start searching for movers as soon as you pick your next place of residence. That way, you have enough time to organize the entire endeavor and browse some of the most trusted and capable cross country movers Seattle has on offer. Not only do they have the moving services you need, but they also provide top-level customer service.
However, you must be careful when searching for the movers since there are various options on the market. The goal is to choose the best one, which often seems more difficult than it is. All you have to do is go for licensed movers who offer a free estimate. After that, check if they have all services you need in one place. Next, see what previous clients have to say about their service quality and overall customer experience. The last step is to directly contact at least a few companies to check if they are available to move you when you want. Don't hesitate to use this opportunity to ask them anything moving-related. You have to be sure the company you want to hire is the right choice.
The storage solution is a must
Delays are a common occurrence during the moving period. Many factors get in the way, and often discourage people from continuing with the move. Besides a capable moving crew, you also need decent self storage Seattle. Your books have to be safe somewhere until you decide to move them out. Indoor, temperature-controlled storage units are the best ones you can find on the market. They are well-equipped and spacious enough so you can store a great number of items. Books are the safest in these kinds of storage units regardless of the season. Outside temperature and moisture can affect them due to controlled conditions inside the storage.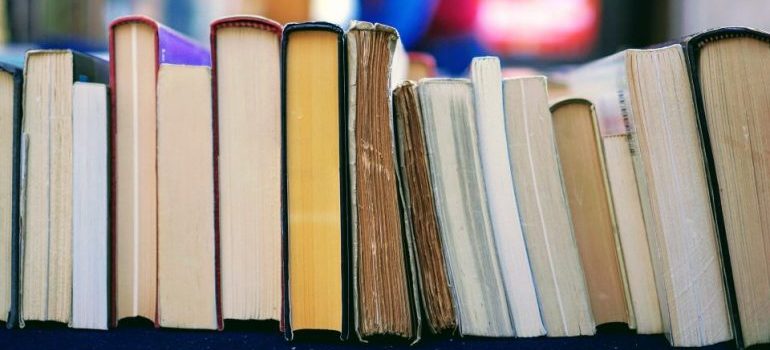 A professional moving company that invests in service improvement has the right storage size you need for your move. However, it's wise to schedule a visit, so you can be sure the storage you chose is the one that best works for you. Pay attention to the hygiene of the storage space and if there's a presence of moisture. Also, don't forget to ask about a potential rental extension, just in case. When it comes to storage units, you mustn't leave anything to chance.
You can ask the moving crew to pack your books for you
Undoubtedly, packing books for transport is the easiest when you have pro packers to do it for you. If you don't have time to pack books and other goods for the move, then leave them to your moving crew and take a rest. Moving professionals are skilled in a wide variety of packing methods. Most importantly, they will save you plenty of time for other tasks from your list. As you may notice, having pro packers at your side means having a stress-free moving journey. A well-trained crew will save you a lot of time by packing your items, therefore making sure you remain at peace the entire time.
Let our team put together a comprehensive moving plan for you. Complete our simple free quote form or contact us at 1-888-300-7222.