Reusing moving boxes – should you do it?
After a move, you will have plenty of empty moving boxes. Depending on their condition, you can recycle them or find them a new purpose. And there are many ways in which you can reuse your leftover cartons. It all depends on your needs and situation. If you want to learn more about reusing moving boxes, Hansen Bros. Moving & Storage prepared a few ideas that might help you to decide. Let's take a look.
Reusing moving boxes is possible even if they are not in good condition
The first thing that you need to think about when considering whether you reuse carton boxes or not is their condition. Relocation can be a very stressful process for cardboard boxes. Even if you move with the best moving company Washington has to offer. During the move, your boxes may rip, puncture, or maybe even get wet. If that happens, you will have fewer options for reusing your moving boxes. However, there will still be a few things that you can do with boxes that are in poor condition. For example, if you are remodeling your home, flattened cartons can be good for covering your floors. You can also cover your furniture. Or, you can cut your boxes into smaller pieces and use them to protect larger pieces of furniture, doorframes, windows and other parts of the house from paint spatter.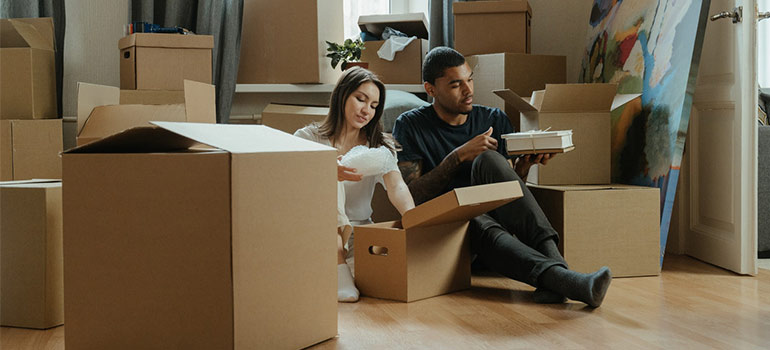 Create a playhouse for your kids
Damaged boxes can also be used for other purposes. For example, if a moving box is not fitted for a move anymore, you can use it to make a playhouse for your kids. Just turn it upside down, cut the entrance, maybe add a few windows and that is it. After you are done, let your kids decorate the house according to their liking. Give them tempera paint and a few brushes and let your kids show their creativity.
How to reuse completely damaged boxes
The good news is that you can reuse your moving boxes even if they are damaged beyond repair.  For example, some people create art from pieces of cardboard. Avid gardeners, on the other hand, will use small pieces of cardboard to create a mulch that they will use for feeding their plants. Of course, this is not for everyone. However, if you have a garden, maybe you could try this out as well. Just make sure that the cardboard is clean and hasn't been exposed to some chemicals or other substances that could damage your plants.
Use your moving boxes to pack your items for storage
If your boxes survived the move undamaged, you can give them a new purpose. For example, if you are putting some items in self-storage, you can use those boxes to pack your items. You see, conditions in storage facilities can be harsh sometimes. Even if you are using the best Seattle storage. To keep your items from dust and dirt, use your leftover moving boxes. Of course, the boxes that you will use for storage have to be in perfect condition. They need to be whole and without any visible damage.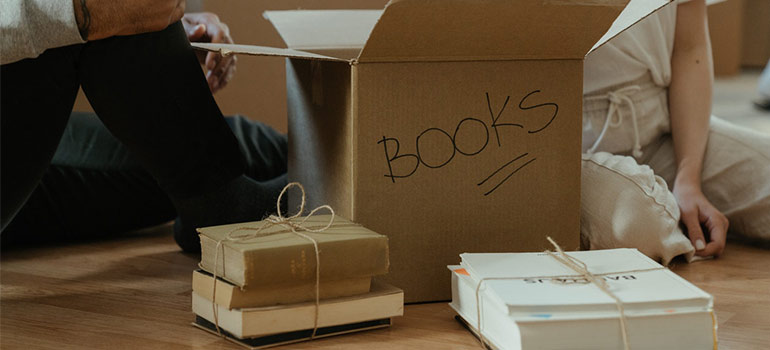 Use them regardless of the type of storage
When renting a storage unit, boxes are essential for keeping your items in good condition. However, packing your items in moving boxes is essential even if you are renting Portabox storage Seattle or some other type of storage. At least, boxes will protect your items during transport.
Keep them for your next move
If your boxes remained in perfect condition after the move, flatten them and keep them in a dry place until you need them again. If you know that you will be moving again soon, there is no need to throw away good boxes. Of course, you need to store them properly if you want them to remain in that condition for your next move. If you flatten them, they will take less space. And if you wrap them in plastic, they will remain dry, healthy, and ready to protect your items during your next move.
Give them to your friends or acquaintances if they are planning to move
If you are not planning to move anytime soon and you have plenty of moving boxes that are in good condition, your boxes can still be good for someone else's move. If you know someone who is planning to move offer them your boxes. You bought those boxes for your move and you know how expensive packing materials can be. Especially when you factor in other moving expenses. Your gift will certainly be highly appreciated.
You do not have to know anyone who is planning to move to donate your boxes. There are plenty of websites online that deal with free moving boxes. Donate them to their cause and they will find people that will have the most use of your donation. This way you can help people that are not in a good financial situation.
Use them to rearrange your home storage
Boxes that are only slightly damaged can still be good for some purposes. For example, you can use them to rearrange your home storage, closet, or garage. Simply put your boxes on shelves and fill them with items. Of course, make sure that you label your boxes correctly. Otherwise, you will have trouble finding the items that you need. Especially after a while.
Take them to recycle if you can't find any new purpose for your moving boxes
As you can see, reusing moving boxes depends on their condition and your needs. If you are left with completely damaged boxes, you can simply get them to recycling.
Let our team put together a comprehensive moving plan for you. Complete our simple free quote form or contact us at 1-888-300-7222.