Guide to packing children's toys when moving
Moving to a new place is definitely not easy, especially if you are relocating with your kids. They are always running around your home and getting their stuff out of the boxes. Besides packing your belongings, packing children's toys when moving needs special preparation. Whether you have a toddler or school-age children, we certainly know that they have tons of stuffed animals, dolls, and toys. Do you agree? Just like any other belongings, toys can get damaged during the moving process. Additionally, it is quite difficult to organize and sort them out. Don't panic right away! With the help of some of the best movers Seattle has you will learn new tricks that will make this packing process easier. Stick around and read the tips that our experts prepared for you.
Go over your children's toys and donate what they don't need
Children feel like they always need new toys, even though they spend most of their time playing with just one. Do not waste your time trying to pack toys that they don't use. If your children don't use the toys they used when younger, get rid of them. There are so many children out there that will need them, so include donations in this process. You will make someone happy and save money on packing boxes and materials. If you want to save them temporarily, you can rent one of the Seattle storage units and store them. You never know if you will have another child in the future or give it to someone close to you. When you pick the ones you need, then we can go with packing. Investing in quality packing material should be on your list.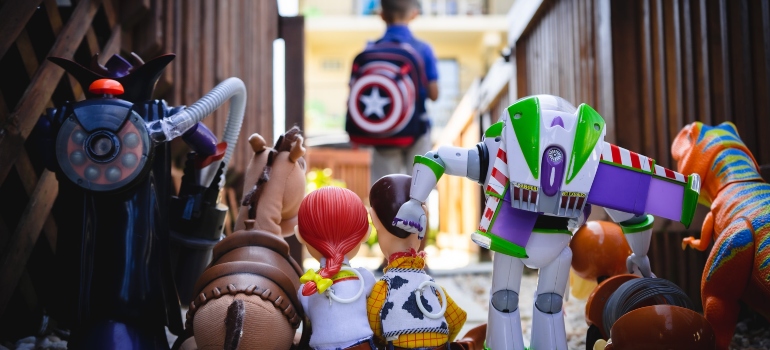 Disassemble large toys into small parts
If your children own large toys such as rocking chairs, tents, jumpers, and dollhouses, you need to disassemble them. Wooden toys are usually quite delicate so you need to properly disassemble them. This will prevent these toys from getting damaged during the transport. Make sure to pack all parts of the toy in the same box, so you don't lose them. That is why we always point out that labeling is essential when packing. If you think that you cannot do this alone, contact one of the local movers Seattle has for help. You need to prepare cardboard boxes, markers, and bubble rolls to protect fragile ones. If you keep their original boxes, that is even better, since you can easily pack them to their right place. If not, try to find similar size boxes that will perfectly fit them.
Before packing children's toys when moving, disinfect and clean everything
You don't have to spend too much time on this, but cleaning your toys is recommendable. If you have a baby or a toddler, it is likely that they will want their toys as soon as you unpack. If you want a fresh start in your new home, then this is not a bad idea at all. Rubber and plastic toys can be washed with soap and water. Others can be disinfected with cleaning wipes. This is something you should do especially if you keep a lot of them in the basement or garage. The worst thing you can do is simply toss them in boxes if they are already dusty or dirty. There are some toys that you didn't use for ages, so prepare them properly before packing.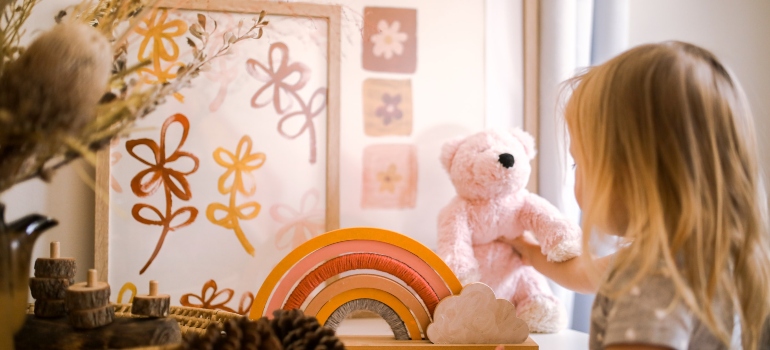 Packing soft toys and action figures
Stuffed animals, dolls, and soft toys are quite easy to pack. They will not break and you do not have to worry about them at all. However, before putting them in boxes, make sure to protect them from moisture, insects, or dust. You can simply put them in a plastic bag before placing them in cardboard boxes. With the right moving services Seattle you will make sure that your children's favorite toys arrive at your destination safely. On the other hand, if you have action figures, and those small toys that can get lost or damaged, wrap them separately. It is recommended that you wrap each doll or toy in bubble wrap or packing paper and put it into their corresponding box.
Packing fragile toys with care
When we talk about fragile toys we think of toys that work on batteries, radio-controlled toys, and cars. You need to carefully wrap them in bubble wrap and separate them from other ones. Do not forget to label them with 'fragile' label to make sure you know what is inside. Make sure to talk to the movers, if you are using their services about the content of boxes. If you have ones that you especially care about, let them know and they will definitely pay more attention to them. Do not rush this process and try to pack all toys in one day. You will end up losing or damaging toys, so make sure to take your time. Packing children's toys when moving is a process that requires planning and time.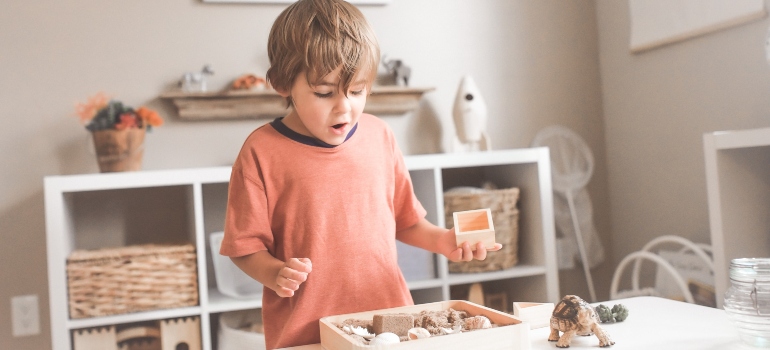 Involve your children in the packing process
Don't forget to involve your children as much as you can in this process. Try to make this a fun and exciting time, and they can actually help you out. Prepare children moving checklist and you can give them a task to sort out their favorite toys or put them in boxes. Packing children's toys when moving can be an interesting adventure for them since it is something that will enjoy. Do not let them feel the relocation stress that you might experience and create a calm environment for them. Your children will love this and they will spend hours on this, without disrupting the rest of the moving process. You may focus on more important things while keeping them busy in the meantime.
Let our team put together a comprehensive moving plan for you. Complete our simple free quote form or contact us at 1-888-300-7222.