Best ways to utilize self storage during spring
At long last, spring is finally upon us! During winter, everything slows down and falls in frequency, including many house maintenance activities. This included cleaning, organizing, and decluttering your living space. The cold and gloomy weather is the perfect invitation for clutter to accumulate in our homes. But when spring arrives, it is more than a blessing. The days are longer, and we can finally open our windows and let some fresh air in. With that air, comes a wind of changes to our home, and we must set sails. For most people, cleaning the house is certainly a chore, but this can be very simple with the help of Hansen Bros. Moving & Storage WA! There are many ways you can utilize self storage during spring, and we're here to tell you about a few. With our help, you will surely benefit from owning storage and refreshing your home.
It is a great idea to utilize self storage during spring cleaning!
Through the years, it has become the norm to celebrate the end of winter with a big house cleaning session. People like to think of it as a fresh start to the year after a slow and cold period. Spring cleaning is a tradition in most homes and it is often quite a big undertaking. Luckily, this daunting task can be made much simpler with the use of a storage unit. In fact, there are so many uses to storage, mainly to safely house your items while working with moving companies Kirkland. But, people move at all times of the year, and certain activities are only done in spring, so we'll focus on that. The most important thing to remember when spring cleaning is that every space in your home has something that doesn't need to be there. This is a good incentive to get your home clean and clutter-free.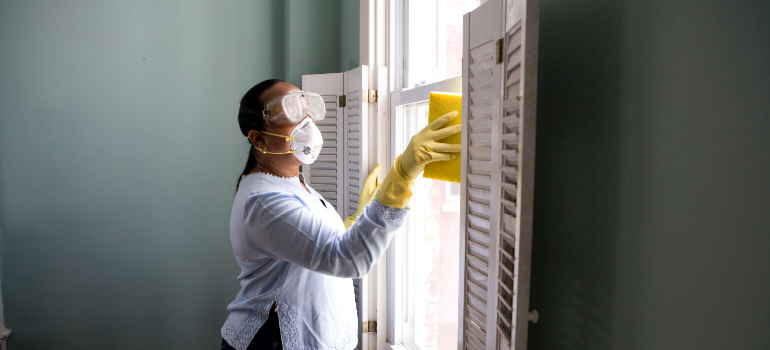 A good spring cleaning session needs a solid system in order to keep everything streamlined. The most optimal way is to clean from top to bottom, and cover the room from left to right. Dust off your ceiling fans and lamps, and then wipe down your walls, windows, tables, and counters. Finish off with the ground stuff such as air vents, door trims, and thresholds. Don't forget to wipe down all of the items on your shelves and cabinets too. Once all that is done, thoroughly vacuum your floor and mop it. In the end, you will be left with a lot of stuff that you have, but don't currently need. This is the moment where a self storage unit comes into the spotlight with all its benefits!
There's no better place for storing clutter
Your spring cleaning adventure isn't complete until you're able to clean your entire home, with all of its challenging spots. This isn't possible at all if you have clutter laying all around the place. A lot of things can be considered clutter, and it is up to you to make the tough decision regarding what can stay in your household. Work papers, various collections, and kid's toys, and photo albums, are all definitely worth keeping. But, if you don't use them frequently, and only need them for a specific purpose, why allow them to consume precious space? Items such as these are best placed in Seattle storage, where they'll be safe until you need them. It doesn't matter how much clutter you have, because these units come in various sizes! So, be liberal in your decluttering, and you'll have a clean and organized home in no time.
Keep your items safe and out of the home while organizing a yard sale
Think about all the clutter we've just talked about. All of the surplus items you placed in the storage because there's no room for them in your home. Ask yourself if you actually need all of it, and whether or not getting rid of that clutter can benefit you in a different way. Could you use self storage during spring in a profitable way? In most cases, a spring clean reveals a large number of items that we never actually use. Items like these are perfect for an annual yard sale! Organizing a spring yard sale is a very common occurrence and is a fantastic way to both declutter and make a profit. Since you've moved all of these items to the storage, you ensured their safety until the sale day. All you have to do now is visit your storage, and decide what you're going to sell!
You can use self storage during spring by filling it with seasonal items
Once you've cleared out your storage with a yard sale, most of the items that remain will be seasonal stuff. From clothes and decorations to home maintenance tools and storing outdoor furniture items. Usually, items like these find their place in our garage or shed for the duration of the year, only to be used for a few months at a time. This is yet another problem you can easily tackle with the use of secure self storage. When spring comes, you can get rid of heavy coats, sweaters, and boots. Just make sure to give everything a proper wash before storing it, so it retains its condition and freshness until you decide to wear it again. Neatly pack your holiday décor, snow shovels and plows, and other seasonal items into boxes, with proper labeling for easy identification.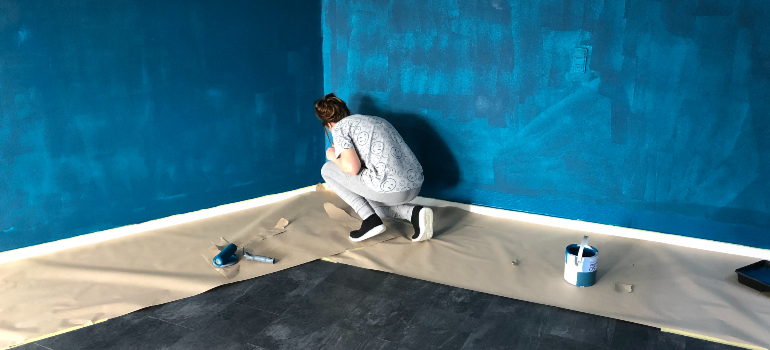 Allow yourself more room to work in while you redecorate your home
If you keep your home well-maintained through the year and don't have to rely on big cleaning operations, there is another way to utilize self storage during spring. Let's say you want to change your floors or give the entire home a fresh coat of paint. All of your furniture and décor items are at direct risk of damage or staining during such an endeavor. Furthermore, you'll have to work around all of your shelves, tables, and couches. Because of this, home renovation with self storage is a fantastic idea! With a large enough storage unit, you can move all of your furniture to a safe location until you finish all of the work. This way, you can work in peace, and not have to worry whether or not you'll get paint on your favorite rug, or if you'll put a dent in the dining table you love so much.
Let our team put together a comprehensive moving plan for you. Complete our simple free quote form or contact us at 1-888-300-7222.