Guide to packing dishes when moving
You'll have a lot to do in the months leading up to your relocation. From researching moving companies Seattle to transferring utilities to packing all your belongings, you'll have to learn how to do a lot of things you don't normally need to know about. How to pack dishes will be one of them. It's not something that you really do every day, is it? You use your dishes at home so there's hardly ever reason to pack them or move them en masse. On top of that, dishes are fragile and incredibly easy to break. Moving them can, therefore, cause a lot of damage. This is why properly packing dishes when moving is important. The packing materials and techniques you use will be all the protection your dishes get. So don't wing it – do it right!
Supplies you'll need for packing dishes when moving
You can't pack anything if you don't have the supplies for it. And when you're packing fragile things like dishes, proper supplies are even more important. Regardless of whether you are packing your dishware because you're moving or because you're considering using storage units Lynnwood to save space, you need to protect your dishes from outside elements and damage during transport. In order to do that, you have to use high-quality materials like:
sturdy moving boxes (size small)
special boxes made specifically for dishes, bottles, and glasses
packing paper (or newspaper if you're not packing valuable china)
some type of cushioning material (i.e. bubble wrap, compostable packing peanuts, dish towels)
durable packing tape
markers and labels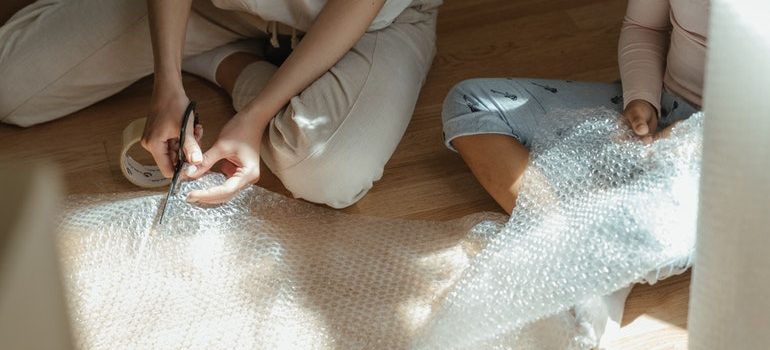 Do you really need special boxes for glassware?
Very few individual packing materials are very expensive. But, as a whole, the costs can add up quickly. If you're looking to save money, you might try to avoid spending on special materials like dish boxes. It is certainly possible to pack your dishes in regular boxes only and it makes them a lot easier to stack and move around before the movers arrive. However, there's a reason shipping companies Seattle use special boxes: they offer more protection. So the question is what you will prioritize – is it more important to you to avoid damage or save money?
General tips for packing dishes when moving
Different types of dishes require different techniques for packing. But there are some guidelines that apply to the task of packing dishes:
gather all your packing materials in advance;
set up a packing station somewhere in the kitchen where you'll have enough space to do what you need to;
set aside enough time for packing all your dishes – you don't want to break them in your rush before the move even starts;
fill your boxes to the top and use plenty of cushioning material so there's a little movement inside the box as possible;
but don't overfill your boxes because they'll be too heavy to carry;
reinforce boxes with tape if you're worried about weight;
wrap the dishes and pack them on their edges, don't stack them horizontally.
A step-by-step guide to packing dishes when moving
In order to properly pack dishes for moving, you'll need to take into consideration the different types of dishware. Plates are arguably the easiest to pack as they're flat and comparatively sturdy while stemware tends to be the trickiest because it's oddly shaped and very fragile. There are specific packing techniques for each type of dish.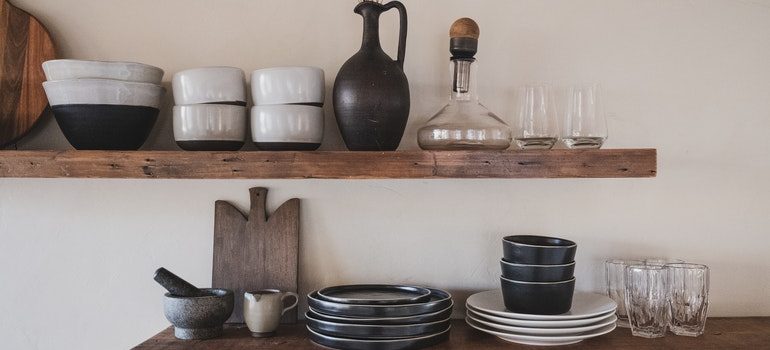 Prepare the boxes to start with
Before you even start packing things, you need to prepare the boxes you're going to be putting the packed dishes in. First, tape the bottom of the box closed. Use enough tape to be sure that it won't come open. If necessary, reinforce the entire bottom and the corners. Then line the box with cushioning material such as bubble pack, fabric or even several layers of crumpled packing paper. Line the bottom and walls of the box both.
Packing plates and bowls
Bowls and plates are pretty easy to pack although they do take some time. Put each individual dish (face down if it's a plate; face up if it's a bowl) in the center of paper sheet cut to size. Then pull the corners up and around the dish, crumpling them together at the center. Secure with tape if necessary. Stack plates and bowls in order from biggest to smallest. Pack plates on their edges in a lined moving box or a dish box.
Packing cups, mugs, and glasses
When packing drinkware, you'll want to use the roll and tuck wrapping method. Put your cup, mug or glass in one corner of a sheet of packing paper on its side. Then draw the corner up and over the side of it before rolling the item towards the opposite corner of the paper to wrap it. Finally, tuck the excess paper around the bottom and into the opening at the top. Repeat the process for the more fragile pieces. Add a wad of crumpled paper into the cup, mug or glass for extra protection.
Packing stemware
Stemware is a particular type of fragile drinkware that comes with a thin stem at the bottom. This is the most breakable part of it. You'll want to use every trick in the book to protect it from damage. Always use crumpled paper in the bowl of the glass and wrap it in multiple layers of packing paper. Crumple extra paper around the stem too. Remember to always pack  stemware top down, stem up.
Packing pots and pans
Pots and pans are not as fragile as glassware but they still need to be wrapped. Use packing paper to protect the surface from scratches. If you recently bought kitchenware, you might still have the original packaging that you can use. If not, regular moving boxes should do just fine – pots and pans are not nearly as easy to damage as glassware or china.
Label the boxes when you're done
You should always label your boxes so you and your movers know what's in them, what needs to be unloaded and unpacked first, and which box belongs in which room. But when you're packing dishes for moving, labeling is even more important. You'll need to label each box as fragile in large capital letters. Make sure they are legible too and put the label on every side of the box. You should also point out which side of the box should go up. This will ensure that the boxes containing your fragile dishes are moved with care and reduce the risk of damage.
Let our team put together a comprehensive moving plan for you. Complete our simple free quote form or contact us at 1-888-300-7222.