Guide to packing mirrors when moving
Packing for a move is always a challenge. You have to gather the supplies, wrap, and protect every individual thing, make sure all boxes are sealed… There's just a lot to keep in mind. But it all becomes so much more difficult when you're packing fragile and easily breakable things like mirrors. This is why china, glassware, art, and mirrors are among the most difficult things to pack and move, especially when you're moving long-distance. Sometimes, these things end up damaged even when you have the help of the best moving companies Seattle because no one can predict or guarantee anything when it comes to moving. But properly packing mirrors when moving will minimize the chances of something happening to them.
Why are the right techniques for packing mirrors when moving important to know?
One of your big concerns when moving will probably be how to get your belongings safely from your old home to the new one. Hiring one of the best shipping companies Seattle has for your relocation will certainly help. But even with the help of professionals, unpredictable things can happen. So your best bet is to be prepared for the worst. This means packing your belongings properly so they have a layer of protection even if something goes wrong.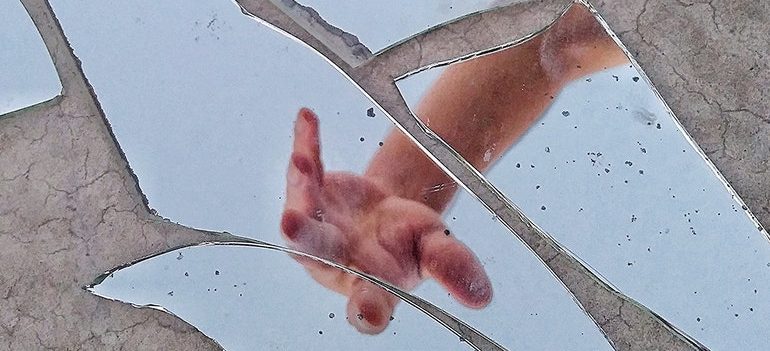 This is especially important when it comes to fragile things like mirrors. Not only are they significantly easier to damage than most other items but they can also be dangerous if broken. Sharp pieces of glass spilling out of moving boxes is a nightmare for you and your movers. Your other belongings can be scratched and more importantly, someone could end up injured. So packing your mirrors in a way that minimizes the chances of this happening is very important.
5 steps to packing mirrors when moving
Whether you are moving your mirrors into a new home or into one of our storage units Lynnwood, they will need to be transported there. And any time you're transporting mirrors, you should pack them in a way that protects them from damage. Here's how to do that:
Step 1: Prepare your supplies
The first step to packing mirrors for a relocation is preparing all the packing supplies you will need. For every mirror you're packing, you'll need to prepare:
a mirror box
some thick carboard
packing paper and bubble pack
moving blankets
packing and masking tape
a permanent marker
You can get these from your movers or look for them in hardware stores and online. Collect all your supplies before you start packing your mirrors. Set them up in a designated packing area, somewhere you can comfortably put everything you need including the mirrors (keep the size of your largest mirror in mind when deciding on where you're going to be packing it). Finally, you'll need to prepare the mirror box before using it. Mirror boxes are highly customizable and consist of four separate pieces of cardboard that you can interlock into a variety of sizes. Put the pieces together into two halves of a box, each consisting of two cardboard parts.
Step 2: Tape an X over the mirror surface
Before wrapping and boxing the mirror, use masking tape to create an X or grid pattern on the surface. A top-to-bottom and a left-to-right cross is not enough; tape from one corner to the opposite to create an X or do several vertical and horizontal lines of tape to make a grid for larger mirrors. Not only will this lower the chances of the mirror breaking but it'll also keep broken pieces in place on the off chance that something does go wrong.
Step 3: Wrap the mirror
Before you put the mirror in the box, you still need to wrap it. Put it on a large piece of packing paper which you will then wrap around it and secure with tape. Then do the same with bubble wrap. For additional protection, you can tape a large piece of cardboard to one or both sides of the mirror before wrapping it.
Step 4: Put the mirror in the box
Finally, it's time to box the wrapped mirror. Slide your bundled up mirror into one half of the box and adjust its size if necessary. Then, add the second part of the box and interlock the parts to complete the box. You may need to use additional padding and cushioning in case the box is still too big. Bubble wrap or packing paper is the best when packing mirrors. You should avoid packing peanuts in this case as they move around too much and will expose parts of the mirror in transit. Finally, secure the box closed with tape.
Step 5: Label the box
Before you pat yourself on the back and call your mission a success, check that everything is in order by lightly shaking the box. If nothing is moving around in it, secure it with enough tape to ensure it won't open by accident. Finally, you must keep in mind that you're not the only one who's going to be handling the box. And while you may know what's inside, others won't. So you have to warn them that this box needs to be handled with care. Use a dark marker or other forms of labeling to write FRAGILE or HANDLE WITH CARE (or both) on the outside of the box. Make sure the lettering is large and legible.
You can use the techniques for packing mirrors when moving for other things too
If you're into antique collecting or selling, you might have other things similar to mirrors that you need to pack. Knowing the right ways for packing mirrors when moving can, therefore, be useful for other items too. You can use this same technique for framed paintings or photographs, for example. If you have furniture pieces with mirrors, some of these tips will come in handy. And any other glass panels can be packed in similar ways. So keep these steps in mind when packing for a move even if you don't have a lot of mirrors!
Let our team put together a comprehensive moving plan for you. Complete our simple free quote form or contact us at 1-888-300-7222.