How to baby-proof your new home
A new baby marks the beginning of a whole new life. Many expecting parents decide to look for a new home once they find out there is a new baby on board. The reason is oftentimes a simple one – the lack of space. So if you are currently working with a team of North Bend movers, then you should know that you are not alone. After you successfully move into your home, you might feel a sense of completion. But while one chapter is closed, another one is yet to begin. Now you have to baby-proof your new home as your little bundle of joy will be here before you know it. You definitely don't want to wait until you have a crawling baby to start noticing danger at every corner.
Start with the bathroom when trying to baby-proof your new home
The bathroom can be a major hazard area for your newborn. It might not seem like it now that your baby is spending its days peacefully sleeping in the crib, but you'll start noticing the danger as soon as your baby starts to crawl. At about 15 months of age, babies get fascinated with knobs. In general, they become curious and start exploring their surroundings. Your job is to ensure they can safely explore the world around them by baby-proofing your home. Obviously, apart from renting a self storage Seattle unit and purging your house of the clutter that will be hazardous for your baby, you also have to tackle the important areas in your home. A good place to start is your bathroom.
A bathroom is a place where babies shouldn't go unattended. With so many chances of injury, you'll want to keep a watchful eye at all times. However, slip-ups are normal. If your baby does get away at some point, you'll want him/her to go into a baby-proofed bathroom. With that thought in mind, here come a few things we here at Hansen Bros. Moving & Storage suggest you do.
Use doorknob covers to prevent your baby from going into the bathroom. 
Use childproof locks to keep the toilet covered and secured. 
Place your cleaning supplies and chemicals on a high shelf. 
When it comes to child safety, you definitely don't want to take any unnecessary risks. Letting your child roam unattended in a bathroom presents a risk of massive proportions. So cover all of your bases even if at some point your child does manage to crawl into this area.
Secure the crib
It's hard to imagine that something as innocent and essential as a crib could become a hazard. But that just goes to show that danger could be lurking from any corner. What can be so dangerous about the crib isn't the crib itself – it's the crib-rail height. The height of the rail needs to be adjusted in accordance with your baby's age. When you have a newborn, the rail can be at the highest setting. However, as soon as your baby becomes strong enough to stand on his own, you need to adjust the rail to a lower level. Your curious little one can launch himself/herself on the rail, after which they'll hit the ground from a lower point.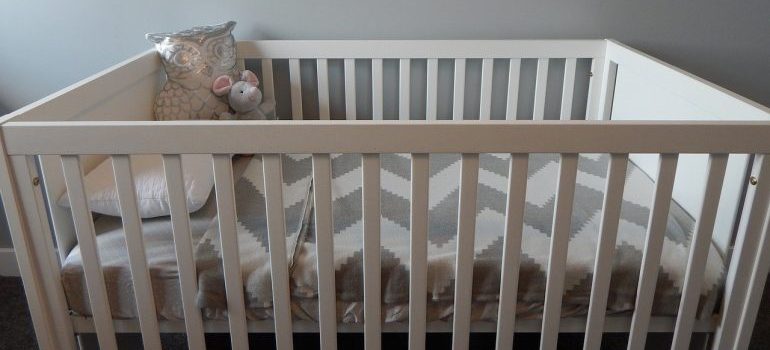 Moreover, don't put any items inside the crib. We understand that you might want to decorate the crib with colorful pillows and stuffed animals. But those can be a great hazard for a newborn, so resist the urge to do so. Sometimes, baby-proofing your home after your local Seattle relocation means not taking any extra measures, such as putting stuff in the crib.
Do something about the electricity
Once again, the curious nature of kids will have you taking extra steps in order to prevent an unfortunate event. Make no mistake – the risk of electrocution is a real danger for humans of all ages. However, babies and toddlers have no way of protecting themselves. That's why you need to baby-proof your new home by paying special importance to electric sockets. Many kids will find it fascinating to try and fit different objects into sockets, the outcome of which we don't have to mention.
Go out and buy tight-fitting electrical outlet covers that you are certain your baby won't be able to pull out. They can be found for as little as four dollars. But with the level of safety and protection they come with, they would be a worthy investment even with a much higher price tag. Dedicate a few hours of your weekend to this task and let your baby safely crawl around the home.
Baby-proof your new multi-story home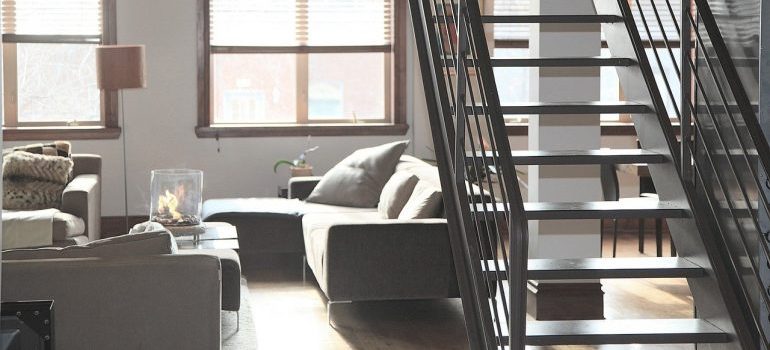 Having a lot of square footage at your disposal is great when raising kids. However, those stairs that are connecting the ground floor with the first floor are going to be a huge safety hazard. Thus, most specialists suggest that you install safety gates at the tops of stairs. And you shouldn't wait for your toddler to start walking around to do that. Babies can crawl a great distance, and they can easily reach the top of the stairway on their own. We don't even want to think about all the things that could happen in such a scenario. Therefore, install gates and have some peace of mind.
Be alert at all times
Bear in mind that these were just a few basic ways to baby-proof your new home. There are many other areas in your house that you will have to cover before your baby starts taking its first steps. It's a good idea to get to work as soon as your Everett movers unload the last item in your home. After all, get over with the unpacking and baby-proofing part of the job early on and enjoy the days in your new home.
Let our team put together a comprehensive moving plan for you. Complete our simple free quote form or contact us at 1-888-300-7222.