How to equip your new Bothell home on a budget
If you wonder how to equip your new Bothell home after the move, rest assured you've come to the right place. We at Hansen Bros. Moving & Storage prepared some helpful tips to make your new place homier on a budget. Thanks to all these tips, your home will look even more expensive without even having to splurge too much money on furniture and paint. All it takes is a little bit of creativity and a team that will help you move and set up all furniture and equipment you have. We invite you to check our moving and storage services and everything else we have on our offer! Enjoy the entire logistical support available to you before and after the move is over.
These budget-friendly ideas will help you equip your new Bothell home with ease
First, plan your post-move budget. Write down what are you moving with you and what you need to buy. Decide what you can buy now, and what can wait. Fortunately, there are home decor stores that allow paying in installments. In case you aren't quite sure how to properly furnish your new place in the city of Bothell, hire an interior designer! They can save you lots of time and help you effortlessly decorate your new home according to your aesthetic preferences. However, if you want to completely take furnishing and decor into your own hands, make sure to do it right.
Remember that furnishing after the move is logistically-demanding work. Therefore, consider hiring movers Bothell WA, as many of them offer installation services that can save you lots of time and energy.
A minimalist perspective will help you figure out how to equip your new Bothell home
When you have a limited budget, it's a good idea to take a minimalistic approach. Surely, this doesn't mean you should settle with bare necessities and not even consider additional decors. The main point of minimalism is to keep the home clutter-free, spacious and functional. Therefore, think of furniture you already have and see if they fit into your new home, especially if you're moving into a smaller home. Anything that doesn't serve a purpose anymore should be either sold, given away, or donated. There's no reason to drag your grandma's old sofa, unkempt carpet, or anything outdated for that matter. After decluttering, furniture shipping becomes more enjoyable. There are many furniture pieces to choose from, at modest price points, in various shapes and sizes. Some of them would definitely fit into your new home.
Shop for furniture at specific places and look for discounts
This is an excellent time to become a discount expert and find out what are the best furniture shopping places. Every season there are numerous discounts in every store, so it won't be difficult to find them. However, make sure the customers who bought at those specific stores are happy with the products. Online reviews are of great help in this case.
A nice rug gives more warmth to any room
A good rug will completely alter the appearance of your living room, bedroom, or home office. So, make sure to pick the one that is easy to clean. Neutral color rugs are an unmistakable choice. In case you have a pet, better buy a pet-friendly rug that gives your home a cozy vibe. 
Adding plants is always a good call
Cacti, succulents, and other low-maintenance plants will make your home look more interesting. If you are more into leafy plants, Snake Plant, Pothos, and Spider Plant are excellent choices. However, your plant choice will narrow down if you decide to introduce a pet friend to your new home in the near future. Cats and dogs like to nibble on everything, including plants that usually have a bad effect on their health and well-being. Fortunately, there are nicely-looking, pet-friendly plants that fit basically everywhere. The choice ranges from succulents, flowers, and leafy versions.
Color coordination influences the overall appearance of your home
Neutral tones can give a fresh and cozy appearance to your new place if you combine them the right way. It all depends on whether you opt for warm-toned or cool-toned color schemes:
Cool-toned: white, light blue, soft gray.
Warm-toned: beige, light brown, peach.
They all combine well with dark furniture. For instance, navy blue and black goes well with cool-toned schemes. On the other hand, maroon and warm brown are perfect for warm-toned neutrals.
Movers can help you move and set up your new home in Bothell
In order to settle in a new home as soon as possible, hiring moving help is much-needed. So take time to find a moving company Washington locals find trustworthy. Also, pay attention to their services. As already mentioned, you may find them to offer in-home installation services for a smooth post-move unpacking process. Usually, long-distance moving companies provide a variety of special services, as well as storage solutions where you can put all your furniture for as long as necessary.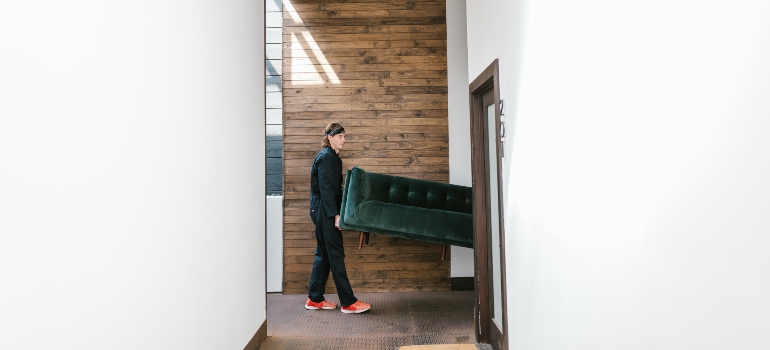 Where to find trustworthy movers that offer comprehensive moving services?
Now that you know how to equip your new Bothell home, the next task is to find a moving team that will handle your upcoming relocation. Keep in mind that only publicly listed, registered companies that offer a free quote come into consideration. Otherwise, feel free to skip any company that charges for a quote, or doesn't hold a license. Next, review each company that catches your attention, and compare their services, and price points. The best way to make the right choice is to book several free quotes, and then see which company is suitable for your moving budget. Also, don't forget to ask if there is an option to pay in installments.
Let our team put together a comprehensive moving plan for you. Complete our simple free quote form or contact us at 1-888-300-7222.