How to cope with moving into a smaller home
With today's housing market, the need to downsize is becoming more and more apparent. Finding a new and better place to live usually means that you will have to make some concessions where your living space is in question. To cope with moving into a smaller home, you will have to do much more than simply select a good moving company Washington to relocate your belongings. The most important thing is to mentally prepare, of course, but there are a few other ways that you can make the coping process easier. In this article, we will be teaching you how to make the most out of your relocation into a smaller home.
4 tricks you can use to cope with moving into a smaller home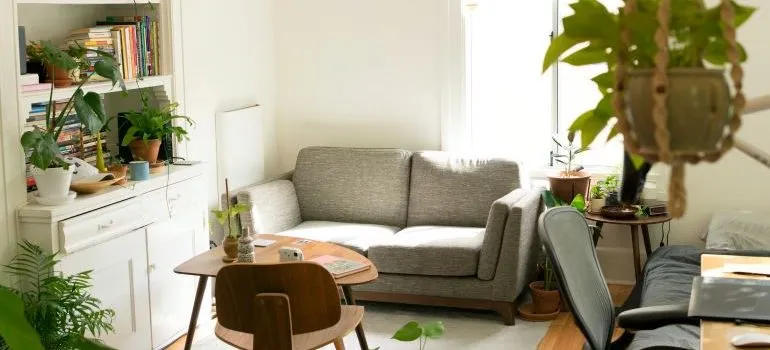 While we're not saying that coping with downsizing is easy, there are things that you can do to make it more bearable. With that in mind, you will want to :
Mentally prepare for living in a smaller place
Declutter
Utilize all the storage options available
Measure before moving
Of course, adopting a "minimalistic" lifestyle will greatly help in the whole endeavor. Or you can simply rent one of the self storage Seattle options and retain most of your belongings. What we're saying is that there are paths that you can take, it is not all black and white. Still, the whole process can be quite challenging and there will be hurdles on the way. That is why the most important thing is to mentally prepare for the ordeal.
Mental preparation
Moving into a smaller space can play nasty tricks with our minds. While this may differ from person to person, it is an inevitable part of the process and you need a way to handle it. The best way to prepare is to try and focus on the positives of living in a smaller space. There will be less to clean, and the expenses will be considerably reduced. This translates into you having more time and more money. Time and money that you can invest in fun things.
And if you're worried about not being able to have a place for all of your items, there's always the option of renting a storage unit. If you're moving to Lynnwood, for example, there will be numerous storage units Lynnwood WA has on offer that you can utilize. By choosing a convenient location, one that is right next to your home, you will be able to have easy access to all your stuff. Which will make the whole transition much easier.
But you don't want to be carrying just about everything with you. Another very important process that you will want to go through is decluttering. By going through it, it will become much easier to adapt to a smaller living space, as you will have fewer items to worry about.
Decluttering
Recent studies show that spending money on experiences (instead of items) will make you happier. This serves to show us that we don't really need many items in our possession, it's the experiences that matter. Furthermore, there's something called "hedonistic adaptation". What this means is that the more time we spend with our belongings, the more used to them we get. And they no longer bring us the same joy as they once had. It is a much better idea to spend our money on actual experiences such as dining out, going on an adventure or a vacation, that sort of thing. Doing these things also promotes social interaction which is heavily linked to happiness, as well.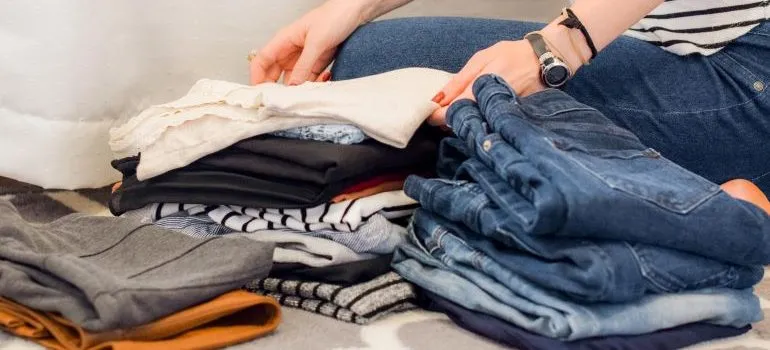 With all of that in mind, you may realize that you simply don't need quite a few of the items you currently have in your home. Not carrying everything with you will help prevent cluttering your new home, as well as reduce the overall relocation cost. However, the process might be quite difficult for some people. Luckily, there are a few decluttering methods that you can utilize.
Standard method
The standard decluttering method involves categorizing your belongings into one of three "piles". There's the "keep" pile, the "maybe" pile, and the "get rid of" pile. Basically, you go through every item in your household and categorize it into one of these piles. Have the whole idea of removing as many items as possible constantly in your mind. Once you finish the process, you will need to make some hard decisions on the "maybe" pile and that's about it. Make sure to involve everyone from your household in this process.
KonMari decluttering method
This method is based on a very simple principle, which is joy. What you will do is gather all your belongings and go through one item at a time, asking yourself the following question: "Does it spark joy?". The KonMari decluttering method is incredibly simple, which makes it perfect for people that don't have much time to spend on decluttering. However, this simple question can be incredibly hard to answer, especially if nostalgia comes into play. But it is undeniably effective and you will soon be able to get rid of a lot of your items.
Self storage options
Another thing that you can do is figure out the storage capacity of your new home beforehand. If you find it insufficient (and you most likely will), there are two options in front of you. First, you can rent a storage unit for the remainder of your belongings. Second, you can always build more storage inside your new home. Some of the best ideas for adding storage capacity are:
Hanging racks and baskets
Under-the-bed storage
Furniture with built-in storage (ottomans, for example)
Additional shelving
Between these, and a few classic storage bins, you will be able to fit in many more items than originally estimated.
Measure twice, "cut once", and cope with moving into a smaller home a lot easier
The last thing you will want to do is find a way to adapt your furniture to the rooms with smaller dimensions. Sometimes, this may not be possible and you will need to purchase different furniture pieces. But before you do so, you may want to make sure that it is absolutely necessary. Therefore, grab your measuring tape and measure everything! This will help you avoid property damage while moving, as well. And it will help cope with moving into a smaller home, too. You will have a lot to do and the busy mind copes easier.
Let our team put together a comprehensive moving plan for you. Complete our simple free quote form or contact us at 1-888-300-7222.