How to handle a relocation while injured
Relocation always comes with a bunch of challenges. This is not an easy task for sure for anyone and there are many things that can happen. But if you are injured, this is just another level of challenge. Starting with a mindset that everything is manageable, look for some really great moving companies that will help you. If you are in the Washington area, it is very logical to search for some Washington movers. They will help you with every question possible, even how to handle a relocation while injured.
Finding the right moving company
Finding the right moving company can be a key element to your relocation. Start looking for someone who is close to you. Like if you live in Edmonds, the most logical thing is to find some movers Edmonds WA. Going local is always a good choice because you can easily go to their office and see firsthand how they operate. But if you are injured, this is the thing you really shouldn't skip.
Things are getting harder if this is your very first relocation. So you would love someone to help you realize how to pack smart for your first move. You have to know that there are services that you can choose to give to your movers to do instead of you. This will be especially helpful for people who have a tight timeline or get an injury. But expect those services to cost more. Just calculate it into your moving budget before you start to negotiate with your movers.
Tips you can use in order to better handle a relocation while injured
If you don't have a clue on how to handle moving while injured, we are here to give you some tips. As we hope that you understood by now, getting help from movers and packers Seattle will change the whole experience for you. And while you will have to change and adapt some things to the situation, some will remain the same for everyone who has the plan to move.
Organize well
The organization is always such an important thing to do, whatever you are planning. Some people say that if you do this step right you have nothing to worry about, and we can agree with it for sure. Start with planning and organizing as soon as possible. You can start with making a list of things that have to be done. Make the special categories for those things that you are able to finish and for those tasks that you will need help with. This is the time to ask for help from anyone who is close enough and eager to jump in. And in situations like yours, when you are injured and are moving at the same time, we guess that many will be happy to help.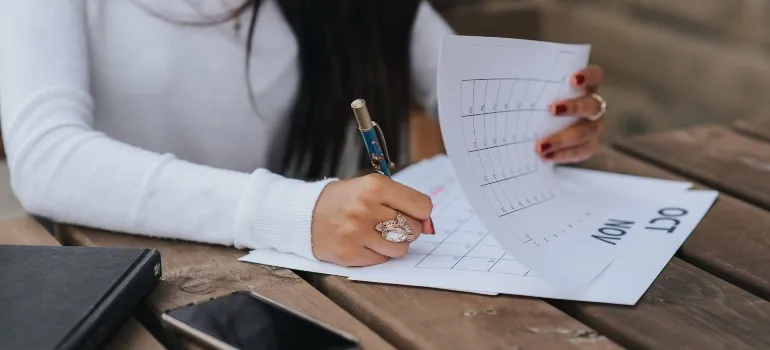 So be sure that everyone understands well their assignments. It is also important to tell them their timelines. Write this all down, like who is delegated to which tasks, is that person clear on what should do and when. Communication is the key to every successful event. And it starts with you. Make a pleasant atmosphere so everyone is really happy to help and feel free to ask if something is not clear enough. Even injured, you are still in charge, so stay focused and patient with everyone. After all, they are doing you a favor and deserve your best mood for sure.
Declutter you living space
Moving is the best time to let go of things that you don't use anymore. And since you won't be able to participate fully in every step, this one can be just yours. After all, we are talking about your things, so anyone else can't decide it for you. Go through all your stuff and write down everything you want to take with you in your new life. And make three categories for all the rest.
The first category will be for things you want to sell. This could be a tricky one if you are injured since you will have to find someone to organize a garage sale for you. If you have that person – good for you. But if you can't find anyone interested to do this, reduce that list only to some bulky items or some valuables. Try to sell those online. You can put a picture and an offer. The negative thing is that this can take time. Maybe more time than you actually have. So think twice before you put something in this category.
And divide the rest of your things into two categories. One will be for that stuff you are about to donate, and the other for recycling. Don't lose forget about this very specific situation that you are in and that you have to find the way to all work out just fine. So don't be selfish, give away as much as possible and recycle only items that are broken or impossible to use.
Don't forget to check with your doctor
We understand that you have a lot of worries and a lot to do. But don't skip your doctor's appointments during the moving period. The truth is that the whole process can last for some time. Your healing is the most important thing for you. So don't skip your checks. And every time ask your doctor if the situation has changed, are you now able to do more than before, and what you have to avoid.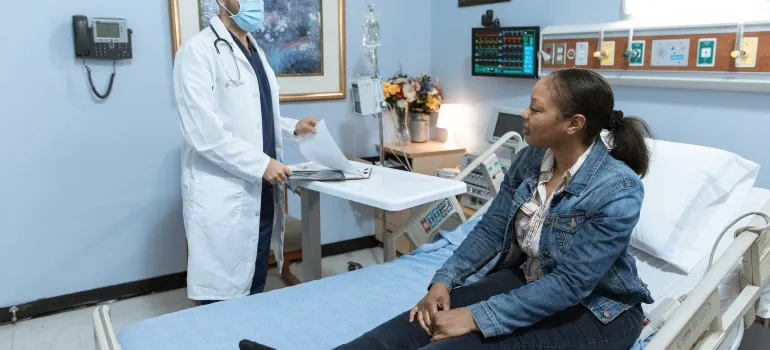 You can handle moving while injured, without a doubt
We really hope that we were able to give you some encouragement so that you know that you will be able to handle a relocation while injured. Looking at life, this is probably not the first hard situation that you faced. Remind yourself that you've been through the worst and that it will all work out just fine. Just think of all the wonderful things that will be waiting for you in your new home. Keep your focus and believe in the best outcome possible.
Let our team put together a comprehensive moving plan for you. Complete our simple free quote form or contact us at 1-888-300-7222.