How to pack smart for your first move
Moving is always a challenge, but moving for the first time goes beyond a simple challenge. On the one hand, there are so many things to take care of. On the other hand, fear of the unknown, so many doubts, stress. Well, be sure that all this is normal. What matters is to begin the process well-prepared. Moreover, you can facilitate the relocation by using professional moving services Seattle. After all, professionals know best. Also, make sure to pack smart for your first move. Surely, you want your belongings to be safely transported to your new destination. Be that as it may, the principal role is your own.
Making a decision to move is just the beginning of a long journey
First of all, start thinking, and think fast. Start by analyzing your future plans because what awaits isn't easy at all. In our opinion, the best would be to start by making a moving checklist and creating a moving inventory list. Also, determine your budget for the relocation. Moreover, always bear in mind how much time is left until the moving day. After all, there's a huge difference whether you have two months or two weeks.
Should you hire professionals or not?
By all means, one of the main dilemmas is whether to move on your own or rely on the movers. Of course, money-saving is the main reason for this. Surely, you are capable of organizing, packing, and transporting your items alone or with the help of your friends. Nevertheless, we advise you to book professional movers. Especially because you're moving for the very first time. Inexperience can lead to certain complications. In order to avoid them, let an experienced team of experts handle the relocation. Furthermore, consider using Newcastle storage in case you have valuable things that need to be safe in one place while relocating.
One of the crucial things is to pack smart for your first move
As already mentioned, professionals can manage your relocation without trouble. Moreover, moving companies Everett WA can pack your belongings, taking care of their security in the process. Not to mention, you'll be free of searching for the necessary packing supplies. It will definitely free up more time for other chores. However, this is a question related to your budget. After all, some people may not be in a position to put aside a certain amount of money for these services. If this is the case, then it would be good to get to know certain packing tips.
declutter
obtain packing supplies
start packing on time
protect your items while packing
label
Follow your inventory list and be honest with yourself
Nowadays, more and more people overcrowd their homes. We are constantly buying something. Still, now is the time to decide. After all, it would be ridiculous to move everything. With this in mind, declutter so that you can save both time and money. Determine what to do with the things you no longer need.
toss them away – In case you have something broken or damaged, simply get rid of it. Don't get too emotional.
sell – Here's a way to earn money. Organize a sale, and you'll combine two things. You'll earn money and reduce the number of things.
donate to someone – Be a good person and make someone happy. Give your things to someone in need.
Get the best packing supplies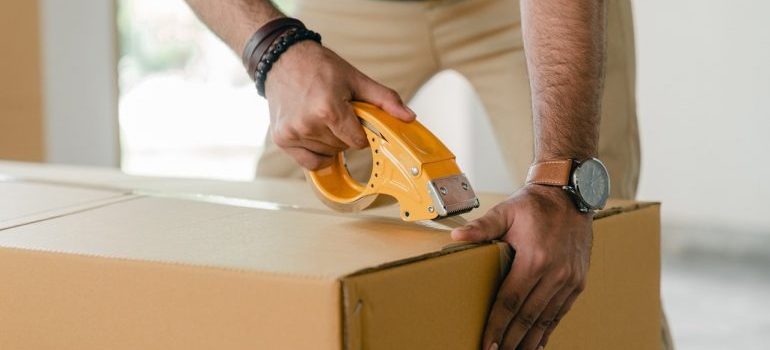 Of course, you will try to get the necessary supplies for free. Visit grocery shops, bookstores, liquor stores and take what you can to pack wisely for your first relocation. However, be aware that your supplies should be of great quality. Hence, choose only what can serve you well. Moreover, buy the rest of the materials you need. All in all, you need a lot.
boxes
tapes
packing peanuts
packing paper
bubble wrap
scissors
towels, old sheets…
Don't prolong the beginning of the packing process
As soon as you have thought of the move and obtained the packing materials, start packing. How long does it take to pack? Believe it or not, it takes time to handle the packing for your first move. In order to diminish the sense of fatigue, make it a daily activity. Take an hour or two every day packing your items. Therefore, you'll be ready for the moving day with a minimum of stress present. Furthermore, start packing room by room. The organization is crucial.
Use every means possible to ensure the safety of the items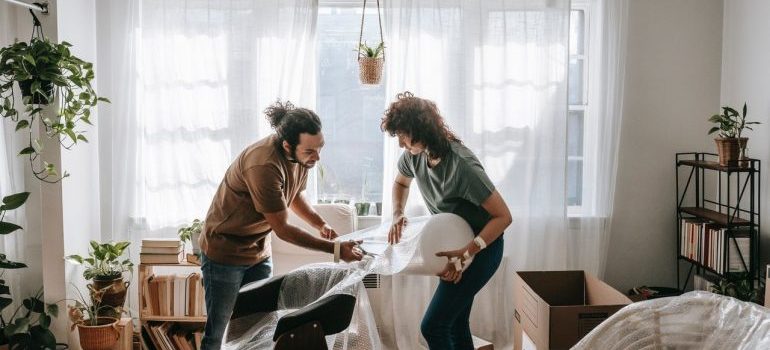 Above all, study all the techniques for packing. Remember, pack so your items don't get damaged during the transportation. Pack cautiously having in mind that heavy items go to the bottom of the box. Also, use the right sizes of boxes. There shouldn't be empty space because the things may crack or get damaged. Hence, wrap the items by using packing paper, bubble wraps, towels in order to protect them. Also, it would be wise to put packing peanuts and paper to fill in the gaps in the boxes. Finally, seal and tape the boxes.
As for larger items, such as furniture, wrap them in blankets, sheets, or bubble wraps for instance. Also, remove the drawers, doors, screws, and other small parts. However, make sure not to lose these parts. Put them together with large possessions.
Leave the labeling for the end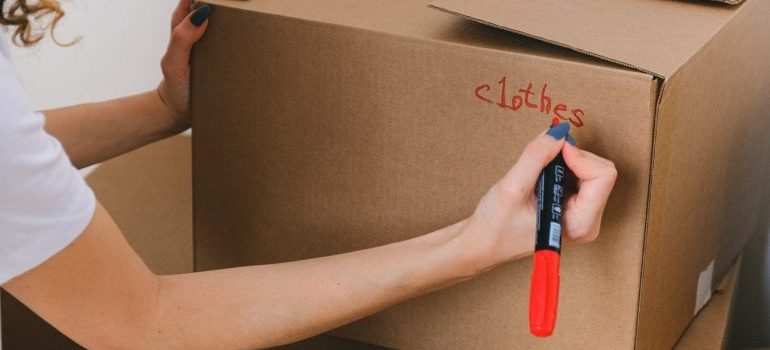 Use markers of different colors and label each box. Make sure to especially mark the fragile ones. One good idea too is to divide the rooms by colors. Hence, you can label the boxes in this manner. It'll be easier for the movers and for yourself when you start unpacking. Therefore, don't undermine the importance of this step.
Though being your first move, act smart and you'll relocate successfully
Altogether, plan well your relocation. After all, you've got no experience. Use any help available. If possible, use the help of a professional moving company. Also, pay special attention to packing. Make sure to pack smart for your first move. Only then will you be sure your things will be safely transported to your new destination.
Let our team put together a comprehensive moving plan for you. Complete our simple free quote form or contact us at 1-888-300-7222.