How to help your children adapt to moving from Lynnwood
So you are not sure how your kids will react to moving from Lynnwood. Of course, how you will approach this subject depends on many factors. Still, the age of your children plays the biggest role. If you have small kids or toddlers then you will not have too many issues. On the other hand, if you have teenagers, you will have to deal with a variety of problems. Fortunately, Hansen Bros. Moving & Storage has prepared this small guide to show you how to help your children adapt to moving no matter their age.
How you will help your children adapt to moving depends a lot on their age
As we already mentioned, helping your children adapt to relocation depends a lot on their age. Still, the first step should always be to notify your children about the move. Tell them that you are moving and explain what that means. Smaller kids will probably accept it easily. Maybe even because they do not understand completely what it means. On the other hand, older children will probably have a different reaction. Kids who go to school already have established relationships with their friends, maybe even romantic relationships. Therefore, their reaction will probably be more intense.
Of course, the most important thing is to stay calm all the time and do not get caught in an unnecessary argument that can only worsen the situation. If your kid had a passionate reaction. Give it some time to calm down. You can slowly start planning your relocation and searching for moving companies Lynnwood as you will soon have another try with your kid.
Let your kids help you choose your next destination
One of the best ways to help your children adjust to relocating from Lynnwood is to get them engaged. First of all, if you haven't already decided where to move, you can enjoy spending time with children while choosing your next destination. Browsing through different cities and locations will surely help your children get more excited about the move.
Let them search without your help. Make them find a good destination that they like. This will surely help them forget about the streets of Lynnwood. Of course, you do not have to accept their proposal. Make a list of good places to move and continue from there. The most important thing is to let your kid feel like he has a vote.
Your kids can also help you find movers
The next thing that you can also let your children help you is to find moving service Seattle. If you have older kids they will surely know better how to do online research. Because the internet is the place where you will search for movers. Your goal is to find a reliable moving company at an affordable price. However, it is not easy to find a reliable moving company that fits your description.
This requires thorough internet research. And who will be better for this than your teenagers? Finally, when they make a selection of a few reputable moving companies, you can take over from there, get their estimates, compare the prices, and pick the best one. Also, if you are searching for storage units, Lynnwood. Make them find a few suitable options and you can go visit them and choose the one that fits your requirement.
Choosing your new home can really help your kids adapt to moving from Lynnwood
The next important thing that you need to do and where your kids can really be engaged is choosing your new home. When you start searching for a new home, you will have to browse through countless pages and to look at dozens of images, before you make your final decision. Kids will really enjoy this part. Let them make their requests and start your search together. However, be very careful when you do this. Especially if you didn't accept their previous proposals regarding your destination.
Nevertheless, you can turn this into a family meeting where everyone will have their say. Finally, the most important thing is to find a perfect home. A home that every member of your family will enjoy.
Your kids can help you to pack and move if you let them
When it comes to relocation itself, the best way to help your kids accept moving is to let them participate in the process. Of course, their tasks will depend on their age. If you have smaller kids, you can make a game and let them pack their toys, for example. On the other hand, teenagers can participate in almost every part of the move. Except maybe heavy lifting.
Therefore, they can be of much greater help. And they will not have time to feel sour because of the move. Naturally, when you are letting your kids participate in the moving process the most important part is to make sure everything is safe. You do not want to risk an injury or damage.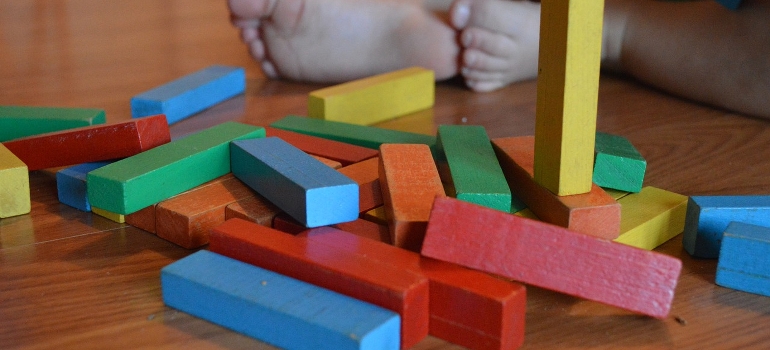 Help them say a proper goodbye to their friends
Finally, if your kid is feeling bad because of friends, maybe you can do something to help them feel better. Organize a gathering, go out, and do something fun together. You can organize a party or a short trip. Of course, everything depends on the age of your children. However, even though they will still feel sad, at least you will give them an opportunity to have something to remember and say a proper goodbye.
It is possible to help your children adapt to moving
As you can see, how you will help your children adapt to moving depends a lot on their age. However, with a lot of planning and engagement, you can create a miracle and even persuade a stubborn teenager that moving from Lynnwood doesn't have to be so scary. In any case, good luck!
Let our team put together a comprehensive moving plan for you. Complete our simple free quote form or contact us at 1-888-300-7222.