How to pack and move a flat screen TV
One of the trickier parts of the relocation process is making sure that your large, flat screen TV is safe and sound. After all, you might have invested quite a bit of money into it and you want to make sure that nothing happens to it. The obvious choice is to hire one of the best movers Seattle to take care of it for you, but you can do it on your own with a bit of guidance. In this article, we will be providing that guidance for you, and teach you how to pack and move a flat screen TV without any issues.
Pack and move a flat screen TV in 5 easy steps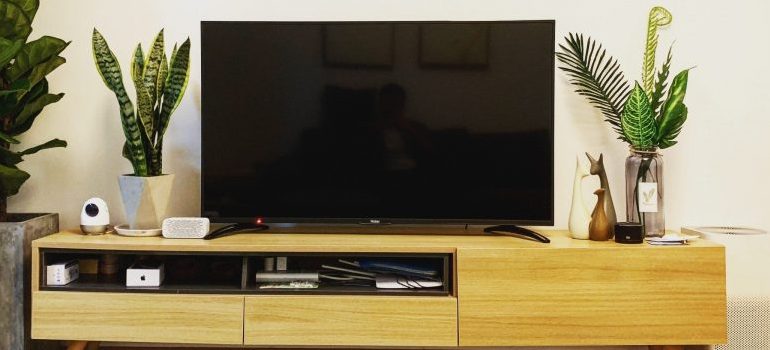 The fact of the matter is that you simply can't fit a TV into a standard moving box, load it into the truck, and call it a day. What you need to do is the following:
Obtain the necessary supplies
Prepare the flat screen for packing
Pack the TV the right way
Moving the flat screen TV
Unpacking
By going through these steps in order, you will all but guarantee that your TV "survives" the relocation process completely intact. But if you are planning to utilize one of the Seattle storage solutions and need to prepare your TV for a longer stay, there might be additional steps. If that is the case, you will want to communicate with your moving company and take the appropriate measures.
Step 1 – Obtaining the supplies you will need
Ideally, you will use the original packaging, the one that your TV came in. These containers and packing materials are perfect for relocating a flat screen over long distances. If you have saved the original packaging, much of the work is already done. All you are going to need is some wrapping and a bit of tape.
But if you don't happen to have the original packaging on hand, you can look into flat panel TV kits. Any larger moving company Washington has on offer will be able to provide you with them. You can also invest in a flat screen TV cover to maximize the protection. Furniture pads are also a great idea, as they will minimize the risk of any bumps or hits on your TV during transport. Of course, box tape and wrapping supplies are absolutely required. At a minimum, you will want to have two boxes, one that will serve as an "inner box" and the other that will be the "outer box".
Step 2 to pack and move a flat screen TV – Preparation
Moving a large flat screen TV is all about proper preparation. The first thing that you may want to do is take plenty of photos. Focus on the connections and "what goes in where". This will allow you to have an easy reference when setting everything up. It is much easier to take a photo now than it is to figure out the connections after you relocate.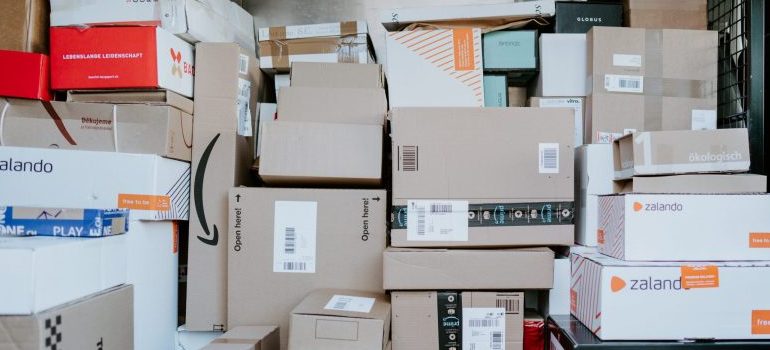 After that, unplug everything from the TV, power cord and all. You will want to roll the power cord in a neat coil to minimize any chances of damage during transport. If your set has any stands or legs, this is the time to remove them. You will only need a screwdriver for this task. If you happen to need specialized equipment, communicate with your local movers Seattle and they may be able to provide it for you. Make sure that you place all the screws in the same bag/box, and tape it from the outside.
If you have obtained a flat screen TV cover, now's the time to place it. It will provide your screen with additional protection against scratches, dust, and small bumps.
Step 3 – Packing the TV
First of all, make sure that the TV is standing upright. You also might want to secure an extra pair of hands for this step. You will start by sliding the TV into the inner section of the box. After that, slide the outer section over the end of the TV that is exposed.
Now is the time to utilize those furniture pads. If you don't have any, you can use towels or sheets to a similar effect. What you want to do is fill any free spaces that you see between the box and the TV. Shake the box somewhat to see if there is any "wiggle room" inside. If there is, add a bit more padding. Lastly, you are going to use the box tape to secure the both inner and outer sections of the box together.
Step 4 – How to move the TV safely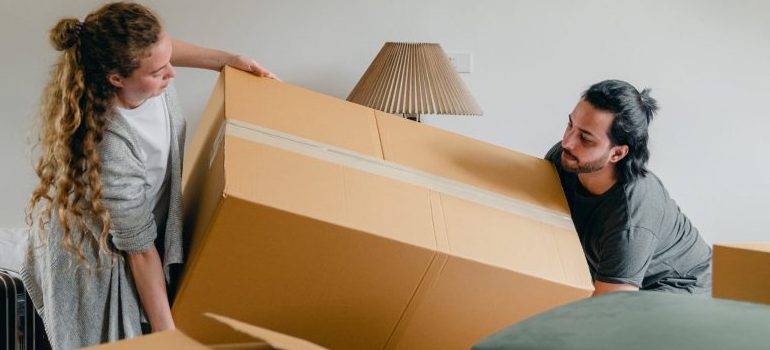 The most important thing about moving the TV is that you always keep it upright. This will prevent any bumps and vibrations from endangering the screen. You may also want to store the flat screen between two sturdy, flat, objects. A couple of mattresses are ideal for this purpose. Basically, you want to ensure that the TV does not have any space to move, in any direction.
Alternatively, if you don't have any items you can use for this purpose, you can utilize a tie-down strap for securing the TV box. After that is done, you are ready to move your TV to its new location!
Step 5 to pack and move a flat screen TV – Unpacking
We know that this is getting familiar, but keep the TV in the upright position at all times. Until you are ready to unbox it, keep it upright and leaned on a wall or similar space. Use scissors or even a box cutter to remove the tape from the box, before pulling the outer section of the box away. You might need another person to help you remove the inner box from the outer, so make sure that there is someone present.
And that's about it! Now you know how exactly to pack and move a flat screen TV, without any issues! Best of luck and happy moving!
Let our team put together a comprehensive moving plan for you. Complete our simple free quote form or contact us at 1-888-300-7222.