How to pack fragile items for shipping
No matter the distance or the volume, shipping is a vexing process for most, even more so when you are planning on shipping fragile items. Whether you are handling the shipping process personally or hiring a company to handle it for you, the packing process plays an essential role. How you pack those items can make the difference between them arriving in the same condition or damaged in any way. So, if you plan on shipping anything, the first step is to learn how to pack like a pro. The very next step would be hiring one of the best moving companies Marysville WA, to handle the shipping part. With a bit of skill and reliable movers on your side, shipping items will be so easy and stress-free. In this article, we take a look at packing materials, and how to pack and ship items.
If you wish to pack fragile items, you'll need some quality materials
If you want to pack anything, especially fragile items, it is important to get only the best quality packing materials. These materials include the following:
Properly sized boxes. The key factor when picking a box is the size. Since you're shipping fragile items, they need a snug fit. Meaning that the box should be only slightly larger than the item you're packing in it.
Bubble wrap with which to protect your items. The more layers the better, so be liberal when applying it if you think the item is extremely fragile and needs more padding. Even heavy equipment movers use bubble wrap to secure vital points like hydraulic valves or sensitive gauges.
Airbags as empty space fillers. These are simple plastic pockets full of air, which work great as an addition to the bubblewrap layer, or if you're dealing with items with sharp edges.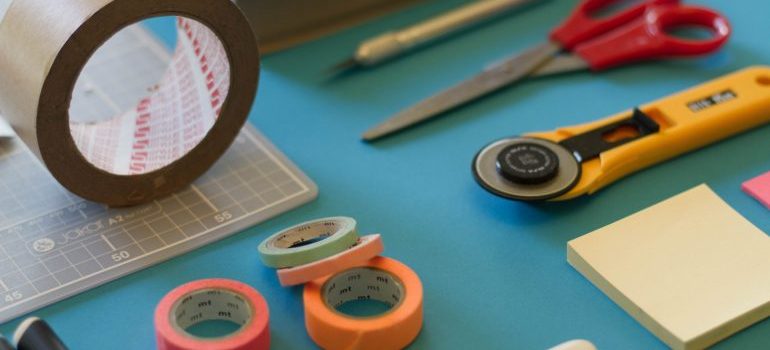 Packing paper or old newspapers. This is a simple, yet effective packing supply for filling up gaps in the box. For best results, you want to stuff a good amount of paper in the empty spaces. Don't overdo it though, because then you'll just make a solid wall which won't be able to absorb the vibrations.
Packing peanuts are also a great way to fill gaps. The best method of using them is to pour some packing peanuts on the bottom of the box, and then place the item on top of them. After that, pour more of the peanuts on top of them and around the item to close off any open gaps.
Corrugated inserts are used to give the box rigidity, and prevent it from bending. They are commonly used when shipping mirrors or paintings.
Once you collect all the needed materials, it's time to start packing
Collecting quality packing materials is one thing, but using them efficiently to pack your items is a completely different story. Good tools of the trade mean nothing if you don't know how to use them well. And this experience is what separates a neatly packed item, from a taped up mess in a box. When packing fragile items for shipping, start by getting a box that matches the object size. Before you place your item in the box, carefully wrap it with bubble wrap or cellophane. Next, pour a generous amount of packing peanuts and cover the bottom of the box, and carefully place your item in the center of the box. When you pack fragile items for shipping, your goal is to prevent movement.
Meaning, you will have to fill the voids around the item with more packing peanuts, or airbags. This fills the empty space, preventing the item from tumbling around in the box during transport. The more fragile the object is, the more material you have to use to secure it. To make the box as secure as possible, strengthen the sides with corrugated inserts. This makes the box sturdy and prevents it from folding or crumbling under pressure. Close the box and use a lot of packing tape to secure it. It is ideal to tape it several times to ensure it stays closed and safe in transit. As an added measure of security, add clear and distinct labels to the box. Writing "fragile" or "this side up" can help the movers know how to place it in the truck, and pay extra attention to it.
After you pack your fragile items, it's shipping time!
Regardless if you're trying to ship your item across the state, or even the continent, there are a couple of things to definitely keep in mind. First and foremost, you need to accurately determine your item's value before shipping. The value of a shipped item may determine the taxes and any potential customs fees further down the road, so it is important to precisely appraise it before sending it off. Keep in mind that there may be other legal paperwork and additional charges that come along with it. Before you do anything shipping related, make sure you do plenty of research. Every country has a list of specific forbidden or restricted items, so you need to familiarize yourself with the laws of the destination country.
Since you're working with fragile items, it is always good to further invest in their protection. Properly packing them is a job well done, but once the package leaves your home, it's out of your control. To make sure everything goes well, get adequate valuation protection just in case. To be as efficient as possible, and save precious time, you can schedule the shipment online.
In addition, some fragile items may require special handling, so make sure your chosen courier can handle them. After you go through these amazing tips on how to pack fragile items for shipping, all that is left is to hire the best movers and shippers WA on the market and bid your item farewell. If you do the packing part right, the rest of the process will be a breeze.
Let our team put together a comprehensive moving plan for you. Complete our simple free quote form or contact us at 1-888-300-7222.