How to prepare a motorcycle for international transport
Owning a motorcycle is a popular dream for most people to have. However, this dream also comes with a lot of obligations and potential obstacles, one of which being the challenge of relocating your motorbike. It's simple enough when we're talking about a local move down the street or to the next town. But the same can't be said for cross-country or overseas moves. The objective is clear in those situations – you'll need to find a different way to get your motorcycle to your new address. Finding and hiring a team of reputable international movers in Seattle would be the obvious choice. After all, they have the resources necessary to handle it all. But before you can leave things in their capable hands, you'll need to learn how to prepare a motorcycle for international transport.
Start by cleaning your bike from top to bottom
Before you start worrying about gas tank levels and good mechanical condition, you should start with something simple. So, when you're preparing to ship your bike to another country, start by washing it thoroughly. You'll want to do this shortly before moving day even if it seems pretty clean, especially if you've ridden it recently. Dirt and other particles can make the loading process more difficult, which can lead to unexpected damage during transport.
During transportation, dirt, tiny rocks or other sharp objects might dislodge and scratch your motorcycle. And if you're also going to be using storage for an extended period of time during relocation, dirt can encourage rust on the metalwork of your bike. Therefore, you need to make sure it's clean before you do anything else!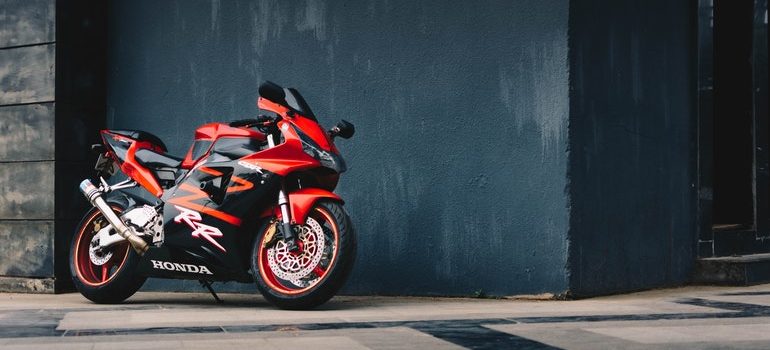 Separate any and all removable parts from your bike before you ship it
Anything you're shipping overseas needs to be secure for your preferred team of movers in Seattle WA to handle. To ensure that your bike fits this description, you'll need to remove any loose parts that you have on it. During transportation, things like pieces of vinyl, GPS systems, toll tags, and whatever else you keep in storage compartments or saddlebags can come off. And they can potentially injure someone or damage your bike and other items. To keep everyone safe, remove them before shipping. While you're at it, make sure to doublecheck that all other custom parts you've added and cannot remove are attached properly.
Guide on how to prepare a motorcycle for international transport
Whenever you need to prepare a motorcycle for international transport or self-storage in Seattle, you need to be certain that your bike is in good condition. Otherwise, you risk serious damage to the vehicle. So what do you need to do?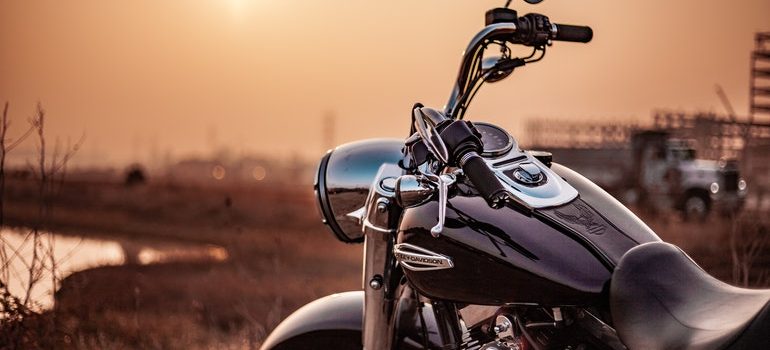 Adjust fuel levels to prepare a motorcycle for international transport
Fuel is, as you surely know, highly flammable. For this reason, it is also very dangerous to transport in large quantities and especially over long distances. For this reason, you'll need to drain your tank before shipping your bike internationally. When you're shipping a motorcycle domestically, you only need to drain the tank to about 1/4 or 1/3. But for overseas transportation, even that can be too much. Don't try to skip this step either! Your movers will refuse to move the bike if you don't follow these safety recommendations.
Inflate your tires for safety
Tires are a big part of the suspension system on a motorcycle. Since yours is about to take a long trip that will probably involve a lot of moving and tumbling around, you don't want to risk them not being at their best. So make sure to fully inflate your tires before shipping a motorcycle internationally. This will significantly reduce the risk of something going wrong during transport and damaging your bike.
Resolve any leaks if possible (document otherwise)
Before you ship your bike to another country, it is imperative to test whether everything is alright with it for three reasons:
if there's something wrong with your bike, this can cause flammable or toxic liquids to leak out and potentially damage equipment or harm movers
transportation can exacerbate damage to your vehicle if movers are not aware in advance of the special handling necessary to prevent that
if you don't check for damage before shipping your bike and you receive it in imperfect condition, you won't know what happened before moving and what happened during transport
You should do your best to fix any issues that you find. You'll have to do it eventually and sooner is always better. However, you may also encounter some issues you can't fix in time for the move. If you do, make note of them and inform your movers about them too! As experts on shipping and transport, they'll know how to handle your bike with the extra care it needs.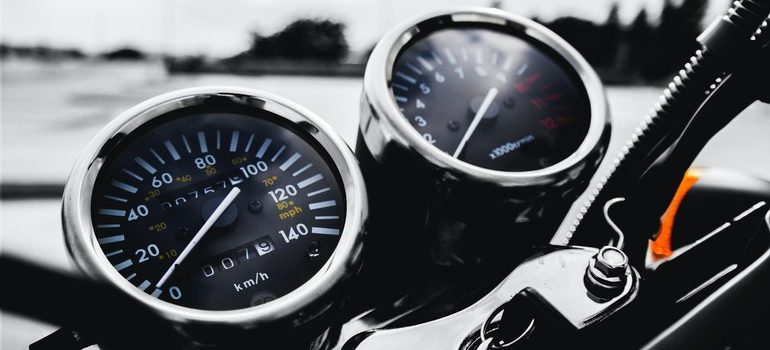 Remember to accurately document the condition of the bike
It is vital to take note of the condition your bike is in before you ship it overseas. That way, you'll know if anything goes wrong during transport. When things like that happen, you may be eligible for compensation. However, that's only if you can prove that the damage occurred during the shipping.
Take photos of your bike from multiple angles. Include close-ups of any scratches or dents you find. If you can, take your bike for a checkup with a licensed mechanic and have them issue a documented report of its condition. This will both help you look over the bike yourself after it arrives at your new address and give you better chances of compensation in case something goes wrong.
Don't skimp on valuation coverage for your motorcycle!
The truth is that no matter how well you prepare a motorcycle for international transport, setbacks can still occur. Whether it's due to bad handling, issues during transportation, or something unplanned and extraordinary – it happens. Either way, you have to be ready for things to go wrong.
To minimize losses in worst-case scenarios, you should invest in a good valuation coverage package for your motorcycle. It may seem like a waste of money if everything ends up going smoothly. But all it takes is one mistake and when that happens, you'll be glad you got valuation coverage So don't skimp on this – it'll pay off in the long run!
Let our team put together a comprehensive moving plan for you. Complete our simple free quote form or contact us at 1-888-300-7222.