How to prepare your bedroom for relocation
Planning to move your home is a process that will require some patience from you. Especially when you are packing room by room. In today's article, you will learn how to properly prepare your bedroom for relocation. With the help of the best movers Seattle has to offer, you will find out how you can do it properly and without any mistakes. Here is what you need to do.
Purge your closet to prepare your bedroom for relocation
Just like with everything, the best thing you can do right now is to declutter your bedroom first. More specifically, purge your closet from the clothes you no longer need or if they do not fit you anymore. You can either throw them away, sell them online or give them to your friends and family as gifts. This will help you because you won't have to move that many items, nor will you have to get extra packing supplies. Even if you end up with some leftover packing supplies, that is still better than not having enough of them when moving.
You don't have to only purge your closet. While you are at this, you can easily declutter your home from all the items you do not need and use anymore. The process is almost the same, gather, categorize, sell/throw away/give as a gift. It is the best way you can save money when moving. Once you decide what you are moving to with yourself, you can call Washington movers and organize everything properly. Only with the help of a professional moving company can you move without any issues.
Get proper packing supplies
Once you are done decluttering, you can then focus on getting appropriate packing supplies for this process. Packing your bedroom is not the same as packing other rooms. Here are some things you need to get:
Always get a mattress bag so you can properly pack and move your mattress
Moving boxes for obvious reasons
One big wardrobe box for big pieces of clothes
Small boxes
Boxes where you can pack books. People usually use shoe boxes.
Boxes for mirrors, pictures, and other fragile items
These are some of the most important packing supplies you need to get if you want to move everything safely and without any problems. If you get them before your move, you will only ensure that everything is transported safely and without any possible issues. And also, if you have a lot of items to move, and some to ship for that matter, then consider contacting shipping companies Seattle. Trained professionals will be more than happy to help you move.
Always use vacuum bags when packing clothes
In this situation, you would want to pack everything properly. And you would want to save as much space as you can. So, before you begin packing clothes and the rest of the items, make sure to get a couple of vacuum bags for your move. With them, you will be able to save a lot of space in the moving boxes. Also, your clothes and your other fabrics will remain fresh during the move, so you can use them instantly after you move in. Make sure to learn how to properly use vacuum bags. Learning this will ensure that you use it to its full efficiency.
Don't start with the big items
Always begin small when packing your bedroom. You should begin by packing all the small items in it and make sure that they do not tumble around in the moving box. Also, never mix fragile items with durable ones. They can bump into each other and break easily. As you are packing small items, you will then proceed to pack bigger items. You will notice that you have more than enough room to operate in your home, so you can pack the biggest items properly and without any problems.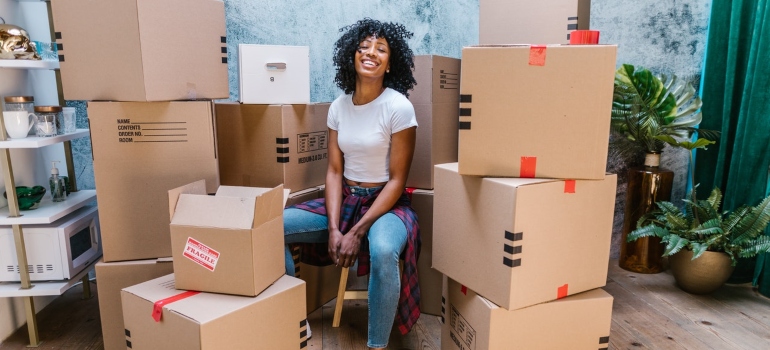 It is important to take your time when packing your bedroom. Do not rush things and plan everything. It is the only way to ensure that you don't make any moving and packing mistakes. And if you think that you can't move everything at once, then the next best thing you can do is to rent self storage Seattle. It is the best way you can keep your items safe while you are finishing up the rest of the move.
Wrap your furniture with blankets or nylon wraps
The last thing left to do is to properly pack your furniture for the move. If you can dismantle it, you can then easily pack the pieces one by one. But if you can't, then you should begin wrapping them in blankets or by using nylon wraps. They will provide them with perfect protection during transportation. Also, don't forget to use packing tape or string rope to tighten them up. It will keep them in place, so they won't fall off while being moved. Also, it will make it easier to carry them as well.
Now that you know how you can properly prepare your bedroom for relocation, you can easily focus on what you can do next. And if you are still confused, and looking for help, then you are at the right place. If you decide to visit our blog, you will learn many interesting moving tricks that can turn a complicated relocation into a breeze. It is something that will surely help you out with your move. Feel free to give us a call as well. We are here to help you out and offer you our moving services. You can also get a free moving estimate. Which is super when you have to plan your moving budget.
Let our team put together a comprehensive moving plan for you. Complete our simple free quote form or contact us at 1-888-300-7222.