How to protect kitchen appliances when moving
Moving kitchen appliances seems like a daunting task. After all, most of them are heavy, bulky, and overall difficult to maneuver with. Furthermore, you can rarely dismantle them, making the process even more problematic. Fortunately, a solution to this problem isn't as difficult if you follow the example of every moving company Washington has. All you need to do is properly protect kitchen appliances when moving. After that, handling them with more confidence becomes all too easy.
Make sure you have help
The size and weight of kitchen appliances make them almost impossible to handle on your own. Trying to do so will only lead to damage to your property or the appliance itself. But, what's worse is you can seriously injure yourself. Therefore, it's imperative to have someone help you protect kitchen appliances when moving.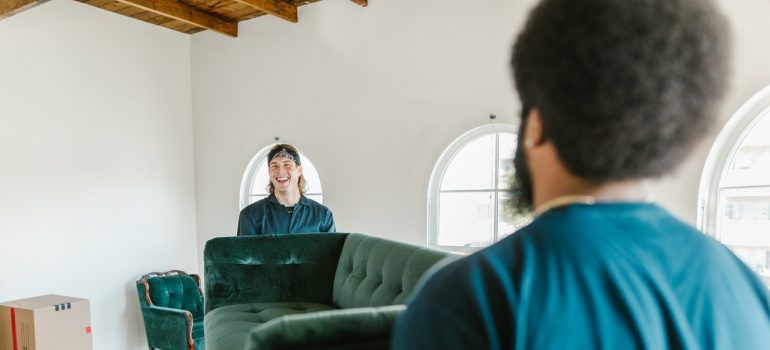 The first and obvious choice is hiring reputable cross country movers Seattle to do it for you. Professionals with years of experience know the best ways to protect your appliances and will do so in record time. However, if you're intent on DIY-ing it, it's advisable to have at least two able-bodied friends helping you.
Get the right equipment and materials for the job
Next, you'll need the equipment and quality packing materials. These include:
A pair of scissors or a packing knife;
Bubble wrap;
Packing tape;
Painters tape;
A dolly;
Moving straps;
Moving blankets;
Furniture sliders.
You can rent the equipment from a rental company and, in most cases, you can buy supplies from your moving company. So, it's a great way to save you some money on multiple trips to stores. And, now, it's time to get busy.
Clean the appliance
To properly protect kitchen appliances when moving, they need to be clean before packing. Giving them a good scrub ensures:
They won't develop unpleasant smells;
Nothing that could damage them remains inside;
You'll save precious time when settling in.
Make your life easier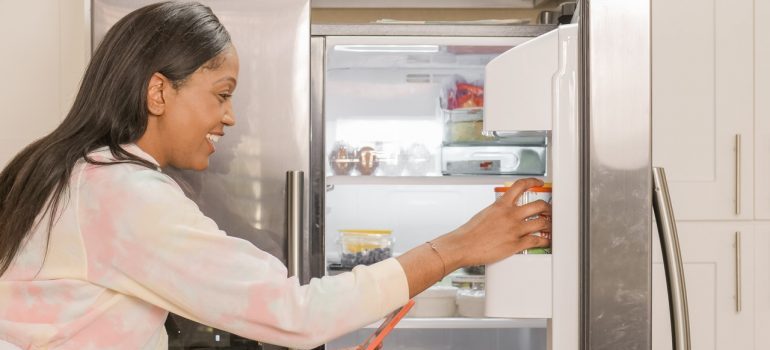 To further make protecting your appliances easier, you should also:
Empty them. Yes, we know this is obvious. Still, in the chaos of moving, the simplest of things are the easiest to forget;
If there are parts of your appliance that you can remove – do so. It will ditch some of the weight and make loading and unloading easier.
Whatever you do, don't place excess parts inside the appliance, especially if they're sharp (screws and such). These can scratch and damage your appliance, rendering it virtually useless.
Prepping the fridge/freezer
Fridges and freezers aren't that hard to prepare for moving. Chances are, the biggest problem you'll have here is defrosting and figuring out what to do with the food. Now, you may wonder: "How does this help me protect kitchen appliances when moving?" Quite simple, actually:
Moving food is never advisable, especially if you're relocating long-distance. And, yes – even if it's frozen. There's nothing worse than unpacking your fridge and smelling rotten food. This odor is a pain to get rid of and can seep into the other items, making your new place unlivable;
It doesn't take long for a fridge/freezer to defrost. If they do so while in transit, well – you can say goodbye to the items in its vicinity.
Therefore, it's imperative to defrost the fridge and get rid of all that food that isn't canned or sealed. This is especially important if you plan on leaving your fridge in one of the storage units Lynnwood WA movers provide. Aside from mentioned hazard, rotten food can attract all kinds of pests, despite the best effort of movers to keep the place clean.
Securing the fridge/freezer for transport
Once you've defrosted the fridge/freezer, the rest of the process is pretty straightforward:
Make sure you emptied and dried the fridge completely;
Tape the fridge doors shut. Don't use packing tape for this. It can damage the fridge or leave a sticky residue that's a nightmare to clean. Use painters tape instead;
If you can remove the cord with ease do so. If not, tape it to the fridge so it doesn't flail around and get in the way;
Wrap the fridge into 2 or 3 layers of bubble wrap or a blanket. You can use packing tape to secure it in place. Still, be mindful not to get any on the fridge;
Pack shelves and drawers separately. Use quality moving boxes, especially for glass shelves.
Label the boxes for easier unpacking.
Dishwasher
Preparing the dishwasher for moving demands some basic plumbing knowledge. You'll have to disconnect it from your house's plumbing grid to pack and protect it. However, if you aren't certain how to do it, it's best to leave it to the pros. Other than that, you won't have any trouble prepping it:
Make sure no water remains in the dishwasher. Usually, there's a drainage valve inside, or on the side of a dishwasher;
Remove everything from the dishwasher, including drawers;
If possible, remove the cable and hose. Otherwise, use painters tape to secure them in place;
Clean, scrub, and let dry;
Tape the doors with painters tape;
Wrap in blankets or bubble wrap.
Gas stoves/ovens
Preparing gas stoves and ovens is tricky and dangerous. You need to disconnect them from the gas network, which is easier said than done. So, if you don't have experience doing this, do not risk it. Inhaling the gas is a health hazard, and can even lead to death. Not to mention that, if you don't shut it off properly, all it takes is a spark to create another big bang. But, once it's disconnected, it's easy pickings. All you need to do is:
Give it a good scrub, including the gas connectors;
Tape the lids/doors shut;
Secure the cables and hoses;
Wrap it in bubble wrap or moving blankets;
Pay close attention to gas connectors. If they protrude from the stove, you'll have to wrap them, too, in a few layers of bubble wrap.
Loading and unloading
Protecting kitchen appliances when moving is more than just protecting kitchen appliances. You also need to protect the property and, more importantly, your health. Here are some general guidelines to help you do that:
Make sure to protect floors with moving blankets.
Use furniture sliders to easily move appliances, without damaging the floors;
Use dollies and moving straps to lift, transport, load, and unload;
When placing appliances onto a moving truck, place them in an upright position;
Secure appliances in place with moving straps so they cannot bounce around.
And – that's it! Your appliances are now protected and ready to start their journey.
Preparing appliances is more of a nuisance than a challenge
As you can see, it's not difficult to protect kitchen appliances when moving. All it takes is a bit of patience, time, and energy. And, if you follow our guidelines, even that will take less than you may imagine. Still, if you're uncertain of how to do it, or simply don't want to risk it, contact your movers for help and advice. It's the safest and easiest way to handle the entire undertaking.
Let our team put together a comprehensive moving plan for you. Complete our simple free quote form or contact us at 1-888-300-7222.