The importance of organizing your new home before unpacking
One of the reasons why relocation is as stressful as people make it out to be is because a lot of them underestimate the amount of work it takes. The decision to move, the planning and preparation, the move itself, and finally – the unpacking and that fresh start. Now, Even though the planning and the execution of the move are the harder parts, one should not underestimate the post-moving process. There is still that matter of unpacking, cleaning, organizing, etc. Although you can take care of these tasks in any order you want, we need to point out that it is better to unpack after you are done with organizing your new home. If you want to learn about the importance of organizing your new home before unpacking and to learn a few organizing tricks, keep reading this guide.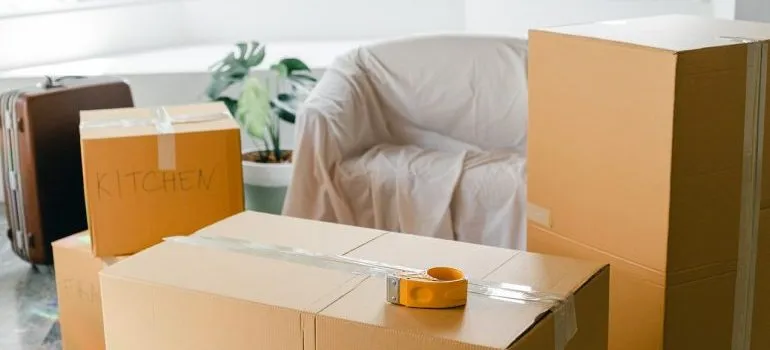 How to start organizing your new home after the relocation?
Moving from one place to another involves so many different tasks. Some are easier, some are harder, and some are just boring. And even though you can put your local movers Seattle in charge of most of these tasks, they won't be able to take care of everything. For example, they won't be able to organize your new home. This is something you need to do on your own in order to create a home that perfectly suits all your needs. 
When it comes to organizing a home after the move, many don't know where or how to start. Your home will be filled with tons of boxes and dust. There will probably be chaos everywhere. Here are a few tips that will help you start:
Have a plan. Do you need to remodel your home? What is your deadline for unpacking all of our boxes? Do you need to get self-storage Seattle? These are some of the things you need to include in your plan.
Call in the troops. Organizing a home after the move will be much easier with a couple of friends or family members. There's no need for trying to do everything on your own.
Stick to the schedule. Ok, so you've made a plan. Now you need to make sure you are sticking to it. There is no point in coming up with a perfect plan if you won't stick to it.
Don't try to do everything at once. Unless you are in an extreme hurry, don't try to organize your new home in a day. You can't do everything at once and there is really no need for pushing yourself too hard. Do things at your own pace but drag them out.
Why it is important to organize your new home before unpacking?
So, we told you how to organize everything after the move. But, what we haven't told you is why it is so important to do it before you unpack. After all, you can organize after you unpack everything, right? Well, that is true but we prefer it the other way round. In the following text, you will learn why we prefer doing it that way.
Planning out the new space early on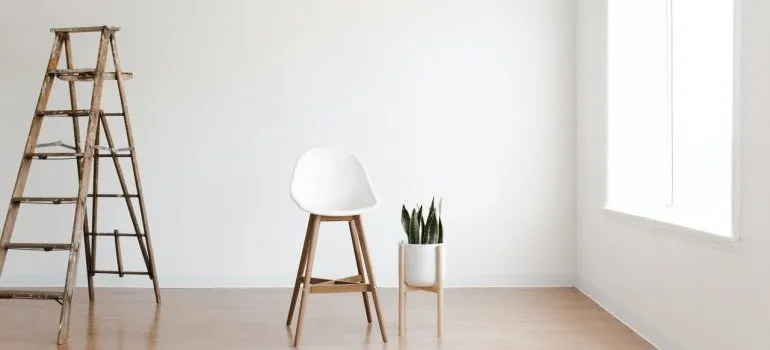 One of the first things you should do after the move is to plan out your new home. Decide how your home is going to look and try to see if you can make your home more spacious with some simple remodeling tips. This is something that is going to be much easier to do if all of your items are still unpacked. When you have items lying all over your home, planning out the new space is harder as you can't picture what the home looks like when it's empty. 
Being able to renovate the home without damaging belongings
In case you plan to renovate your home or do some simple home repairs, it will be much easier for you to do it before you unpack. The reason? Well, it is simple – all of your belongings will be packed and protected. Even if you opt to keep them in your home and not store them, they will still be protected and won't get damaged during the renovation of your new home.
Remember how we told you it is important to have a plan for organizing your new home before unpacking? When you plan the remodeling ahead of time, you know exactly how to handle this project without ruining your belongings. Trust us, self-organization makes relocation much easier and you should really do your best and try to stay organized till the end of your move.
Keeping the chaos away
It is true that you can organize your home and unpack at the same time. But, you need to ask yourself whether you really want to do this. Both of these tasks are a bit challenging and can't be done in a day or two. If you start to unpack and, for example, repair your home at the same time, you are only going to get frustrated.
Chaos will be everywhere, you won't be able to move around your home freely since all of your stuff will be lying around your home. You will just end up losing your time, energy, and nerves. 
So, instead of trying to do everything at once, take care of these tasks at your own pace. Do one thing at a time. You can always check out some minimalist moving tips and see why it is better to move less stuff. Doing this will organizing your new home before unpacking much faster and easier.
Make sure to stay organized while you unpack your belongings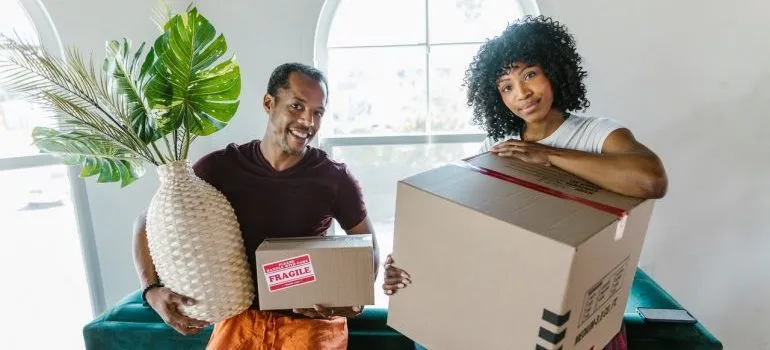 As you can see, it is really important to take care of organizing your new home before unpacking. But, another important thing is to stay organized and keep your home that way. So, you should also try to stay organized while you unpack your boxes. If you think that unpacking is something you don't want to do (or don't have time to for it), you can always contact movers and packers Seattle and ask them to take care of this task for you. They can pack, move, and unpack everything while you do other things. Sounds perfect, right?
Let our team put together a comprehensive moving plan for you. Complete our simple free quote form or contact us at 1-888-300-7222.