Moving without disrupting your neighbors
Usually, when you think about moving, your thoughts go toward lifting, carrying, labeling cardboard boxes, etc. But some of you also realize that the act of moving might greatly inconvenience your neighbors, as well. While you might have the assistance of one of the top local movers Seattle has to offer, who will conduct the relocation in a manner that minimizes disruption, you might want to make sure that your neighbors are fine with the whole thing. The first thing to do is, of course, to talk with them. Or post a large memo in case you are living in a big building and can't spare the time to talk to all of them. There are a few more things you will want to do to be capable of moving without disrupting your neighbors, which will be covered in this article.
Moving without disrupting your neighbors 101
If you want to minimize the disruption to your neighbors due to you moving house, here's what you may want to do:
Talk to your neighbors before the move
Choose a suitable timeframe
Give plenty of notice
Make some plans in advance
Clean up after
If you are living in a large building, it can be very difficult to manage all these things together. In that case, you might simply have to realize that you can't perform a perfect move. Someone is bound to be upset and you simply can't please everyone. What you can do, however, is rent a portable self storage Seattle unit and load it up, one item at a time. That way, your relocation will be faster and much less disruptive. Most people won't even know you moved.
To know how to be moving without disrupting your neighbors, simply talk to them!
Different people have different lives. More news at 11. Jokes aside, to really negate any disruption in your neighbors' lives, you will want to know how they are living them. Talk to some of them, see what time they go to work, when do they sleep, that sort of thing. Ideally, you will go through with the relocation at a time when your neighbors aren't even around. Your Washington movers can be very flexible with the time and the date, provided you book early enough. And that means that you will need to talk to your neighbors sooner rather than later.
While it is possible to change the relocation time and date, it is usually quite costly. Therefore, you will want to have your neighbors' input before you contact your movers and sign any documents. And if so happens that the neighbors changed their lives in the meantime, it is on them and you are "clean". If possible, reschedule the relocation to suit everyone. But keep your own interests in mind first and foremost.
Choosing the best time to move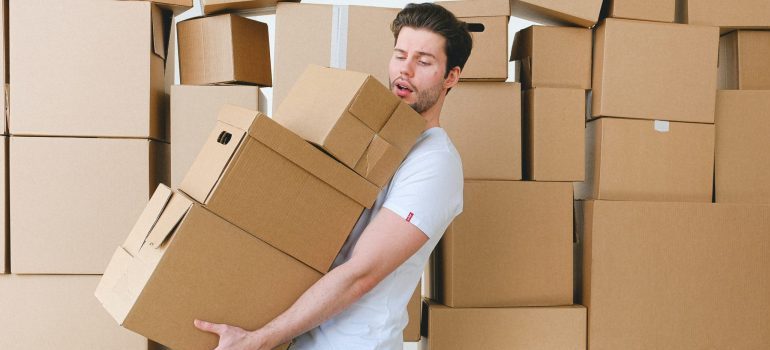 Usually, moving companies like to start long distance relocations in the morning. It allows them to account for any unforeseen circumstances and still have the time to finish the job. Depending on the household, the process of moving all the items inside the truck can be either very short or quite long. If your movers don't have a long walk to the moving truck and have an easily accessible elevator, you can be sure they will finish all the work in a couple of hours. But if they need to create contraptions to lower a furniture piece through the window, or walk a dozen flights of stairs with a piano in hand, things get much more complicated.
Needless to say, the amount of disruption is proportionate to how complicated the move is. Normally, the only thing that is going to be problematic is elevator usage. Since your movers will need to use the entirety of the elevator for a couple of hours straight, this can be a real problem for the neighbors. Not to mention that it may be louder than normal, some people are extremely sensitive to that.
Informing your neighbors
And that is why you need to make sure that your neighbors know that disruption is going to occur. No matter how you put it unless your neighbors are at home, your relocation will disrupt them one way or another. Some people might be completely fine with it but others might take great offense. And you want to avoid that if you can. Ideally, you will tell each neighbor in person that you will be moving. But more commonly, you will write a note and leave it in a prominent position where everyone can see it.
Do note that this disruption will be happening at both the beginning and the end of your relocation. After your items go through shipping and transport, they may need to go up the stairs as well! This means that you might want to notify your new neighbors about your arrival, too.
Advance planning is essential to moving without disrupting your neighbors
Every good venture begins with a solid plan. Whether you need to notify, book, or organize, having a plan makes everything easier. Take some time to figure out everything that you will need to accomplish, and put it on "paper". These days, you will most likely type in your phone but to each its own. After that, you can start formulating a plan of action, talk things through with your movers, neighbors, and family members. From that, a plan is going to start shaping up. Before you know it, you will have everything set and ready to go.
Always clean up the moving day leftovers
The last thing that usually infuriates neighbors is when they have to deal with the post-move cleanup. The fact of the matter is that relocations do have some leftovers, despite the best intentions of both you and your movers. That is why you might want to hold off on packing a small broom and perhaps a mop. Once your movers finish bringing your belongings to the truck, check if you need to do some cleaning. Your neighbors are definitely going to appreciate you taking your time to clean after yourself.
And that is what moving without disrupting your neighbors is all about. People's perceptions. Even if you make the loudest ruckus on the face of the earth, if you've explained it enough and got consent from your neighbors, it's alright.
Let our team put together a comprehensive moving plan for you. Complete our simple free quote form or contact us at 1-888-300-7222.