Tips for moving your business without disruption
Moving an office is definitely not something you will want to approach with a leisurely attitude. Of course, there is no need to deal with incredible stress and worries when relocating an office, but you also can't afford to put off your moving tasks until the week of your move. That being said, we here at Hansen Bros. Moving & Storage always have a way of helping you have a successful move, be it a residential or a commercial one. We know that, right now, moving your business without disruption might seem nearly impossible. But with good organization and sufficient preparation, nothing is impossible. With our tips, you'll manage to move your business quickly and efficiently, which will let you get back to normal business proceedings in the optimal time.
Start by looking for reliable commercial movers in your area
There are many tasks that you can and will have to do on your own – but there are also many tasks that will require you to have reliable office movers Seattle by your side. Make no mistake – commercial relocation is nothing like residential moving. Not only does your livelihood depend on it, but so do the earnings of all of your employees. Thus, you should spare no expense when looking for a moving team to assist you throughout the process. That doesn't mean that you should opt for the most expensive movers, of course. It just means that you shouldn't let the price be the biggest deciding factor.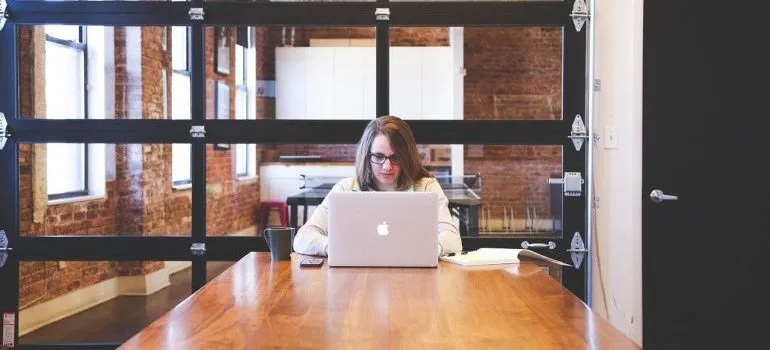 The best commercial moving companies Marysville has will let you move your office possessions without any unnecessary problems and obstacles. You can decide whether you want their assistance with every moving task or during special moments only.
A good plan will help with moving your business without disruption
If you are aiming for moving success (which you definitely should be), then you need to create a solid moving plan. In fact, a detailed moving plan is of such importance that we dare say its creation is one of the most important moving tasks, whether you are going through a household or commercial relocation in Seattle. You have two options:
One, you can let your movers create the moving plan for you.
Two, you can create a plan with the help of your employees.
The first option is suitable for those business owners who decide to opt for a full-service move. The second option is perfect for people who hire moving labor or seek assistance with some moving tasks. Either way, your moving plan is the way to have an office relocation without any disruptions.
Divide the tasks among your employees
Moving isn't an event that one person can handle on his or her own. Quite the contrary – relocation is a process that's going to demand plenty of assistance from whoever will offer it. Luckily for you, you already have all the help you need in the palm of your hand – you have your team. Every employee should be involved in the relocation one way or another.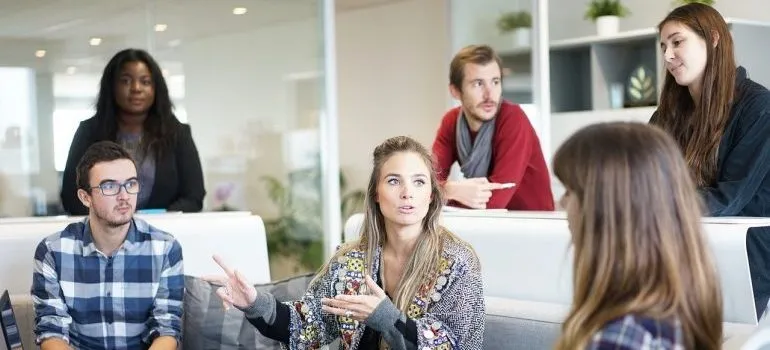 As a business owner, you can decide who does what and you can distribute the tasks the way you see fit. Just make sure all of your employees are informed about their obligations. The last thing you need is additional confusion on the day of your move if your employees start running around as they don't know what they should be doing.
Communicate your new whereabouts
There are many reasons why you might decide to move your office. Perhaps some office space has finally opened up in that building you have been eyeing for so long. Maybe your business has witnessed such growth that you are in dire need of extra space. No matter the situation, you will have to work hard if you want to manage to move your business without disruption, and the first thing you'll need to do is send out a few notifications. The one thing that really creates disruption during relocation is miscommunication. 
If you want your business to keep thriving the way it did so far, you need to ensure your customers know where to find you. Bear in mind that this is true no matter your industry, as you depend on those who buy your products/services, whether you are in retail or IT. Fostering good relations with your customers will be of utmost importance for the future of your business, so start placing those ads where it matters.
Move your business without disruption by decluttering
Decluttering seems to be the keyword for every relocation, and rightfully so. Every relocation is a chance for you to turn over a new leaf and you can't very well do that by relocating all of the items you currently have in your office. That's why you ought to follow the "out with the old, in with the new" motto. Besides, with fewer items that ought to be relocated, there will be less room for disruptions and chaos.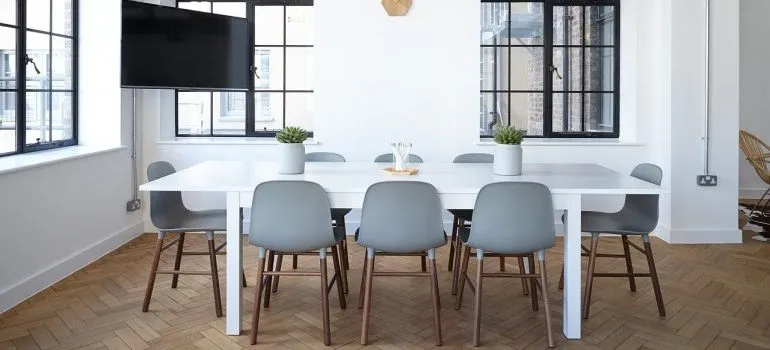 Decluttering is a task that nobody really enjoys. However, with the help of your employees or with some professional assistance, like the one you can get from our HB move management department, you can free up your office from clutter in no time. You'll be surprised to find out how quick and effective your business relocation can be when you are selective with the items you relocate.
The bottom line
It's definitely possible to be successful in your intent of moving your business without disruption – you just have to take all the right steps. Of course, it's always advisable to rely on your team, as they are the ones who have your best interest in mind. With sufficient preparation and some reliable movers by your side, you'll be back to your day-to-day tasks in no time.
Let our team put together a comprehensive moving plan for you. Complete our simple free quote form or contact us at 1-888-300-7222.