Shipping your WA business without disruptions
Many obstacles stand in your way when you are planning to relocate your business. Of course, transferring your items from one place to another is going to be one of the biggest obstacles you will come across in this process. Nevertheless, if you prepare right and find good Washington movers to help you out, shipping your WA business can actually be done without disruptions no matter how big your business is or whether you are moving locally, across the country, or across the sea.
Organize a board meeting and make a moving plan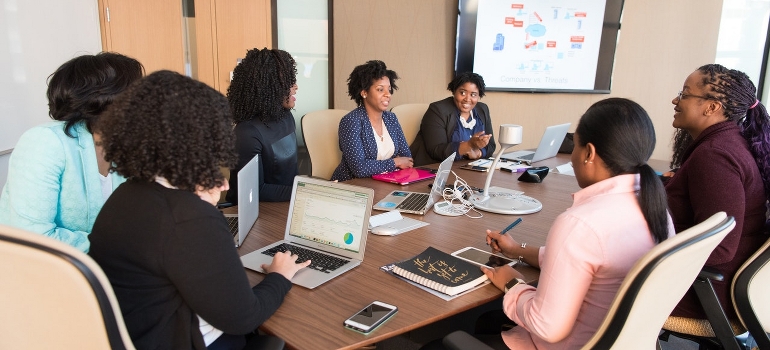 When you are trying to organize a complex process such as relocation is, the only way to do it properly is to make a plan. Now, who will actually be involved in plan creation depends on the structure of your company. Still, even if you are running your firm on your own, you should still include someone else to help you organize the move. This plan needs to contain all the elements of the move starting from day one. Here are some of the things that you will need to handle in the next period:
Prepare relocation budget
Design employee relocation packages to offer your workers
Notify your employees
Give employees assignments
Handle your assets like furniture, equipment, paperwork
Hire some good freight companies Seattle can offer
Notify authorities, your business partners, and customers about your move
Design a budget for shipping your WA business
Now that you have a plan, your next task is to make a financial construction that will support it. Again, who will actually do this part depends on your Seattle moving company. However, make sure that your budget is created by someone who knows how to do it.
Design attractive but sustainable employee relocation packages
Use the fact that your financial advisors are here creating your budget and let them help you design attractive but sustainable employee relocation packages that you will offer to your workers. Making your employees move with your business is one of the most difficult and one of the most important tasks that you will have to complete during this move. And it is one of the things that can pretty much define your first few months at a new location. Therefore, make sure that you do this right. Of course, the offer needs to match the distance you are crossing. If you are moving close by, your offer doesn't need to be so attractive as when you are moving overseas, for example.
Notify your employees about the move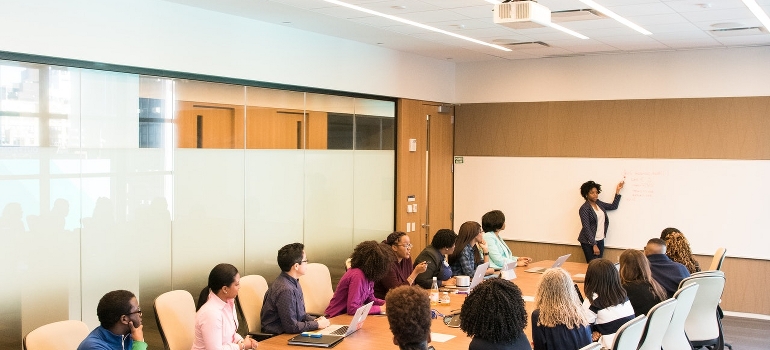 Once you create relocation packages for your workers it is time to present them with your plan. Schedule a meeting that everyone can attend and notify them about shipping your WA business to a new location. Offer them your relocation packages and let them have a day or two to consider your offer.
Set assignments
After your employees give you definitive answers, those that are moving with your business need to get their assignments for the move. Now, what types of tasks you will have to deal with depends on the type of business you own as well as the level of services you ask from your movers. Remember that professional international shipping companies Seattle provide a plethora of services. For example, if you are getting a full service this means that they will probably handle your packing as well. If you are hiring a shipping company solely for the sake of transporting your items, then your employees will have to deal with the packing. Bear that in mind when you are giving assignments.
Get rid of the excess items before the move
One of the things that you need to do before your items are ready to be packed is to make a plan regarding your new layout. Is your new space going to get a new and fresh look or you are moving your old furniture with you? All the best office movers Seattle has will give you an estimate based on the number of items you wish to ship. So get rid of all items that you want to replace. Also, if you have IT equipment or some other tools and machines that require a special approach make sure that you have people that can handle them properly. Also, paperwork. That is something that only people working in your company can handle. But make sure that you give this task to the people your trust.
Find a reliable and experienced freight company
Once you get rid of the excess items and sort out your paperwork, you can start searching for freight companies that will help you to ship your WA business without disruptions. Be careful when doing this though. There are many fraudulent moving companies on the market. And when you are shipping a business you also need to think about their competence. So, do your research and make sure that you find reliable shipping companies that have the experienced, manpower, and equipment to successfully relocate the business of your size.
Naturally, if you are moving only to relocate a simple office, you do not have to go through all that trouble as when you are moving to a factory facility with multiple production lines and heavy machinery.  Find a few companies that are suitable for your business and ask for their quotes. Compare their offers and choose.
Notify your customers and business partners about the move
Finally, it is time to notify your business partners, customers, as well as authorities about your move. Your partners and your customers need to be ready for your relocation if you do not want this move to disrupt your business too much. Of course, notify appropriate authorities to update your business information on time.
Planning is the key to moving without disruptions
And that is how shipping your WA business can be done without disruptions. Of course, planning is the key in the process. If you do that part right, everything else will be easy.
Let our team put together a comprehensive moving plan for you. Complete our simple free quote form or contact us at 1-888-300-7222.