Springtime cleaning tips for Washington residents
Are you surprised by the good weather lately? Time is flying by. We can't believe that the spring is already here either. It's time we freshen up our homes. Spring cleaning is crucial for everyone, but especially for those prone to allergies. And it's much more necessary in this pandemic era. If you want to get rid of all the dirt and germs in your house, just follow our springtime cleaning tips, and your house will be spotless in no time.
Top 10 springtime cleaning tips
Are you wondering what the most effective way to approach your spring cleaning process is? With these few tips, this year's spring cleaning can go a little bit easier. If you're planning on moving out to the countryside during the summer, feel free to call moving companies Everett WA to help you out.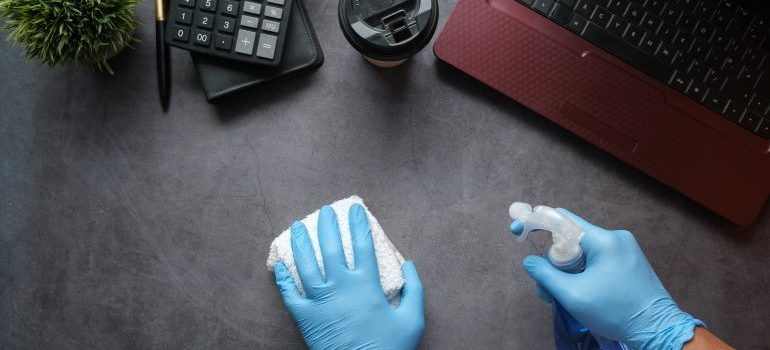 1. Focus on one area at a time
Deep cleaning your home is best done one room at a time so you don't miss any spots. It's helpful to create cleaning checklists for each room so that you can stay on top of your cleaning duties. Focus on the areas that have been largely ignored during the winter months first.
2. Organize your workspace first
Clutter removal takes up a big chunk of your time. Thus, we suggest that you use our four-step strategy for this. Develop and implement action plans to deal with the issues you've identified and the clutter they've caused. Depending on how organized you are, sorting your belongings into four categories can be helpful during your spring-cleaning process. Have one pile for trash, another for donations, and the last two for what you're going to keep. One should be the things staying with you and the other pile for storage. It doesn't matter if you decide to donate the clutter to a charity or hold an estate sale in your neighborhood, you should get rid of it as soon as possible. With our office movers Seattle, you can rest easy knowing that we'll handle the heavy lifting for you.
3. Always begin at the top and work your way down
It's important to start at the top and work your way down when spring cleaning your house. As a result, you won't have to dust or clean your space again. This will save you both time and effort! When cleaning your ceilings and ceiling fans, use an extension hose if you have one. So that you can get into every nook and crack and get rid of cobwebs and dust. After that, vacuum up all of the dust and debris from your floor surfaces before dusting everything else. It'll save you a lot of time in the long run.
4. Thoroughly clean your walls and windows
Cleaning the walls and windows is less common than cleaning the floors. The floor and other surfaces aren't covered in all the dust that's floating around. In fact, some particles of dust never seem to settle. When it comes to cleaning walls and blinds, all you need is a damp cloth (starting from the top). Don't forget to remove and wash your exterior window screens as well. We don't recommend using chemical cleaners to clean the windows. Instead, use a steamer, if you have one, or a natural solution. If you're planning to move soon, pay particular attention to the windows and walls. You can put your trust in our Washington movers for the actual moving and packing.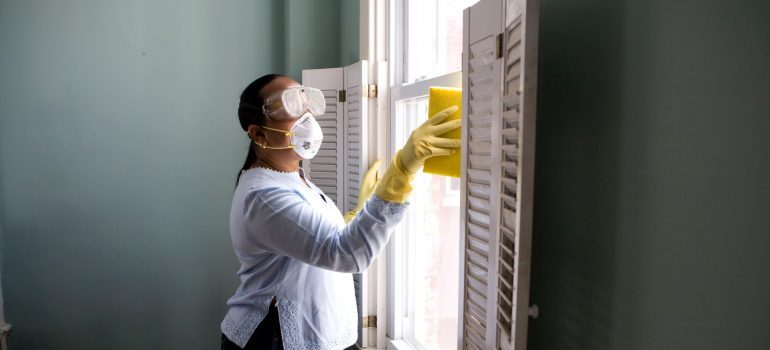 5. Involve your family members
Assign some of your family members to help you with your spring cleaning. This could also be a great bonding time. Even your little toddler can help pick something up. Make sure to assign age-appropriate responsibilities to ensure that everyone feels included but no one is overwhelmed. Split the tasks evenly. Consider putting on some music while you all clean. Or you can make it into a game and have some household reward as an incentive to get the job done faster and more efficiently.
6. Don't forget about your backyard!
Once you declutter your household, take out all of your winter clothing and clean the house, it's time to clean up the backyard. That's right. It often happens to me that when I have just sat down to take a break after cleaning the whole house, I take a look at my backyard and sigh. Nobody liked looking at overgrown bushes and dirty pavements. As soon as the weather allows you, clean up that yard. If you don't have much space in your house, feel free to call Seattle storage and rent out a unit. In addition, bring out your spring decorations to give your home a new look.
5. Try to use some alternatives for heavy chemical products
We highly suggest avoiding very harsh and abrasive cleaning products as it isn't good to inhale them as often. However, if you want to use up some of your products, you can. Just make sure you're wearing gloves. And don't use those cleaning products as often after they do the job for the big spring clean. You can even mix up your cleaning solution with a little bit of lemon juice and baking soda. And this is a much better option. Plus, it works great!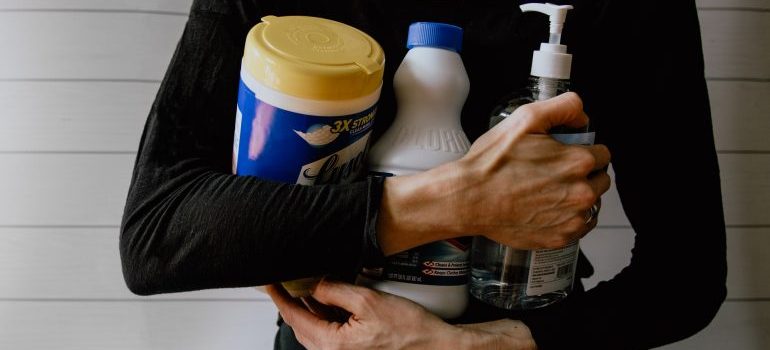 6. Make it your goal to clean something in the house every day
This is one of our best springtime cleaning tips. You should try your best to make dusting up a daily habit if you can. Having a big spring clean is an excellent opportunity to make it your goal to upkeep your house more regularly. If you can spend at least 15 minutes a day completing a cleaning task, your home will be kept in perfect condition.
Let our team put together a comprehensive moving plan for you. Complete our simple free quote form or contact us at 1-888-300-7222.