How to store clothes long term
Whether you are moving or just organizing your home, packing and storing your clothes is inevitable. Many people have tons of clothes they haven't worn for a long time or even ever. And when the time for moving comes, you may wish to take a chance and organize your clothes. Even if you don't plan to relocate, spring will be an ideal season when you will want to rent Seattle storage and place some of your seasonal clothes there. Yes, it will help you get a lot of space inside your current home. But, before you place any of your clothes in the storage unit, you will need to prepare clothing for long-term storage. To help you handle the task in front of you, today we will remind you how to store clothes long term. With our simple tips, your favorite clothing will be ready for storage.
Learn how to store clothes long term whenever you want to
Regardless of the reason why sorting and storing your clothes is an idea you want to conduct, you need to learn how to do it properly. Since you probably have a mountain of clothing, there will be a lot of jobs to do. Unluckily, most of your clothes are made from different materials which means you will have to take some extra steps to store them properly. But our Hansen Bros. Moving & Storage specialists know what measures you should take before you place your different types of clothes in the storage. After you read this article, you will know some of the main steps that will make sure your clothes are safe in storage until the moment you need to take and use them again.
Just like when you need to pack and transport your clothes to your new home when you plan to store clothes, you will need to create a thorough plan. With a plan in mind, you will need to make sure to stick to it and nothing will go wrong. And when you wonder how to store your wardrobe long-term, it is important first to prepare each item for packing. Secondly, you will need to have the right packing materials and quality moving boxes Seattle to pack and transport your wardrobe to the long-term storage. Thirdly, you need to make sure your storage space is suitable for the safe storing of your favorite clothing.
If you take these steps above, you will do a lot to safely store your clothes. Nevertheless, we will be there for you when you start to prepare clothes for storage and show you how some tricks to do it right.
Less is more, so prepare to declutter, sort out, sell, gift, and donate
It is not the same if you have more than ten moving boxes full of clothes or just a few. As more clothing you have, as more space, you will need to place your clothes in long term storage. Besides, you will need more time to prepare your wardrobe for storage. Although we can offer you excellent storage units Lynnwood WA that come in different sizes, we genuinely recommend you downsize. So, before you start packing your clothing for storage, consider will you use it ever again. Unluckily, many storage units are full of clothes that will never be worn again. Instead of wasting time on washing and packing useless clothes, sort them out first. Here is how to do that:
firstly gather all clothes you want to keep and make sure not to place them in storage accidentally;
put aside items in a good condition that are no longer fit to be worn and consider selling or donating them;
gather all things you want to keep but there is no room for them in your home. These clothing will be placed in the storage. Try to figure out what packing supplies you will need to pack them and purchase them from the Amazon website;
divide items you want to store into a few different piles (according to the materials they are made of).
Firstly dust off and wash them up, this is how to store clothes properly
In the mountain of clothes you need to store, it is no surprise some of them have food stains. But you need to get rid of the stains because they could cause damage when you store clothes long term. Before you wash your clothing, check pockets for coins, pared, food, etc. Now give the wardrobe a good old scrub and clean. Take the advice from our Seattle local movers and pay attention to the delicate clothing pieces you will need to wash separately.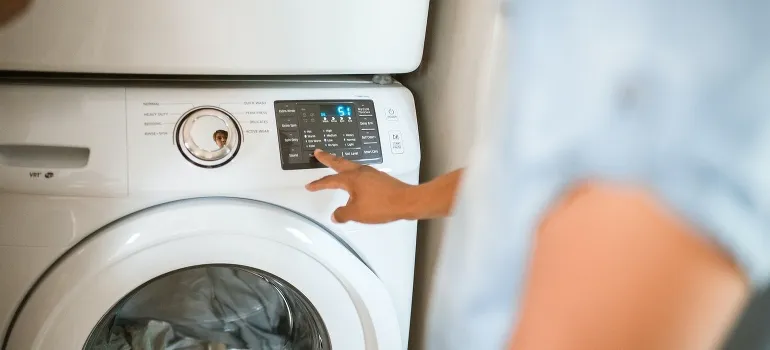 Wash and dry all your clothes according to label instructions. Don't forget to rinse all your clothes thoroughly. This way you will avoid and prevent any chemical damage during storage. Once your wardrobe gets dry, follow our next instructions and you will know how to store clothes long term.
It is time to make an inventory list and pack your clothes for a long term storage
Creating an inventory list is a crucial step for all those who wonder how to store wardrobe long term. If you want to prevent a headache every time you visit your storage make sure to have a copy of an inventory list. This list should contain all items you did pack and place in your storage. Since you will not need most of the packed items until the next year, most likely you will completely forget did you pack and placed them in storage or not. This list should be simple, and you can use it to divide your clothes into separate moving boxes. For example, pack all your sweaters together and label the moving box that contains them clearly.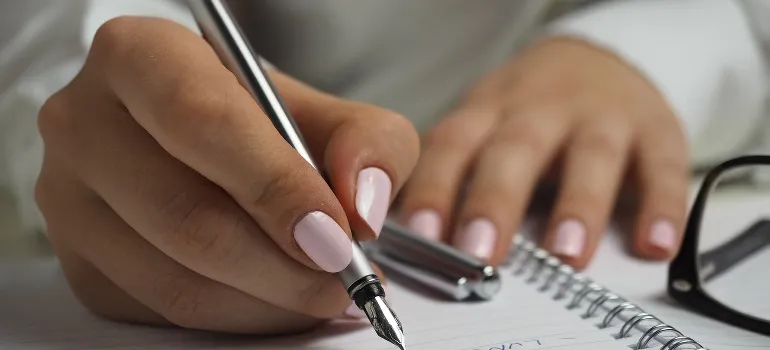 Now you are completely ready for this task and you know how to store clothes long term. All you need to do is to carefully pack fresh and clean clothes in quality boxes and transport them to the well-maintained storage unit. Your favorite clothing will be ready even if you come and get it several months later.
Let our team put together a comprehensive moving plan for you. Complete our simple free quote form or contact us at 1-888-300-7222.