Things to do after settling in Seattle
Settling in a new city is always difficult. For the first few days, you will feel strange, maybe even nostalgic. However, if you go out and enjoy the things that your new place has to offer, that strange feeling will go away quickly. If you are moving to Seattle, you will have no trouble finding something to entertain yourself. However, the biggest concern is to organize your new home as quickly as you can. You cannot enjoy outdoors while your home is cluttered with moving boxes and wraps. Hansen Bros. Moving & Storage Seattle prepared this brief guide to show you both how to get organized quickly and things to do after settling in Seattle.
Before you move in you need to clean
As we already mentioned, after the move your biggest concern is how to unpack and organize your new home. There will be a lot of cleaning, drilling, decorating, and other physical work. Of course, the first thing you should do is clean your new home. If it's possible it would be good if you could have access to your new home before you move in. The easiest way to clean a home is while it is empty. If you can't access your home before the moving day, try to get there at least a few hours before your movers North Bend WA arrive with your belongings.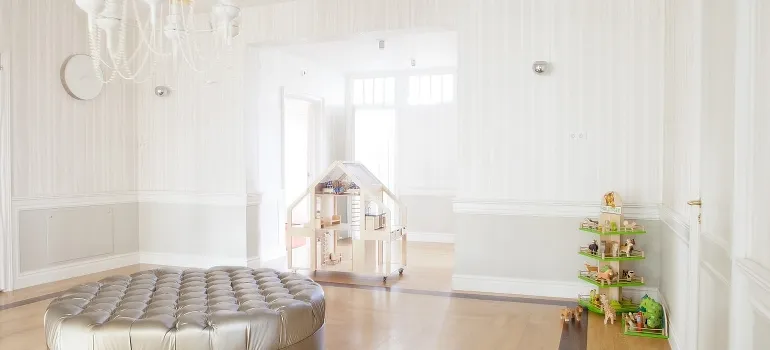 How to unpack quickly
Another thing that troubles people the most after moving is unpacking. That is why a lot of them continue living among boxes for months after the move. You do not want that kind of life. Therefore either hire a moving company that offers unpacking services. Or be prepared to do it on your own immediately after your stuff is delivered. If you are moving to a smaller home rent storage units Lynnwood for your excess items. And make sure that movers deliver them straight to your storage.
The best things to do after settling in Seattle
After you clean, unpack, arrange your furniture, and your local movers Seattle are gone, it is time to relax. Of course, the best way is to find some interesting things that you can see or do in Seattle and start from there. Here are some suggestions:
Pike Place Market
Seattle Center
Space Needle
Chihuly Garden and Glass
Museum of Pop Culture
Seattle Art Museum (SAM)
Olympic Sculpture Park
Seattle Great Wheel
Pike Place Market
No matter whether you like to go out or not, Pike Place Market is a place that you will enjoy.  This enormous market dates back to 1907. It is a place where local farmers offer their seasonal produce on stalls. You can visit a fish market or other specialized food stores. From hand made products to fresh ingredients, and baked products everything you need you can find on lively Pike Place Market.
Seattle Center
If you are moving around Seattle downtown, make sure to visit Seattle Center. It is a cultural, arts, and entertainment zone. Enjoy a staggering view on a Space Needle and relax next to a musical fountain. During the summer, there will be lots of activity here. So you will certainly have something interesting to do.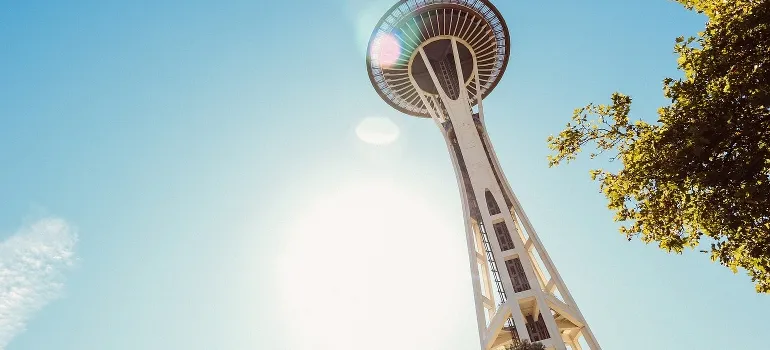 Space Needle
While you are in the Seattle Center, do not miss the symbol of this city Space Needle. Built in 1962, it was one of the tallest buildings in the US. If you let a glass elevator to lift you up to the top, you will reach an observation platform where you can enjoy the most fascinating view of the city. It is certainly one of the most interesting things to see after moving to Seattle.
Chihuly Garden and Glass
If you like art and even if you do not, you shouldn't miss Chihuly Garden and Glass. Like its name says here you can enjoy glass and gardens. Artist Dale Chihuly is making glass sculptures that he combines with greenery, gardens, and light. You can enjoy this fascinating art in eight separate galleries. Truly something that you do not see every day.
Museum of Pop Culture
Another thing that you should not miss after you settle in Seattle is the Museum of Pop Culture. If you like to learn a little bit about your favorite movies or see props and costumes from your favorite show this is a place for you. They organize various displays from video games, horror movies, sci-fi literature, and music. Everything that is tied to popular pop culture.
Seattle Art Museum (SAM)
Famous Seattle Art Museum (SAM) in downtown Seattle is another great thing to visit after moving to your new home. You can see Native American art from the Pacific Northwest. Their stone and wood carvings, totem poles, textiles, masks, basketry, and more.  Also, you can see Gothic and early-Renaissance Italian paintings done by Puccio di Simone, Paolo Uccello I Giovanni di Paolo. They also host 20th-century American art. If you are into art, do not miss SAM after moving to Seattle.
Olympic Sculpture Park
If you like to enjoy the outdoors, then you might like the Olympic Sculpture Park. It is an outdoor gallery where SAM exhibits its sculpture collection.  Enjoy more than 20 interesting works from various artists, Roxy Paine, Richard Serra, and Alexander Calde.
Seattle Great Wheel
If you missed the view from a Space Needle than you have another chance to see Seattle from above. Giant Ferris wheel is the tales such wheel on the West Coast. Therefore, make sure that you take a ride.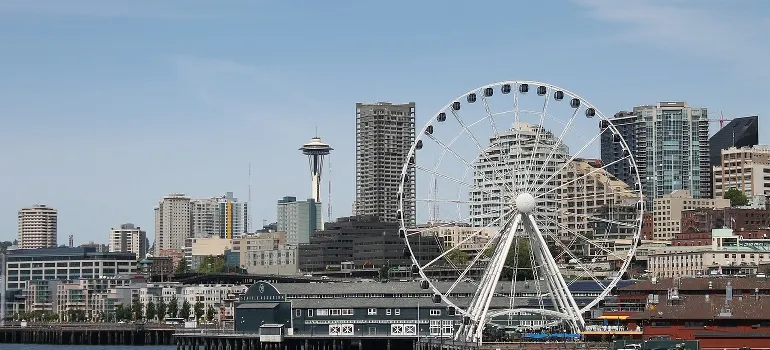 There are many things to do after settling in Seattle
Those are the most interesting things to do after settling in Seattle. Of course, there are many more things that you can do. Or you can always choose to just open a bottle of wine, relax, and enjoy your new home!
Let our team put together a comprehensive moving plan for you. Complete our simple free quote form or contact us at 1-888-300-7222.