Tips for handling heavy items when moving
When moving from one place to another, there's a good chance you will, at one point, have to figure out how to relocate all that heavy furniture you own. This is something you will have to think about before the day of your move arrives to avoid any problems. After all, it's not like you can just pack everything in boxes and load it onto the moving truck. There are other things you will need to take into consideration. That's why we wanted to make things a bit easier for you by writing about handling heavy items when moving to another place. So, if you want to learn more about this matter, sit back, relax and keep reading.
The risks of handling heavy items on your own when moving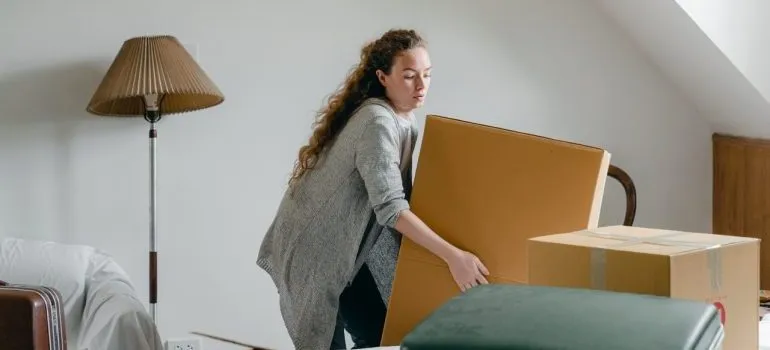 Is this going to be your first relocation? If not, then you probably already know why moving heavy items is so demanding. If yes, then you're just about to learn this. Being one of the oldest and best moving companies Seattle, we believe it's our duty to help our clients overcome every obstacle during their move. This is exactly why we wanted to talk a bit more about handling heavy items when moving.
If you're not sure whether you'll be able to move all those heavy furniture pieces on your own, you should think about hiring professionals. "Why" you may ask? Well, here are the two most important reasons.
You could hurt yourself during this process. In order to lift heavy items safely, you will need to use the proper lifting technique. Unfortunately, many people don't realize the importance of lifting properly. That's why, some of them end up with injured back, neck, and/or knees after their relocation. Don't be one of them – learn from other people's mistakes.
Your personal belongings could get damaged. Apart from ending up with an injury, there's a good chance your personal belongings can get a scratch or two. And we're not talking just about the heavy furniture you'll be trying to relocate. Your home can get damaged, too. You'll be already spending money on the relocation, you don't want to spend money on the repairs, too. Learn how to avoid property damage while moving and your relocation won't be pricey.
How can you avoid these risks?
You need to take seriously the two risks we just mentioned above. You can't just ignore them and hope that everything will go well during your relocation. If you really want to move your belongings as safely as possible, you should opt to move with the help of movers Kirkland WA instead of handling everything on your own. Trust us, having someone experienced in the moving industry is what will make your relocation so much easier!
They can assist you throughout the entire relocation and eliminate the risks we mentioned above. You won't have to lift heavy pieces by yourself and you will learn how to ensure the safety of your belongings during the move. So, if you are wondering what is the best way of making the move of heavy items safer, we suggest hiring moving experts.
Essential moving tools for handling heavy items with ease
Before you start to pack for the move, you'll need to gather moving boxes Seattle and other packing equipment, such as packing paper, tape, plastic wrap, and so on. But, these aren't the only things you will need to get before the move – you will also need to look for tools that will allow you to move your heavy items easily. Keep in mind that if you opt to relocate with the help of a moving company, your movers will bring all the essential tools with them.
Some of the tools that are necessary for handling heavy items when moving are:
Lifting straps – These are very handy. With lifting straps, you can lift heavy items with ease because the weight of the item is significantly transferred off your back and neck.
Utility/furniture dolly – With dollies, moving heavy items is a piece of cake. The only thing you have to do is place the item on a platform, secure it, and then push the dolly to the desired place.
Furniture sliders – These are a must-have when moving. By using sliders, you will get to create something like a barrier between the item you are moving and the floor. This is how you remove the friction and make the relocation of your heavier items simpler.
Preparing and packing heavy items for the move
No matter what items you'll be relocating, you need to make sure they are packed and ready for the move. So, one of the things you need to do before moving into a new house is making sure that all of your belongings are packed properly. This isn't so simple for people who have tons of heavy furniture in their homes (or offices).
Your goal should be to lighten the load as much as possible. This means that you will need to empty all drawers, dressers, cabinets. Then, you will need to disassemble all parts that can be disassembled. This step will allow you to pack and move large and bulky pieces of furniture without damaging them. If an item can't be disassembled, then you need to make sure that it is completely wrapped and padded to ensure its safety during the move. This can be easily done with a couple of moving blankets.
Proper lifting techniques for moving heavy items safely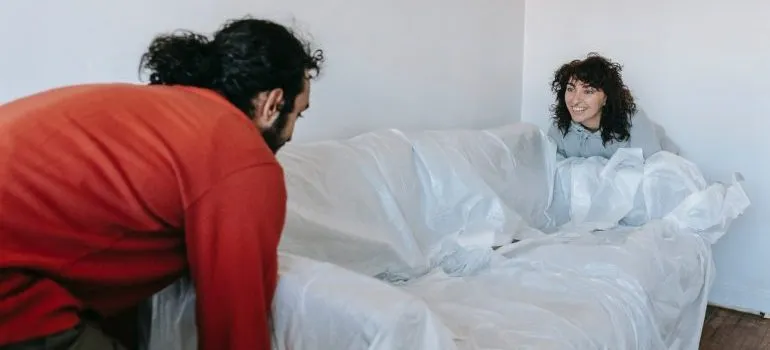 Are you finish with packing? Then, you're ready for the next step – learning how to lift heavy items properly. Beware, this is where most people make mistakes. Take a look at our heavy lifting tips and learn how to protect yourself and keep yourself healthy.
Stretch beforehand
Squat close to the item you're lifting
Push with your legs and keep your back straight
Your elbows should be close to your body to avoid injury
Never lift heavy items on your own
If you want to avoid any problems during your relocation, hire a moving company! They can help in many ways. Of course, this doesn't mean you should hire the first company you find. Instead, it's important to check the company's credibility before you put it in charge of your relocation. That's how you can be sure that only experts will be handling your heavy items when moving.
Let our team put together a comprehensive moving plan for you. Complete our simple free quote form or contact us at 1-888-300-7222.