Tips for moving while expecting a child
Relocations are usually complicated endeavors on their own. But if you are expecting a child, that adds a few more complications into the mix. However, if moving while expecting a child is unavoidable for you, there are some things you can do to make it easier. First, you will want to hire one of the Issaquah moving companies to help you relocate. And enlist a few friends to the cause. After that, you will want to make sure that you talk to your doctor, have plenty of time to pack, declutter, and prepare a moving day kit. In this article, we will walk you through the entire process.
How to go about moving while expecting a child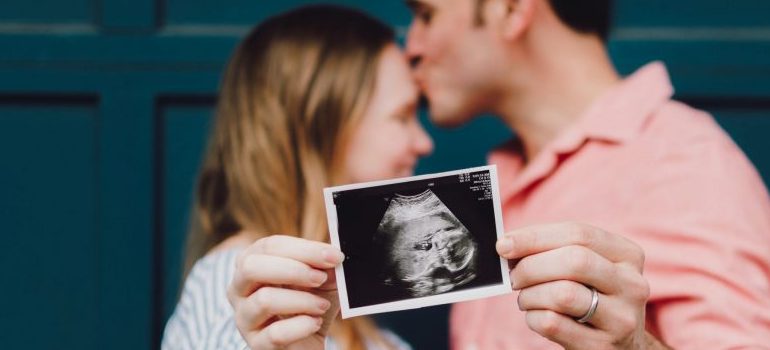 To make relocating when expecting a lot easier and smoother, you will want to :
Consult with your doctor
Get additional help
If you have to lift and bend, do it safely
Leave yourself plenty of time to pack
Declutter
Pack an essentials bag
Make sure to devote some time to research moving companies in your area, as well. Hiring a quality moving company such as Hansen Bros. Moving & Storage will make the entire ordeal much easier. Top professional movers will do most of the work for you, enabling you to focus on what really matters.
First things first – talk to your doctor
Before you even think about doing anything else, you will want to make sure that it is safe for you to even participate in the moving effort. Therefore, the first person you should visit needs to be your doctor. They will be able to provide you with information on whether you can be lifting anything at all. For example, pregnant women who usually lift for more than an hour a day will want to avoid lifting anything heavier than 18 lbs if they are twenty weeks or less in, and 13 lbs if later than twenty weeks.
Furthermore, you may also want to organize your healthcare before the relocation date draws near. Some obstetricians will not allow for patients that are more than 24 weeks pregnant, which can be quite a hindrance. That is why you will want to try and relocate before the third trimester if you can. Also, make sure that you always have your medical records on hand, in case that you need them.
Enlist a few family members or friends to help
When moving while expecting a child, you are going to need a bit more help than you usually might have. Aside from hiring long distance movers Seattle to help you with the relocation, you will also want to contact some of your friends and relatives. While they will help you lift, carry, and with other moving-related matters, the most important thing they will do for you is to help you keep to your limits. The most difficult thing to do when moving is to know what your limits are, after all. It is all too common to stay up late packing, lifting boxes, even moving furniture around. You need someone to keep you from doing those things if you can't control yourself. 
Make sure to lift and bend safely
If you absolutely have to do any lifting or bending, you will want to ensure that you are doing it in a safe way. While self-organization makes relocation easier, you need to observe the proper techniques, or you will be risking an injury. While pregnant, the body produces increased levels of the hormone known as relaxin, which loosens ligaments to help you with labor. Coupled with the posture changes and the extra weight that pregnancy entails, this makes it easier to injure yourself.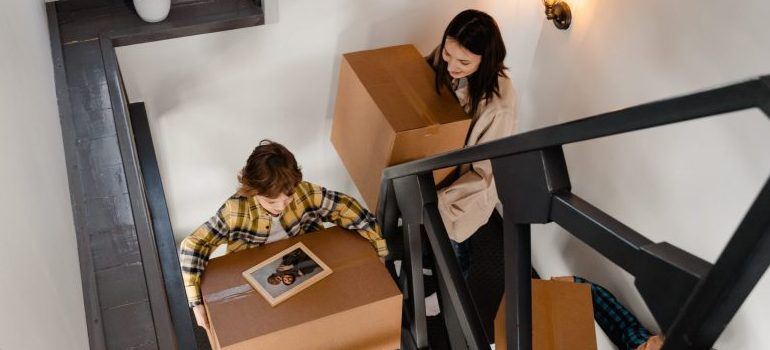 You will want to avoid the common way of lifting, such as bending the spine and lifting from the lower back, arms outstretched. This will strain the low back muscles and can put you at significant risk of spinal intervertebral disc injury. What you want to do is to utilize the "hip hinge" method, which involves you straddling the item, bending your knees from the hips while holding the back straight. Hold the object close to you and lift it by using the power of your legs.
When moving while expecting a child, you will need additional time to pack
While packing can be an extremely long and arduous process, what you never want to do is add a time constraint to it. Therefore, make arrangements so you have plenty of time to pack and not worry about not managing to finish everything by the time the moving day arrives. You are going to need plenty of rest, as well, every half an hour or so. Try to avoid standing too long, as that can lead to swellings in the lower extremities.
Declutter to make things easier
The packing process can also be made easier by simply having fewer items to pack. To get to that point, you will need to go through the decluttering process. By doing so, you will both reduce the cost of your relocation and make it easier for yourself to pack the rest of your belongings. You will need fewer packing supplies and will need to spend less energy on the task.
There are a few methods of how to go about decluttering, but you may want to try the KonMari method, which is getting increasingly popular. The basis of the method is to look at the item you are considering keeping and ask yourself "Does it spark joy?". There is more to the method than that, of course, but that is the fundamental underlying principle. 
Remember to pack an essentials bag
The last thing you will need to prepare when moving while expecting a child is the essentials bag for the moving day and the relocation itself. You will want to include something to sit on so you can rest at any point, anywhere. Furthermore, bring some snacks and electrolyte-heavy foodstuffs to keep the hydration levels and blood sugar where it needs to be. Don't forget any medication you might need, spare clothes, a phone charger, an entertainment device or two, and some toiletries. And definitely do not forget toilet paper.
Let our team put together a comprehensive moving plan for you. Complete our simple free quote form or contact us at 1-888-300-7222.