Tips for storing your rafting equipment
The rafting season might be in full swing at the moment but you will soon need to be storing your rafting equipment for the next one. This process may not be as straightforward as you may think, however. There are a lot of things to keep in mind. First, you are going to need a good storage unit if you don't already have one. Luckily, there are numerous affordable self storage Seattle options for you to peruse. If you want to make sure that you find the best unit for your equipment, you can always contact Hansen Bros. Moving & Storage and we will help you out. We have plenty of units in various locations for you to peruse and we will help you choose the best one for your situation. But before you start storing, you might want to check out some of the tips we have prepared for you in this article.
4 essential tips for storing your rafting equipment
Whenever you need to store something, you need to make sure that it is as clean as possible. Storing rafting equipment is no different, and you will need to thoroughly clean it before sending it to the storage unit. If you don't have the time and energy to do so, you can always hire professionals to do it for you. Or, you can hire one of the storage units Lynnwood WA that have a cleaning service included in the price. That is definitely the easiest way to go about it. After you clean your gear, here's what else you may want to do:
Make sure your equipment is completely dry before storing
Prepare the rafting equipment for storage
Organize your storage unit
Visit your storage unit to check for repairs
Most of these tasks, except the last one, you can entrust to a professional mover. But, to be honest, you don't really have to. All of the tasks above are quite simple and will not take too much of your time and energy. It is always best if you can save money by doing some things on your own. Besides, taking care of your own equipment is almost half the fun of rafting! Let's see how to go about it.
Making sure that your equipment is dry
Now, this may sound like a no-brainer, but hear us out. Let's say that you come home from rafting, it is late and you are tired. Sounds familiar? At that point, you may forget to dry out your gear properly and find it to be moldy, mildewed, and stinky. This is further exacerbated if you've been rafting in salty or silty waters as your equipment will need rinsing as well. To avoid any of this, always make sure that you properly dry out all of your equipment before storing it. 
Bonus tip: Recovering stinky items
If you do end up with stinky gear, despite your better judgment, here's what you can do. Utilize deodorizers such as MiraZyme and Sink The Stink to neutralize the bad odors. They use proprietary enzymes and microbe compounds which will neutralize the bad smell before you know it.
Storing your rafting equipment – preparation stage
Alright, you've made sure that the rafting equipment is clean and dry, what next? The next thing you need to do is make sure that you store your gear properly. For example, if you simply store a kayak bottom-down on the floor, it can dent in the hull or "oil can". The best way to store it is if you get it off the floor with the hanger. But you can also simply prop it on its side if you don't want to invest in a hanger. However, they are really not that expensive and you can find one at any moving company Washington has. And if not, they will at least be able to point you in the right direction.
Taking care of seals
Moving on, you will want to keep any seals out of direct sunlight. If there are sunny areas in your storage unit, keep these out of them. You also don't want to be storing them near any combustion sources, either. Take your time to clean any oil or sunscreen that you might have applied to the seals, and rub in some 303 Protectant as well. This will protect the seals from deterioration and oxidation.
Inflatables
For inflatables, you will want to remove any sand and debris that might have gotten in, before coating them with 303 Protectant. The main reason why you are doing so is to avoid any rodents burrowing inside. Of course, if you have a storage unit that is pest-free, you will not have to worry about this. But you never know, it is always better to take precautions than to repair any damage.
Organizing your storage space
At some point, you will be taking all your rafting equipment out from the storage unit. That is why you might want to take extra care when placing it inside. Don't simply throw in your gear whenever there is space, take some time to organize the storage unit to accommodate your equipment. Try to have all the rafting items in one place. You can utilize plastic bins for this purpose, to great effect. Another great solution for layering pieces, footwear, gloves, that sort of thing, is to put them inside a mesh duffel bag.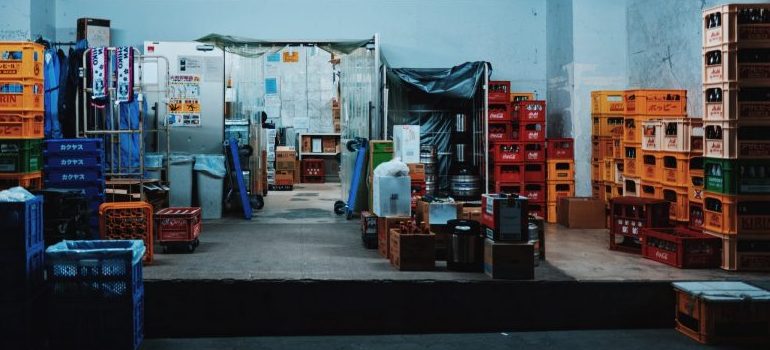 Alternatively, you can rent a storage unit that will provide you with services that can enhance your storage experience. You can leave the organizing to the storage facility staff and simply ask for what you need when you need it. These units do run a bit costlier than regular storage units so make sure that you always ask for a free quote first. That way, you will know what you're dealing with and whether it works for you. 
Make sure to visit at least once after storing your rafting equipment to check if any repairs need to be done
Lastly, even if you've done everything correctly, there is always a possibility that you've missed something when storing your rafting equipment. That is why you might want to check your items at least once after storing them. You want your equipment to be in ready shape when the time comes to go Seattle White Water Rafting again, after all. Visit your storage unit often, do the repairs that are required, and it will be!
Let our team put together a comprehensive moving plan for you. Complete our simple free quote form or contact us at 1-888-300-7222.