Tutorial for packing a king-size bed for relocation
Is there a more demanding thing than packing when we talk about relocation? Perhaps. After all, it all depends on individuals. However, we think most people would agree that packing takes most of our time. Moreover, the stress it frequently causes is tiresome. Thus, with the best movers Seattle, all this can become a thing of the past. Proper organization and the right movers can significantly diminish the negative aspects of relocation. Nevertheless, it's good to know certain rules with packing a king-size bed for instance. In case you're doing the packing, knowing the right techniques is crucial for a job to be done successfully.
Start your packing process with downsizing
First of all, consider what things should become the part of your new home. What is truly worth taking? When it comes to packing a large bed, reflect on the quality and need for that bed exactly. Do you wake up in pains and aches? With this in mind, inspect the quality of the bed and the mattress itself. Is this all worth bothering?
For instance, if you have slept on the mattress for more than 7 years, then the time has come for replacement. Compare the prices of the new bed and the costs of packing and transportation of that bed. Believe us, you'd be surprised. Also, it's not all about the money. Imagine the trouble transporting that same bed. Therefore, start packing it only if it's truly worth it. Remember, the significance of quality sleep is irreplaceable.
Rely on professionals
If possible, make sure to find the best cross country movers Seattle. Their professional team has the experience, skills, knowledge, and proper equipment. They will manage to pack and transport your king-size bed smoothly. Be that as it may, you'll use the additional time to devote to other chores related to relocation. Moreover, the stress and physical strain will be reduced significantly. Therefore if your budget allows it, start looking for your reliable movers.
Follow certain steps when packing a king-size bed
Nevertheless, if you plan on preparing a king-size bed for transportation on your own, you'll need our help. Hopefully, our advice will be of great help. Handling a king-size bed can be quite difficult. That is why you must pay attention to each part of it. We are here to show you some basic steps in order to handle everything with no injuries or damage.
remove beddings
remove the mattress
disassemble the bed frame
wrap parts of the bed
load everything into the truck
Beddings go first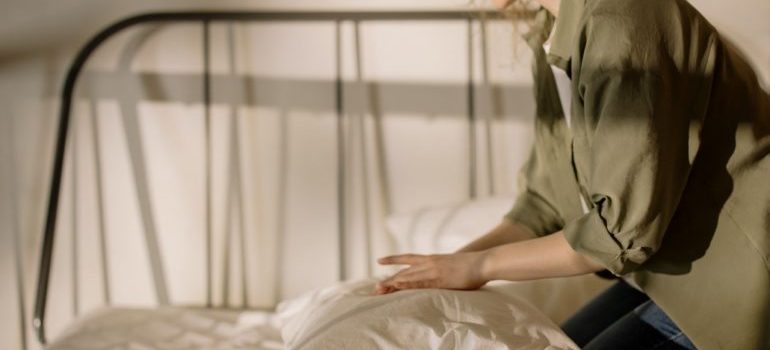 This is the easy part. Remove the beddings and pillows from the mattress. Make sure to wrap these things separately from other parts of the bed. Put them in a box and don't forget to label the box. Also, use linens and pillows to fill in the boxes where you plan to keep breakable items.
Pay special attention to your mattress
Prior to packing, buy a specialized mattress bag or box in order to protect your mattress during transportation. If possible, it should fit the dimensions of your mattress. In case you wonder where you can get it, there is a number of ways. For instance, your movers can get it. Also, you can buy it alone or through a store that sells moving supplies. When talking of protection, certain movers may offer shipping crates Seattle for maximum protection. Hence, be aware of this possibility too.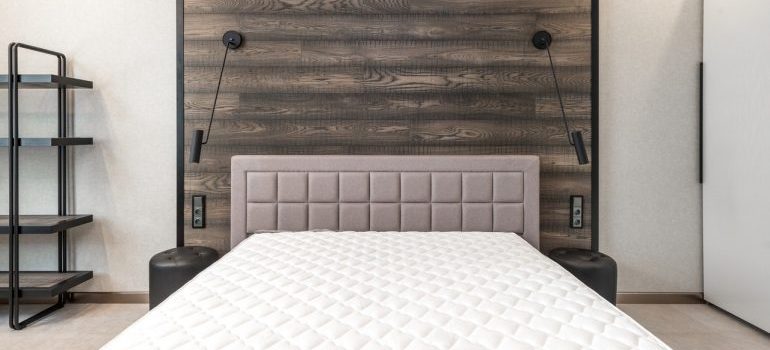 Bear in mind, lifting a mattress is very difficult. It would be good to have help. Otherwise, you may injure your back. With this in mind, you may avoid injuries with a simple trick. Put a blanket on the floor. Then, slide the mattress upright on the center of the blanket. After this, you can pull up the blanket much easier than gripping the mattress. Finally, load the mattress into a truck. In order to save space, it would be good to put it upright and sideway. However, most mattresses will be put flat in a truck.
Disassembling can ease up the process significantly
After removing the mattress, start disassembling the bed frame. Disassembling furniture for a move is practically an obligatory activity.  As a result, you'll carry it more easily, go through the door, and load it in the truck. By all means, it would be good to have the assembly manual by your side. After all, all the guidelines are there. If not, find instructions on the website of the manufacturer. On the other hand, you can simply document each step. Take pictures or videos so you can assemble them at the end following the guidelines.
In case your bed has a storage chest, don't leave it like that. Remove the storage chest. Moreover, all the hardware such as bolts, screws, nuts … should be put in a plastic bag. Then, tape the bag to the largest piece of the bed frame. Be careful when loading the track with the bed frame.
Last but not least, here comes wrapping
Don't forget to wrap the parts of the king-size bed. Use packing paper, air bubble foil, nylon rope, tape.  What matters most is to ensure the safety of the bed. After doing this, your king-size bed can be safely transported. Also, be careful about how you plan to put things into a moving truck. Finally, you are left to drive carefully. As you can see, a lot of things are on your mind when you are to move bed and mattress by yourself. If following our advice, you'll soon be satisfied with the results.
Be thorough and handle your relocation successfully
All in all, packing a king-size bed is not easy at all. Certainly, one of the most difficult parts of the packing process. Our advice is always the same. Find professional movers. However, we are aware not everyone will be able to do so. Therefore, stick to our basic steps and handle the packing process easier. Find the necessary packing supplies. Disassemble the items. Pack meticulously every part of it. In the end, be satisfied with achieving almost perfect relocation.
Let our team put together a comprehensive moving plan for you. Complete our simple free quote form or contact us at 1-888-300-7222.